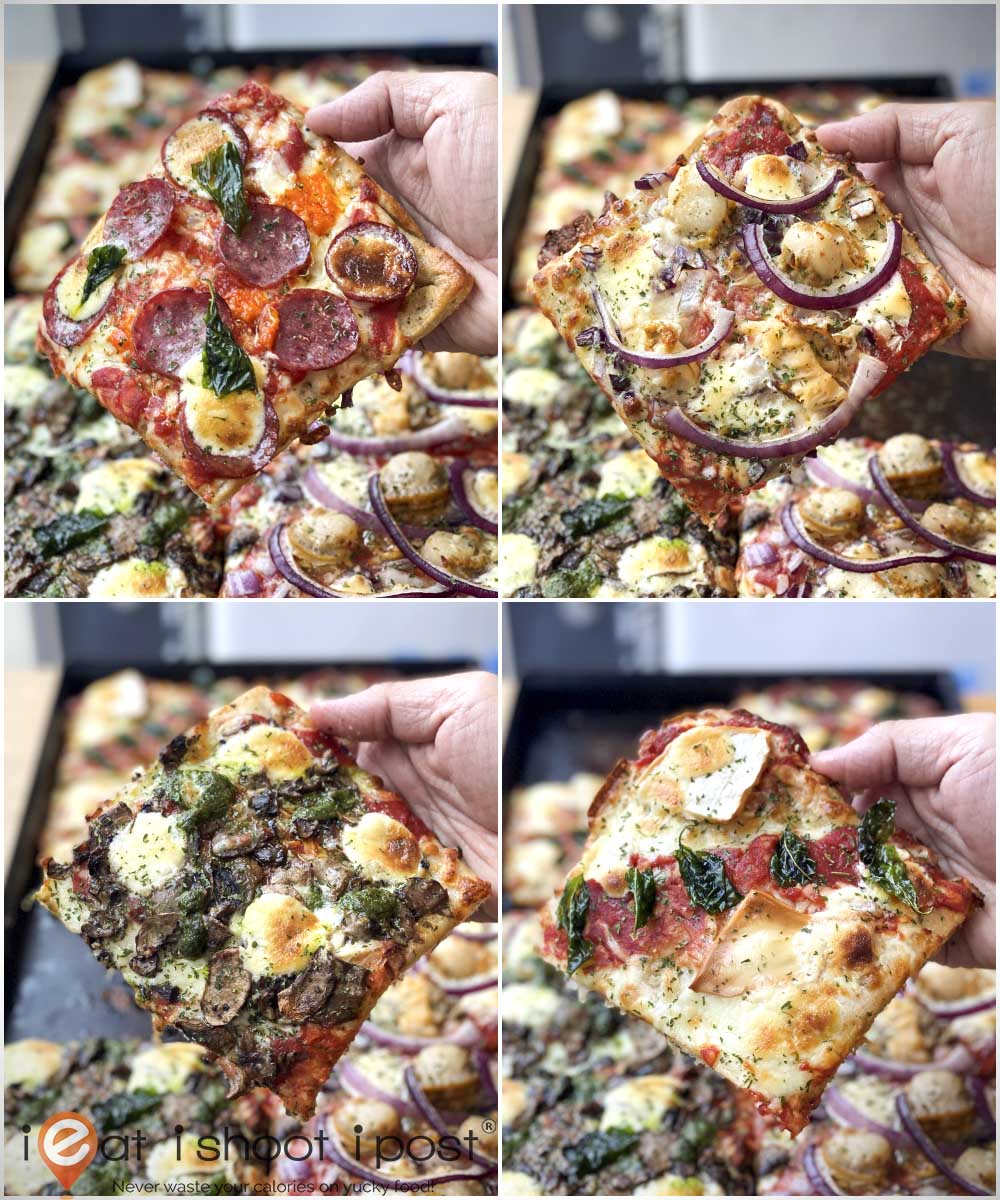 I consider myself a bit of a pizza snob who would usually eschew takeaway pizzas, but this one caught my attention. To borrow the words of Dorothy from the movie Jerry Mcguire:
It had me at "San Francisco Sourdough"
Okay, it's not an exact quote, but you know what I mean.
There is sourdough, and then there is San Francisco Sourdough which was legendary even before the artisan bread-making movement became so popular across the world! San Francisco can trace its sourdough legacy all the way back to the Californian Gold Rush of the mid 1800s and its sourdough bread culture (pun intended) started directly as a result of it.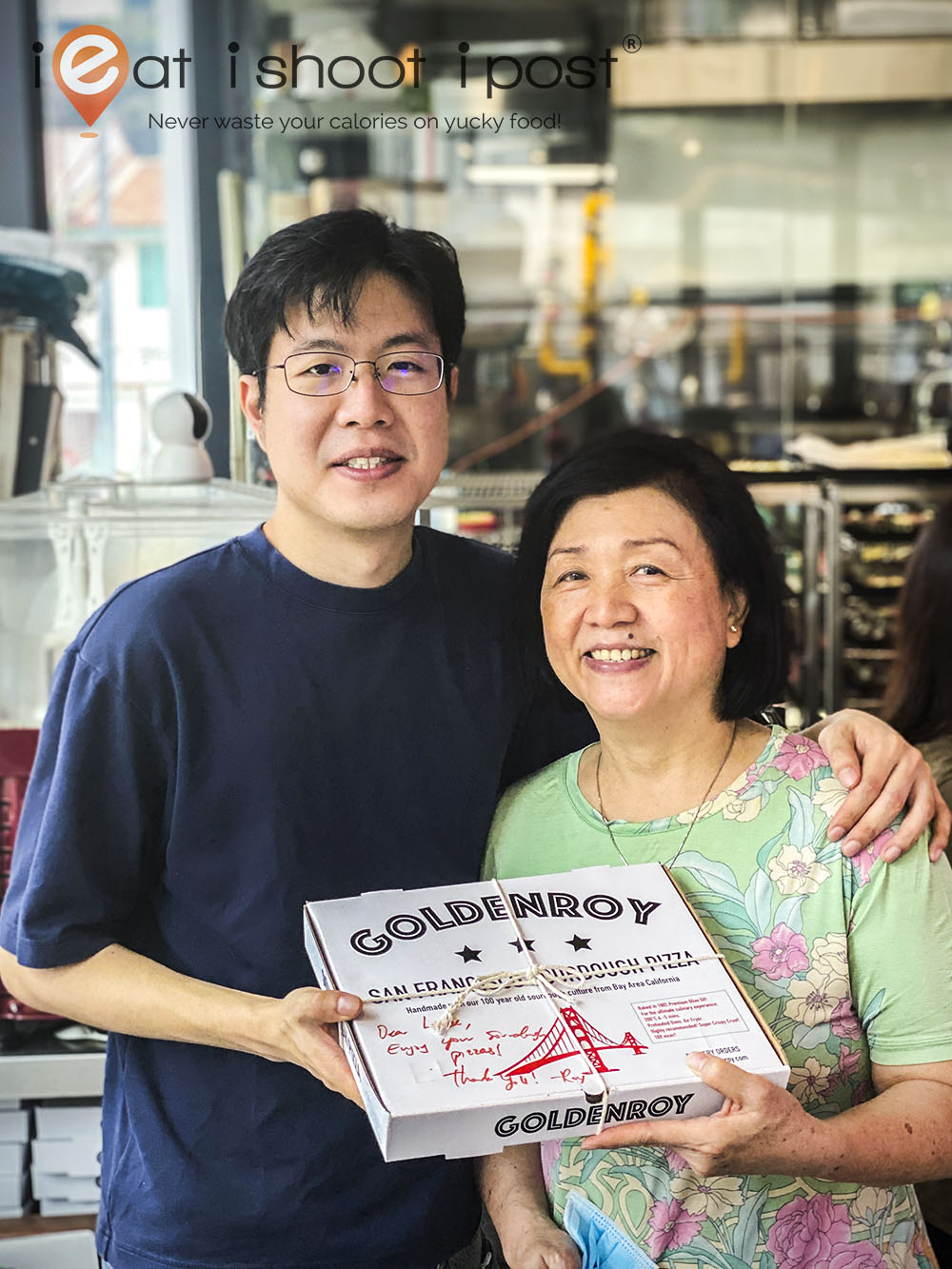 I stumbled upon GoldenRoy while doing some research on pizzas. The man behind it is Roy who had picked up the interest in sourdough while he was in San Francisco doing his Ph.D. in Chemistry.
Wait a minute…… I vaguely recalled another Roy who was planning to leave for the US to pursue a Ph.D. in Chemistry years ago when I wrote about Redring Wanton Mee! Could it be the same guy?
It turned out that it is!
Somehow, Dr. Roy, being the serial foodopreneur that he is, just couldn't get down to doing serious chemistry in Silicone Valley. So, after working for a year doing AI programming, he decided to return to Singapore during the Covid pandemic to start a pizza shop.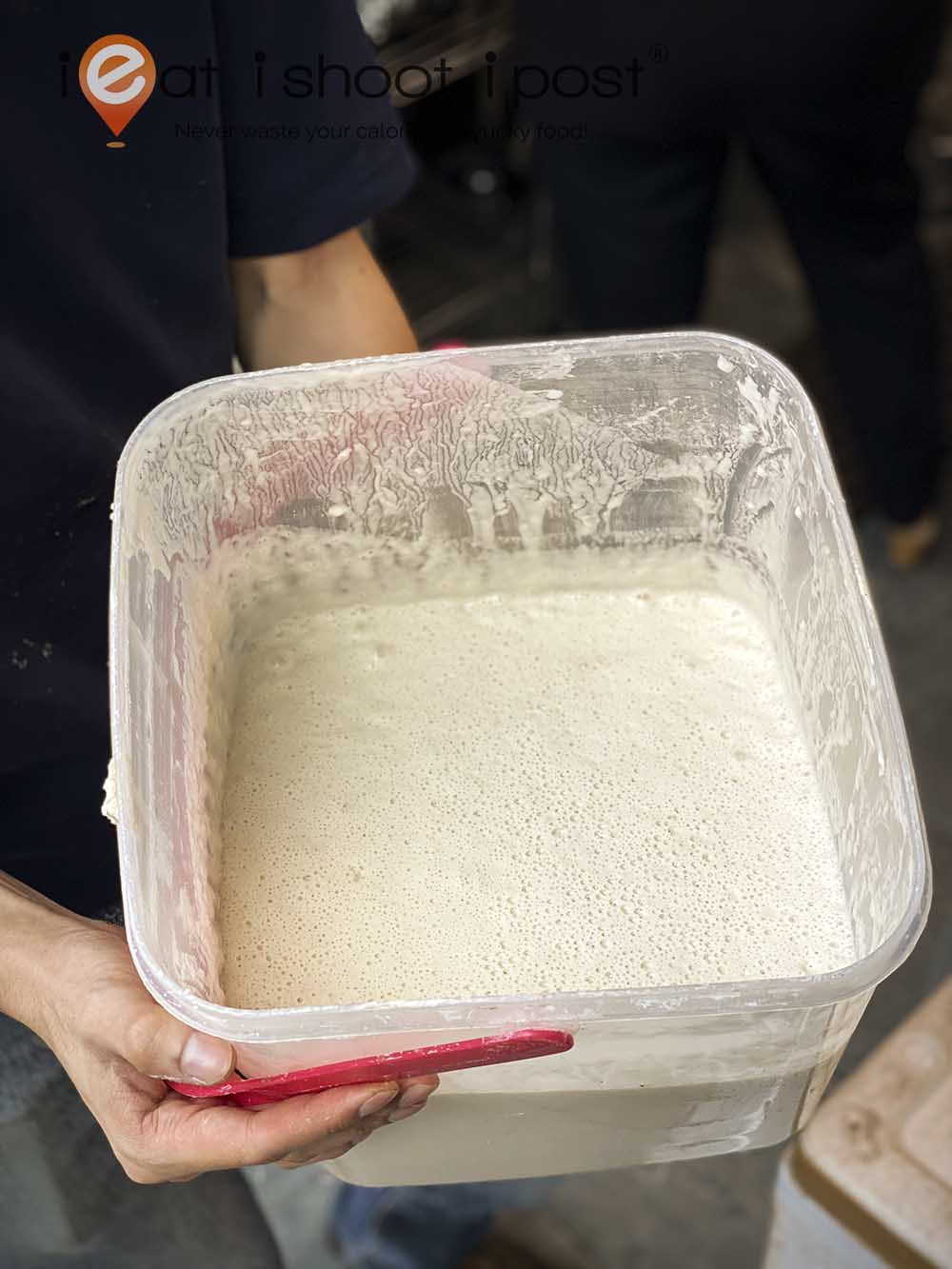 While in San Francisco, Roy had joined a baking club where he picked up his sourdough bread-making skills. He had experimented with several legacy strains before he found one that was intensely flavourful with an insane tang. He has since been cultivating the mother dough starter in Singapore which is used in all his pizza dough.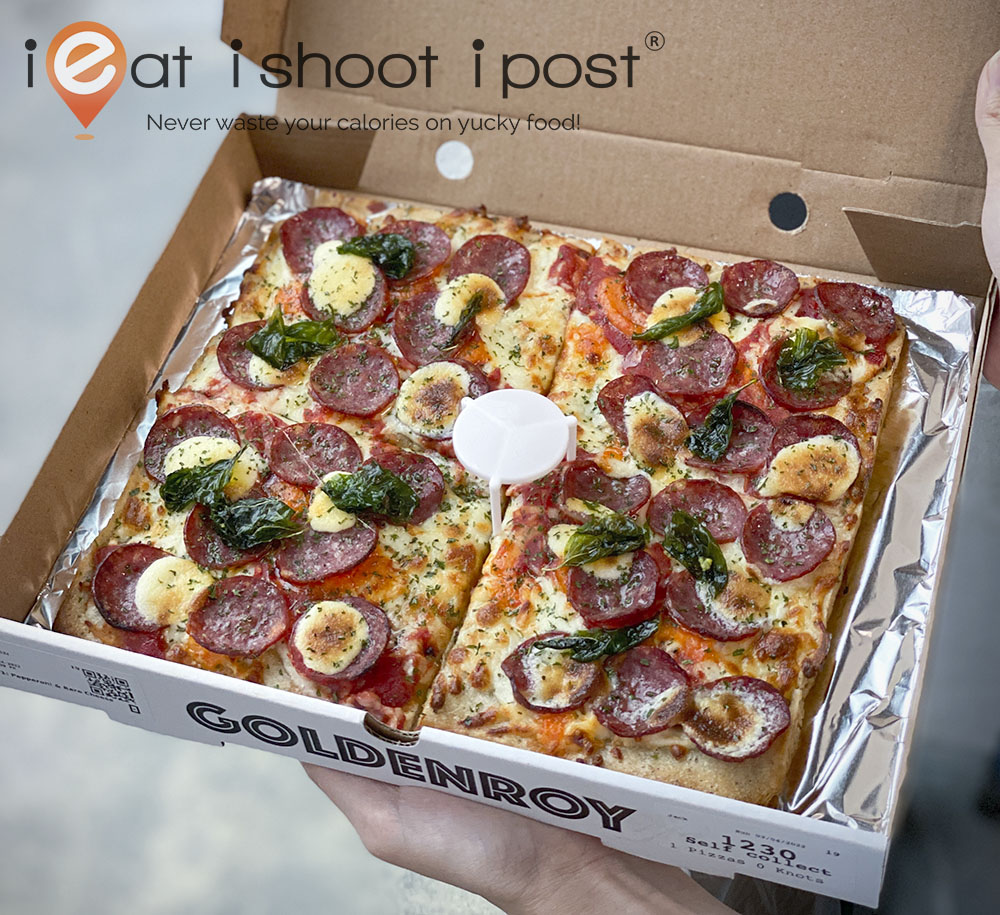 The pizzas come in rectangular slices and are fashioned after Golden Boy Pizza, Roy's favorite pizza joint in San Francisco. The sourdough base is par-baked before the toppings are added in order to ensure that the crust has that crunch when you bite into it.
They have a total of 6 flavors which outlandish names like "Billie Jean's smoked camembert" and "Spongebob's revenge" which has brown butter scallops and red onions. We also got to try "That 10K Bitcoin Pizza" which is a nod to the very first bitcoin purchase. This is essentially a beef pepperoni pizza topped with a cheese sauce that is made in-house using a selection of hard cheeses for extra umami. Then there is "Roy's favorite" which has pesto and sauteed mushrooms. They were all delicious and wonderfully addictive.
But the real secret is that sourdough pizza base which has a nice crunch and unique tang. If I had one wish, it would be that the base could be just a little bit more fluffy. Otherwise, it is a pizza that I have actually developed a craving for. 4.5/5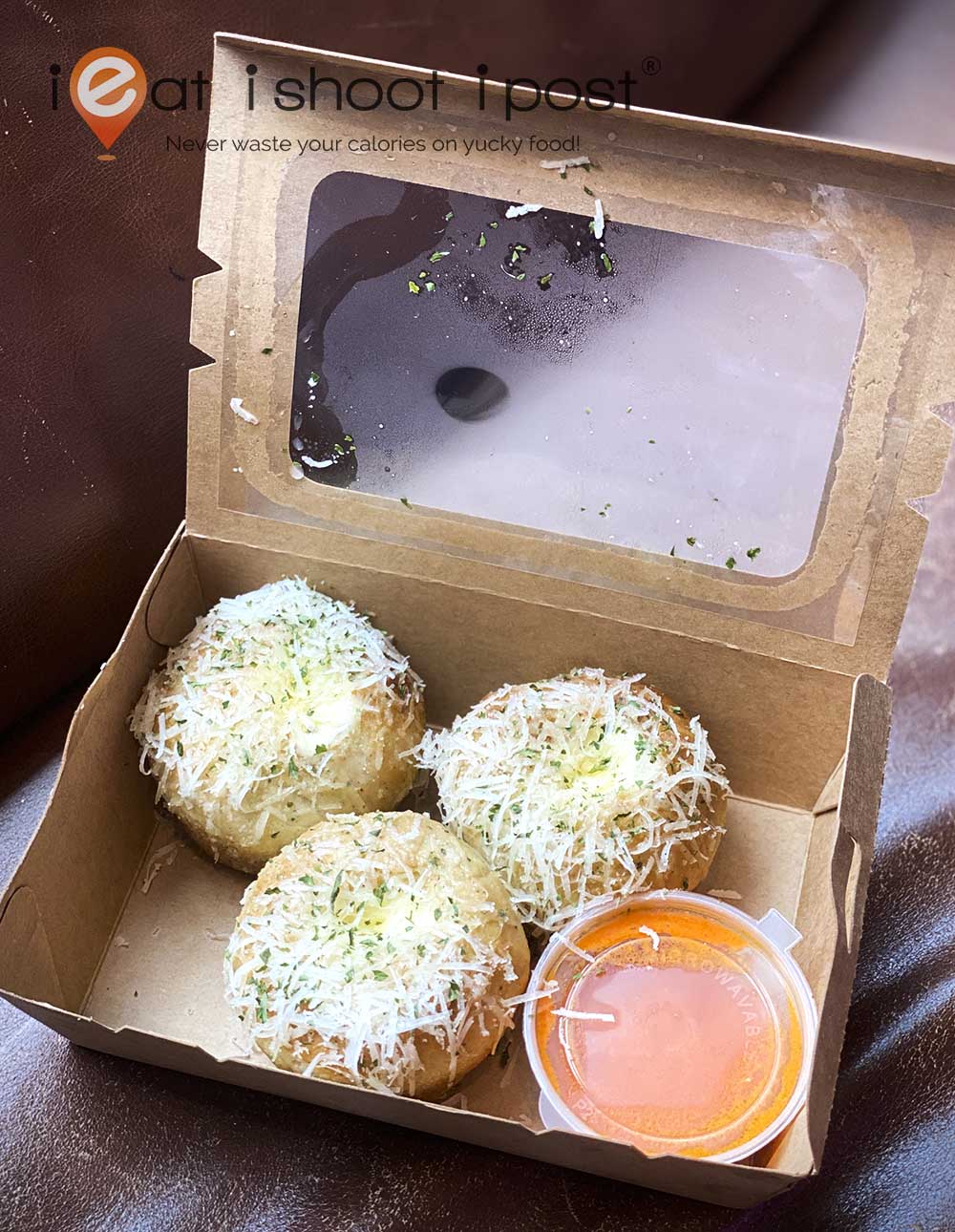 If you do want to taste the flavor of the sourdough, you can opt for their sourdough knots which are filled with garlic sauce and topped with parmesan cheese, and come with a fermented orange pepper sauce. They are really nice too. I don't know what Roy learned while doing his Ph.D. in Chemistry, but whatever it was, it has translated into an ability to balance and match flavors really well!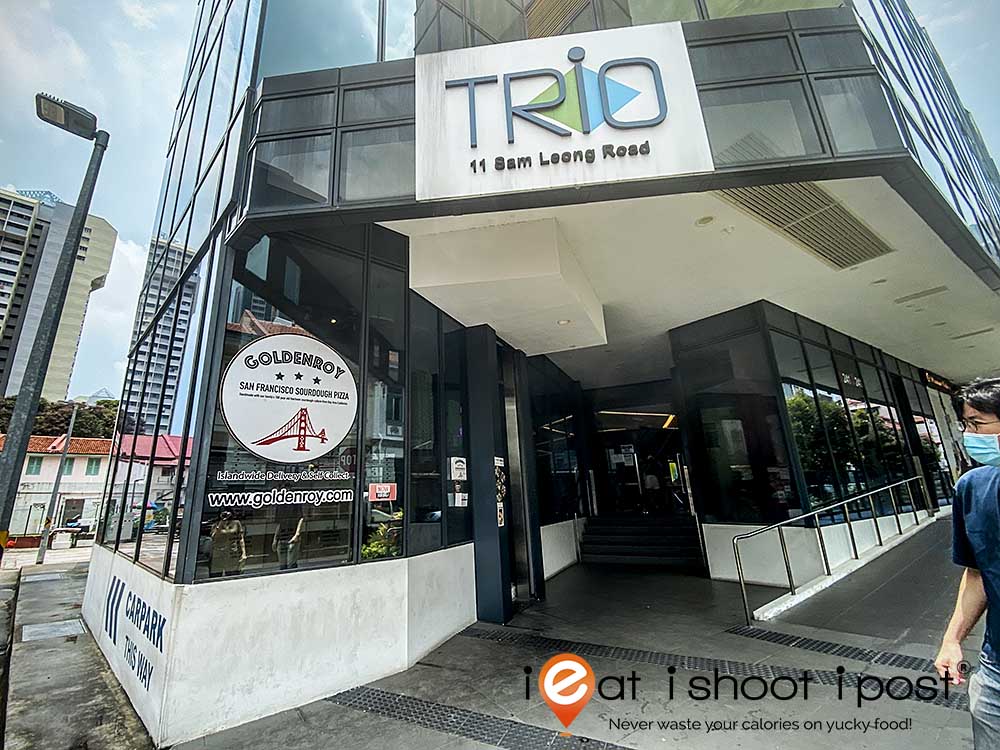 GoldenRoy currently only operates as a takeaway shop so there is only one sofa on which you can take a seat while waiting for your pizza to be ready. But, here is a neat little lobang (secret). If you take the escalator up to level 2, there is a co-working space that is free for use from 9 am to 4 pm on weekdays! The space is crowded on Sundays when it functions as the breakfast hall for Inspire Church, but on the weekdays, it is free for anyone to use. All they ask is that you clean up after yourself. Free Air-Con, Free Wifi, Free music, Free table, and chairs to enjoy your pizza when it just comes out of the oven! The pastor also assured me that no one will come and bother you while you are there during the week!
Conclusion
This is one takeaway pizza that I would actually go out of the way to eat! The San Francisco sourdough base gives it that extra boost of umami flavor that is hard to find elsewhere and the toppings are well balanced and delicious.
Note:
They are Halal Certified