This Stall is Closed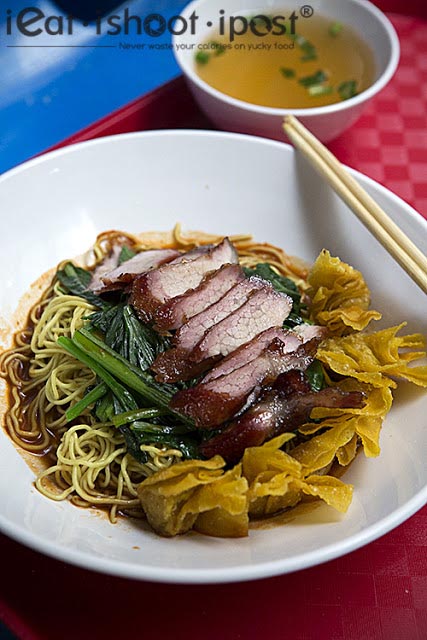 I have always lamented the fact that I can't get the perfect wanton mee in Singapore. I know that some people only go for the noodles, while others place more emphasis on the charsiew or wanton. But why can't I have it all? Good noodles, good sauce, good charsiew and good wanton and some say good soup too. My perfect plate of wanton mee would have noodles and sauce from Kok Kee, Char siew from Fatty Cheong and wantons from Fei Fei. No one in Singapore has managed to get everything right, yet.
In steps Roy Chan, a young hawkerpreneur who has been working on this problem for the last year or so. Roy is a chemist who is due to leave for Stanford University to do a PhD in Chemistry. But before he leaves, he has dedicated a year of his life to developing the ultimate version of his all time favourite food — Wanton Mee. This guy is really a man after my own heart. I like the way he approaches his wanton mee with such scientific precision. Each component of the dish has been carefully thought through and has undergone repeated experimentation in order to derive the final product.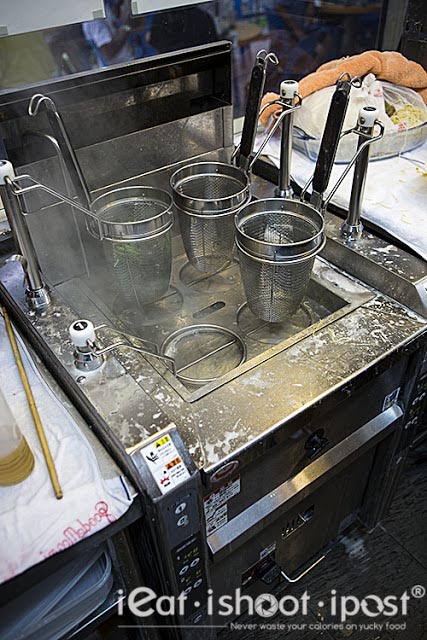 Let's start with the noodles first. In order to achieve perfectly textured noodles, Roy went through around 20 different types of egg noodles in the market till he found the one that was perfect for Singapore style wanton mee. Our local wanton mee is not like the Hong Kong version where the noodles tend to be quite firm to the bite, almost like bee hoon that has not been soaked long enough. Instead, it is a little more tender, yet still lively and has a nice eggy aftertaste.
Having procured the right noodles, the other part of the equation is to be able to cook it properly and consistently. To do this, Roy bought a Japanese made noodle cooker which has a few nifty functions. This machine is able to keep the water at constant rolling boil for hours. You might have noticed that when you eat the noodles at some stalls, that there are days when the noodles seem to have a stronger "kee" smell than other days. This inconsistency is due to the fact that the hawker was too busy to change the water used to cook the noodles. This machine gets around the problem by constantly pumping fresh water into the water bath and draining out the cloudy water. The other thing that it does is that it also creates a current within the water bath to keep the noodles in constant motion such that the operator does not need to use his chopsticks keep tossing the noodles around! When the time is up the machine automatically lifts the noodles out of the water so it doesn't overcook. What results is perfectly cooked noodles every time! Cool right?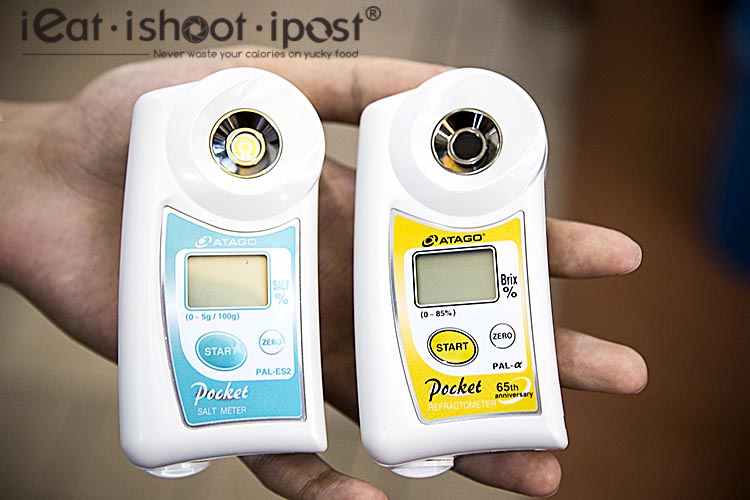 Next the sauce. Redring's signature is its chilli sauce which has been specially formulated so that it has a consistent balance of sweet, salty, spicy, umami and sour. Roy showed me one of his spider grams where these different taste sensations have been plotted. The chilli sauce is made by mixing chilli, salt and sugar with a stock made from pork bones and other umami rich ingredients which has been boiled down and concentrated. He uses a salt meter and a refractometer to measure the saltiness and thickness of the sauce to ensure consistency. Incidentally, they have chosen the name Redring for their wontan mee because the sauce forms a red ring around the noodles when it is presented. There is divided opinion about the chilli sauce. My mother-in-law loves it and I have interviewed some of the other customers who say that they really like the chilli sauce as well. I found it to be a little sluggish and heavy. It is too middle of the road for me. It lacks the spicy kick if you love chilli and if you don't, like myself, it is frustrating to have that bit of spiciness to distract your focus on the umami.
The non-chilli sauce is, however, very good. Rather then just placating the non-chilli eaters like myself by throwing some tomato ketchup into the noodles, they have taken the trouble to boil down some meat stock to derive a umami laden sauce similar to that of Kok Kee and Nam Seng Wanton Mee. It is a good effort but I felt it just needed a bit more tweaking to "Power Up" the umami by a level or two to put it on par with the other two more established Wanton Mee.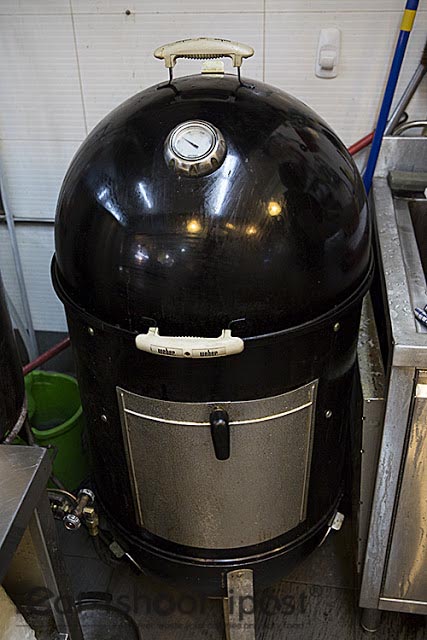 The charsiew is made using a Weber smoker which gives it a very nice and unique smoky flavour which you don't find at many stalls. They only use the "Bu Jian Tian" or pig armpit cut to make their charsiew, so it is nice and juicy with a bit of fat (or a significant amount sometimes). It wasn't as charred as I would like and certainly not as sublime as Fatty Cheong's. But it's far better then the dry char siew that a lot of wanton mee stalls just procure from a supplier.
The standard RedRing wanton mee comes with a couple of crispy wanton which are freshly fried so that it adds a crunchy and savoury contrast to the noodles. They are very nicely done and always crispy. If you like your wanton boiled, you can ask for it and they will cook it fresh for you. I especially like to order a side plate of boiled wanton doused with their special sauce!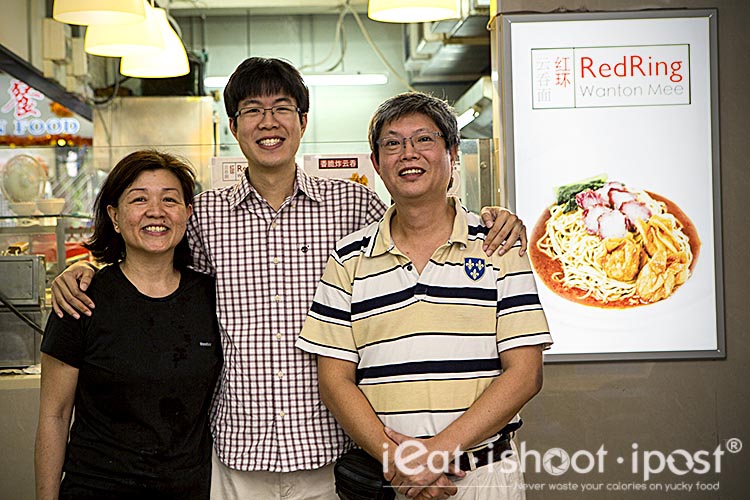 There has been a lot of discussions about the future of the hawker profession in Singapore and so far the focus has always been on young hawkers making it their lifelong career. Attracting young hawkers is of course a very important part of the process of preserving our hawker food. However, there is another group of people who can also contribute to this. And these are the generation of "mid-life" folks who are seeking a 2nd career after their stint in the high powered, high stress working world. Most of these people are looking for the opportunity to pursue a passion and being their own boss. This is exactly the case for both of Roy's parents, both of whom have held quite senior positions but have reached the twilight of their careers. For them, Redring Wanton Mee has given them a new lease of life and a passion to pursue. This seems to be the kind of direction that some of the other hawkers I know are pursuing. For these folks, whose kids are grown up and perhaps the house has already been paid for, the focus might be a little different from a young person looking at pursuing the 5 C's. I think there is certainly a big role for them to play in preserving our food culture.

Conclusion
There is certainly a lot of passion and thought that has gone into this plate of Wanton Mee. At this point in time, I feel that it is a very good plate of noodles but it has the potential to become one of the best in Singapore if our young PhD chemist keeps experimenting. It just goes to show that to be a good hawker, you don't really need a Sifu (Master) to pass on the skills. All it depends on is a love for the food and a heart to pursue perfection. 4.25/5