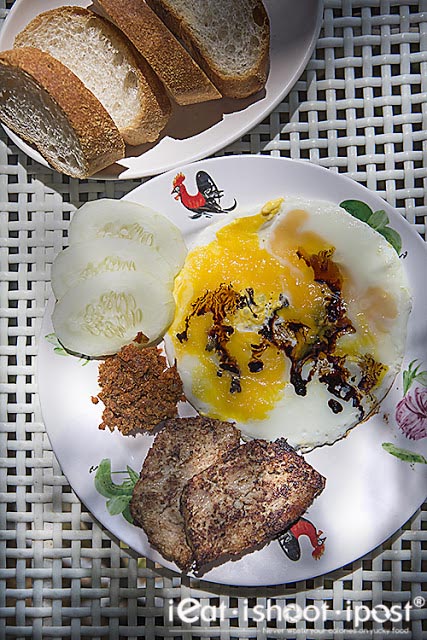 "Give us this day our daily bread."
I used to recite this as a school boy at St Andrew's School almost every morning. It didn't make much sense to me back then, because we ate mostly rice. Bread in the 70's meant those soft white traditional loaves which they used to hand slice in front of you while you wait. Often, they don't slice it completely so that you have to tear it apart yourselves when you got home. They tell me that they do it that way because they don't want to sever the relationship between the baker and the customer. Now that I am a bit older, I begin to think that it is more likely because it is easier to pack the bread into the plastic bag if they don't cut it completely. : )
In the last decade or so, we have had a bountiful blessing of bread in this country. Nowadays we get all sorts of different loaves. Granted, most breadficianados would still complain that the breads in France are still superior to what we get here, but when you think about what it was like just 20 years ago, we certainly have made huge progress.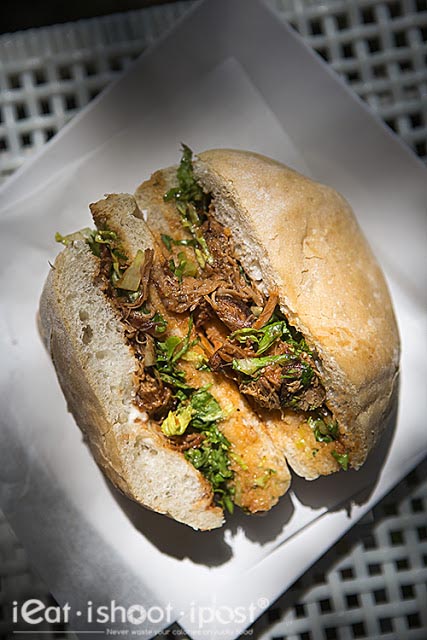 I consider myself to be very much a part of the Bready Bunch. My venture into bread making started when I went crazy over developing the perfect pizza recipe. From pizza, it went onto sourdough breads, country loaves, soft buns and so on. Bread making is very relaxing. I love the feel of the dough in my hands and the sweet alcoholic bouquet of yeast and bacteria happily being fruitful and multiplying. I have to confess though, that I am far from being an expert bread maker. Aside from my pizza dough, the rest of my bread recipes cannot be featured on this blog as yet.
Knowing how difficult it is to bake a good loaf makes one appreciate what bakers like Audrey are doing. Baking bread really is a craft of passion. They have to wake up early in the morning in order to make the dough, proof it, bake it and cool it so that the customer has fresh bread to enjoy for the day. There is nothing quite like the smell of freshly baked bread and it certainly beats mass market bread where preservatives are added to lengthen its expiry date. A while back, I wrote about this type of bread in my post: "How long can you keep a Mcdonald's cheeseburger in the tropics". Don't worry, these preservatives are not harmful (as far as we know) but it does help you to appreciate a freshly home baked loaf more.
Over at Freshly Baked, the breads are, as the name suggests, freshly baked everyday. Not only that, they also make it a point to use fresh, homemade ingredients in their sandwiches. They currently have a few new sandwiches on the promotional menu. One is a smoked pulled pork sandwich and the other a smoked beef brisket sandwich. Again, both ingredients are made fresh by a local artisan and certainly not a product from a long long time ago, in a place far far away.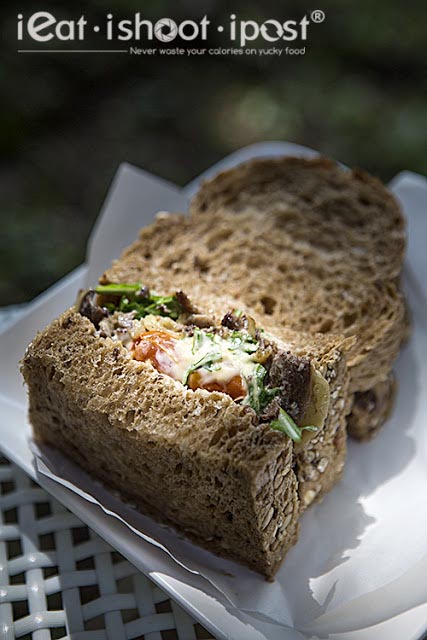 I loved the Smoked Beef Brisket sandwich. The smoked beef was wonderfully tender and juicy and the melted Emmenthal cheese and super soft whole grain bread complemented it perfectly. Being a Chinaman, I still prefer to eat something warm for lunch, so I have never been hot towards cold sandwiches. So this one suited me just fine. 4.5/5
The pulled pork sandwich was also very good, but I would have liked it a little more juicy. The homemade Ciabatta was excellent. It was light, crusty and fresh. It would have gone with anything. 4.25/5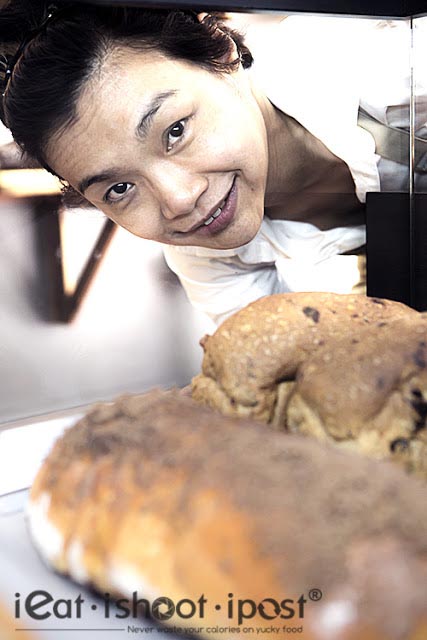 Freshly Baked is a great place for an affordable Sunday brunch. They have sausage and egg platters going for $12.90 and it comes with their freshly baked bread. A cup of coffee or tea starts from $2.50, a cappuccino is $3.80 and a croissant is $1.80. They are currently having a local breakfast set which comprise of two slices of homemade luncheon meat, 2 eggs, and hae bee. I am very surprised by the luncheon meat as I have never had a homemade version before and it was very nice. However, I felt that the portions were a little small for $13.90. I guess I can't help but think of a plate of Nasi Lemak and wonder why this plate, which lacks the rice is so much more expensive? The luncheon meat and hae bee don't go quite well with each other but were very good by themselves. My friend, Cactuskit however thought it was a good combination. I will let you all be the judge. 4/5
Conclusion
Unpretentious place for some sandwiches made with freshly baked bread and fresh ingredients. I didn't feature the walnut and raisin bread in the post, but that is their specialty and one of their most popular sandwiches is the ham and cheese sandwich on walnut and raisin bread. It's well worth trying!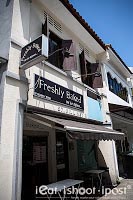 Thanks to Audrey for hosting lunch.