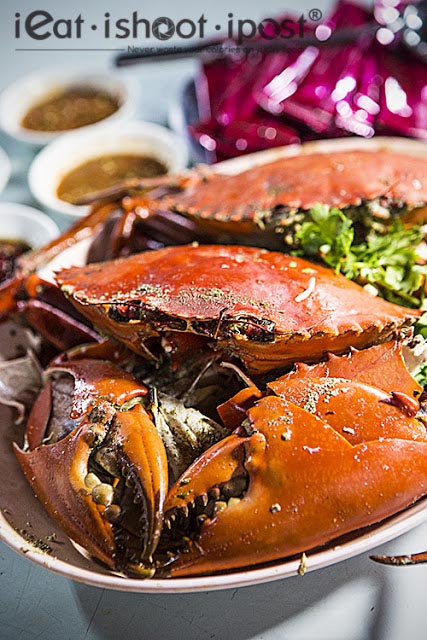 If you are a crab lover, you would no doubt have heard about Ga Hock's salt baked crabs. I have been wanting to eat at Ga Hock for the longest time, but never managed to get down to it till now.
I had always imagined the salt baked crab is like salt baked chicken where the whole crab is encrusted in salt and then baked in the oven. So when the crabs were finally presented to me, it was a bit of an anticlimax. It looked like the crab was just dusted with pepper and salt and baked in the oven! So simple ah? Looks like something that I can do at home!
When crabs are cooked so simply, a lot will have to depend on the quality of the crabs. If you are a crab lover, you would no doubt have felt the pinch of the increasing prices of crabs in the last few years. So when you have to pay $65 for a 1.5kg crab, you would expect it to be solid. As it turned out, I was actually quite disappointed with the salt baked crab. We ordered one male and one female crab. The male had nice large claws which were only half filled. The meat was on the female crab was solid enough but I couldn't help but go away feeling that we could have spent much less buying our own crabs and baking it ourselves. Afterall, when you pay so much for crabs, you would expect that the crabs meet up to a certain standard. To be fair, after the meal, I enquired about the quality of the crabs and was told that if we had told them about it before we started eating, they would have been happy to exchange the crabs for us. That being said, I still felt that if they have a one to one exchange policy with the supplier then it would have been much better if they would automatically switch to a meatier crab when they crack open the shell and see the lack of meat in the claws. Tastewise, you really don't need to stretch your imagination too much to know how salt and pepper would taste with crab. 4/5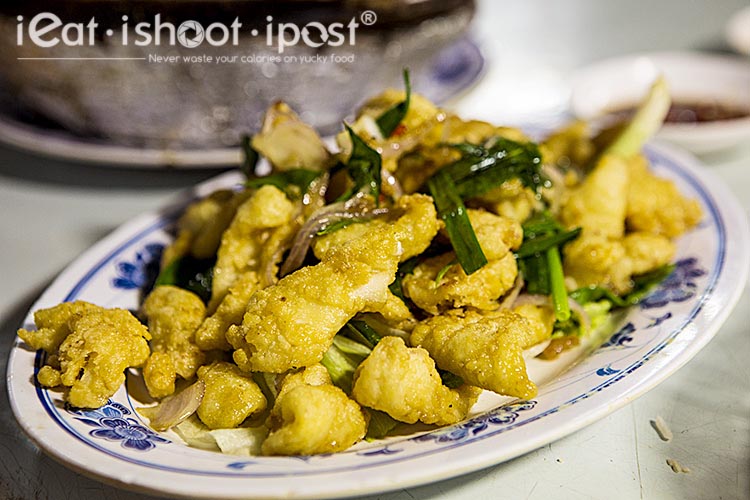 The dish that I really fell in love with that day were the butter sotong. They reminded me of the sotong I always eat when I am fishing in Rompin. I would go so far to say that it is my favourite way of cooking sotong. Tender on the inside with a crunchy crust which has enough sauce to flavour it but maintaining its crispiness, it is really a no brainer. 4.5/5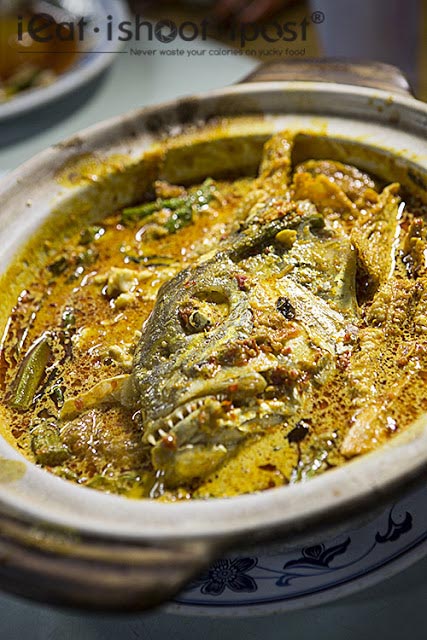 Fish Head Curry is the other signature dish of Ga Hock. The gravy was very good. It is nonya style fish head curry, so the gravy was rich and coconutty. The half head we were given was unfortunately not too fresh that day and I felt it was a tad small for the claypot. Perhaps it is another sign of the diminishing supply of seafood? 3.75/5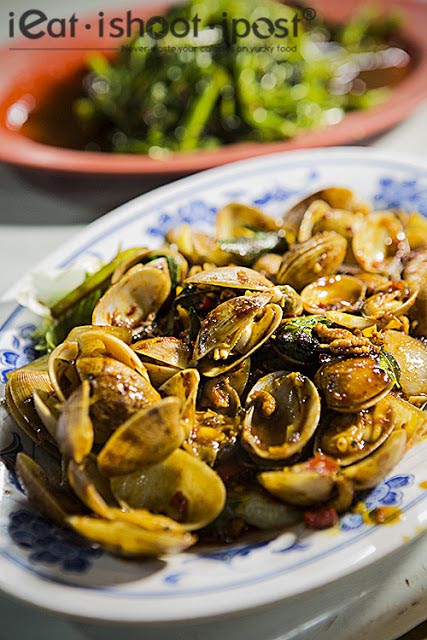 We had two dishes that evening which made use of their sambal chilli sauce and they were very good. There is no lack of hae bee (dried shrimps) in the sambal, so both the sambal la la and the sambal kangkong were spicy, savoury and shiok! 4.25/5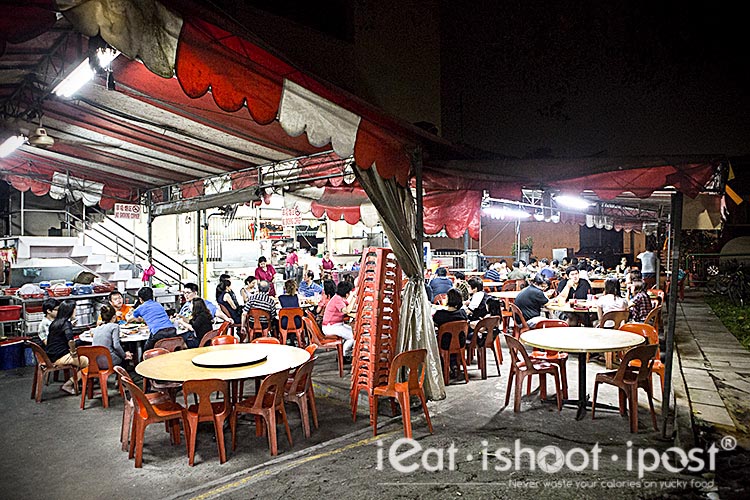 Conclusion
My personal experience at Ga Hock did not really live up to expectations, but my friend SCS Butter who eats there every month tells me that it was just a one off. Apart from the food, Ga Hock does have that rustic environment going for it. When you are eating there, you can just imagine that you are somewhere in Malaysia. I think it does deserve a return visit for me if not just for the butter sotong. But next time I will be wiser to complain about empty crab claws and get them to replace it before tucking in!