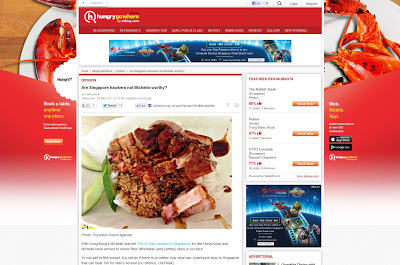 Link to article "Are Singapore Hawkers Not Michelin-Worthy?"
This article from hungrygowhere asked a very interesting question. How would our Hawker Legends fare against famous Michelin Starred Chefs like Gordon Ramsay? I would ask the same question this way, if Mr Ng of Hillstreet Char Kway Teow were born in another time and in another place and given the right opportunities, could he have been a 3 Michelin Starred Chef?
Certainly both men share the same quality that makes for a great Chef. Dogged passion and the propensity for hard work. It is just that they were born under different circumstances. I am sure that if Mr Gordon Ramsay had been born in Singapore in the 40's, he might have become a great Char Kway Teow man.
But would Mr Ng ever get a Michelin star if they were to publish a Michelin guide on Singapore food? I don't think so. That is because of the emphasis they place on the whole dining experience which includes service, ambience etc. We Singaporeans on the other hand regard good food as anything that tastes good when it hits the palate, regardless of where we find it. For me, a $3 plate of Char Kway Teow or Laksa is just as tasty as that $50 main course at a high class restaurant. Of course, there are $50 bowls of Laksa that can be found at some high end restaurants here. Usually that means that its got Maine Lobster in it and I can imagine that it might taste better than Marine Parade Laksa if a Michelin Starred Chef like Gordon Ramsay were to make it using the very best ingredients he could get his hand on.
But Char Kway Teow is a different beast altogether. I just spoke with the son of Mr Ng who is now starting to take over from his father. He tells me that it took him at least 6 months of frying before his dad would allow him to fry for the public. Why? Because Char Kway Teow is not just about ingredients. It is about Wok Kung Fu. It is about movement and timing. It is not something a Michelin Star chef can learn overnight. Perhaps he might learn it in a shorter time then Mr Ng Jr but it still takes time and practice to hone Kung Fu skills. That is the reason why I wrote about "The End of Char Kway Teow". This is a hawker trade that relies on skills that require lots of practice and not something that you can learn off a recipe book. Thus, unless more young hawkers can take up the challenge, it is one cultural icon which will disappear in the future.
So, can a Michelin Star Chef like Gordon Ramsay fry a plate of Char Kway Teow as good as Mr Ng?
I would like to see him try!