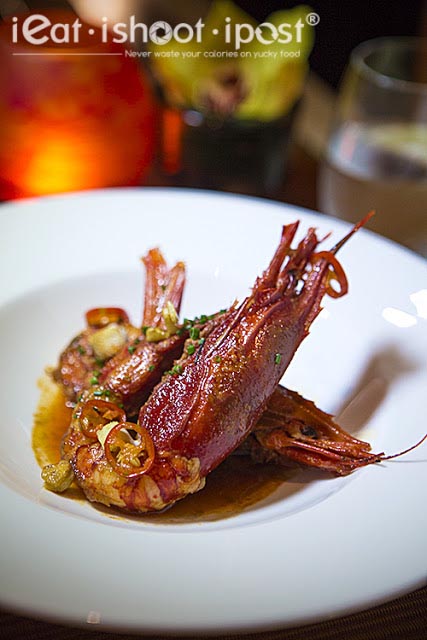 Yes, it is getting a bit crowded in Singapore. It seems that there are people everywhere, so much so that sometimes I feel that it is almost impossible to find a place where there is no one around.
Lately I have been learning to embrace the silence. Silence is a precious commodity in today's world. With smartphones, laptops, tablets, TV everywhere, there doesn't seem to be a period of silence in the 16 hours that you spend awake. Being connected is a good thing, but in the age of the smartphone, our connectedness tends to be very fragmented. Our conversations with friends and family now consists of short sentences punctuated by even shorter shorthand annotations. So, it is not surprising that the quality of our relationships are also affected. Sometimes I feel that you can only really have a conversation with someone in front of you if you communicated through the handphone. Don't you feel like that at times?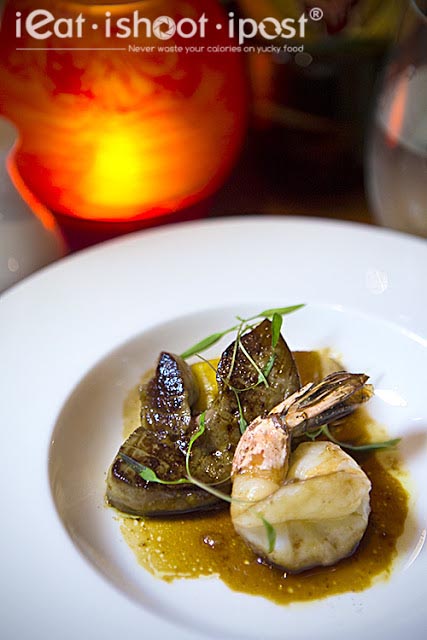 Finding places where one can have a quiet meal where civilization is left behind is a luxury. I remember years ago when I was still a young medical officer at CGH, a colleague of mine brought me to Pasir Ris Park to have a drink. Back then, there was only the beach and a little shack that served drinks and some munchies. There, under the coconut tree with the sea breeze blowing, a beer in one hand and a cigarette on the other, my friend (yes some docs smoke and drink too) would lament about his lack of a girlfriend. I didn't drink nor smoked and I was happily married, so we are sort of like two adjacent pieces of a jigsaw puzzle. I still remember those days fondly.
Once in a while, it is good to get away from the mad hustle and bustle and spend some quality time with someone you love. A place where you can feel a thousand miles away from the noise. Such places are difficult to find, but one place you might want to look at is this restaurant located in an isolated part of Sentosa facing the South China Sea.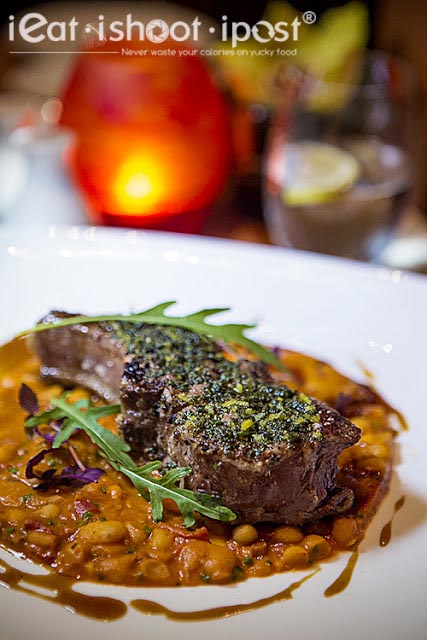 Now, most of you might be turned off by the mere mention of Capella. Afterall, there aren't many ultra luxurious hotels in Singapore that command a $15K price tag per night (presidential suite). It is the playground for hollywood superstars who fly into Singapore in their own private jet. Understandably, you might be quite apprehensive about even thinking about having dinner there. But I was pleasantly surprised that the Knolls turned out to be quite a casual restaurant with prices which are pretty much on par with most of the other restaurants in Singapore.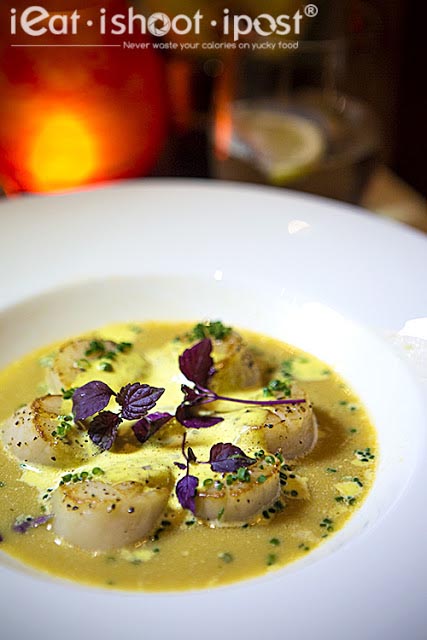 With new Executive Chef Senia helming the kitchen, the restaurant had recently had a major shift in direction. He has steered the restaurant away from molecular cuisine to focus on more traditional Mediterranean fare. I would describe the food as modern with a heavy Spanish influence. Of the dishes we sampled, the Spanish dishes were most inspired. I enjoyed both the Carabinero prawns as well as the Iberico pork chops. Both were done in the traditional way. Carabinero prawns have been a favourite of mine since I first tasted them at Bomba. Since then, I wouldn't pass off any chance of eating them when they are available. The briny flavour of the tomally is so intense that for me, it is the epitome of crustacean flavour. I wonder what a Hokkien Mee made from Carabinero would taste like? That would surely be my ultimate version of Hokkien Mee! 4.5/5
The Spanish pork chops were also very good except that I found the portion to be a little large, especially with the generous white beans ragout. I was told by the Spanish Sous Chef that this is a very traditional way of serving pork chops in Spain. It is a very hearty dish where the natural pork flavour still manages to rise up through the tomato based sauce. 4/5
Rockett Girl opted for the foie gras for her starter which came with a slice of caramelized mango and a grilled shrimp. It was well executed but not exactly the most inspired foie gras dish that I have come across. The grilled prawn was a far cry from the Carabinero prawns we had. The texture was crunchy and pretty bland. Not something I would order again. 3.75/5 Her Hokkaido scallop dish also did not meet up to expectations. The flavour of the seafood bouillabaisse was not intense enough and the scallops were just not as sweet as I expected them to be. 3.5/5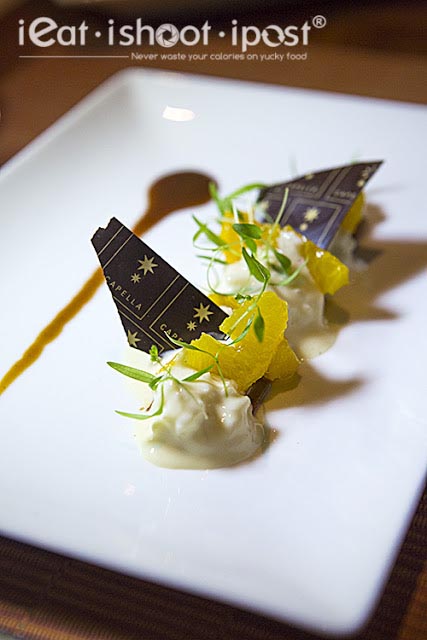 With such hearty portions, we opted for a light dessert of cinnamon flavoured rice which was quite nicely done but I felt that it was priced a little high for the portion we got. 4/5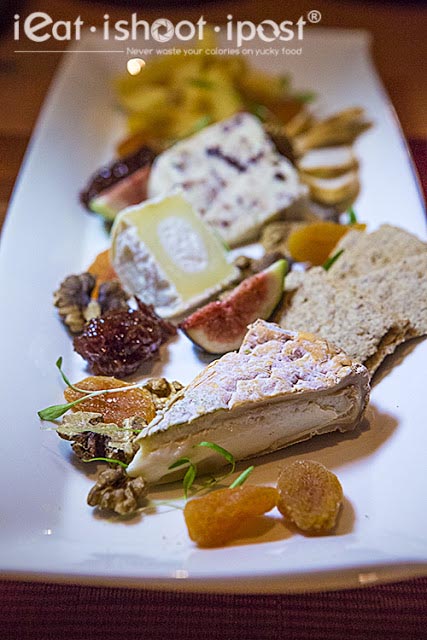 A much better value for money pick was the Cheese Platter which had four different cheeses and a whole plate of different condiments to go with it. I can imagine myself coming to the Knolls and ordering the cheese platter with a glass of wine or a cup of tea and spending some quiet time just enjoying the view and allowing myself the luxury of silence. 4/5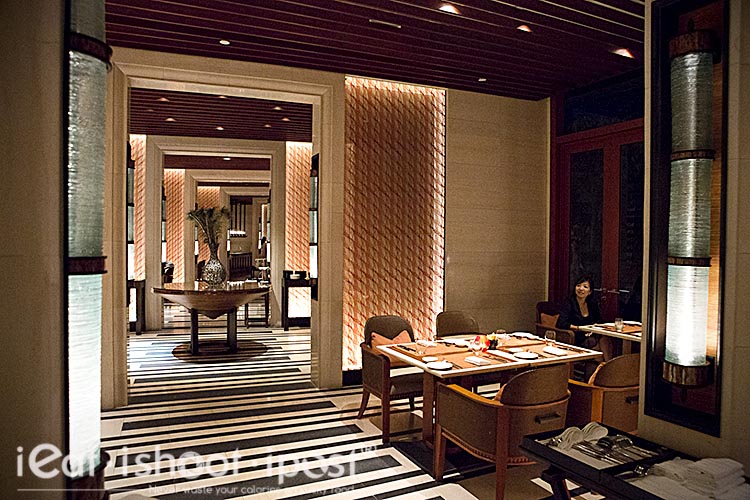 Conclusion
Great place for a quiet meal away from the noise. The prices are surprisingly reasonable considering the status of Capella as an ultra luxurious hotel. Some hits and misses with the food. The Carabinero prawns blew me away but apart from that, the rest of the meal was pretty standard european fare.
This was an invited tasting