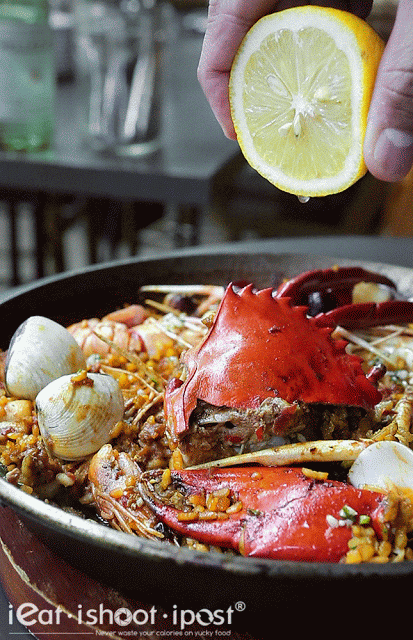 The latest culinary trend in town and indeed around the world is undoubtedly Spanish cuisine. In the last few years, its refreshing to see many Spanish eateries opening up here in a market saturated with Italian eateries. I have yet to really venture into Spanish cuisine but with this post, it is now official that I am on the hunt for the best Spanish food in Singapore!
Bomba is one of latest Spanish restaurants in town and takes over the location from Graze at 38 Martin Place. Named after the Spanish rice that is used for the iconic Spanish dish, paella (pa-eh-ya), the food at Bomba was so impressive that I am left wondering why it has taken me so long to get into Spanish food!
There are two schools of thought when it comes to Spanish cuisine. You have the ultra modern molecular approach made popular by Ferran Adria who almost single handedly propelled Spanish cuisine to worldwide popularity, and then you have Chefs like the late Santi Santa Maria who like to focus on great ingredients cooked in the traditional way.
Bomba belongs to the latter category but French Born Chef Jean Phillippe serves his traditional Spanish dishes with a little French flair. But to be sure, this is not a fine dining restaurant. It is still at its heart, a casual place where you can go for a drink and order some tapas and paella.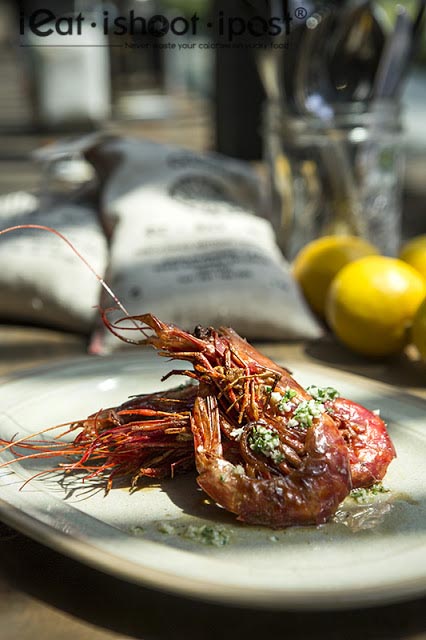 With so many Spanish Restaurants opening in Singapore, it is getting easier to source Spanish ingredients which is a boon for Spanish food lovers. We were introduced to the Carabinero Shrimps where are stunningly Crimson Red in colour raw. They are a popular shrimp in Spain are are named after the policemen who used to wear uniforms of similar colour in the past.
These shrimps are found in brackish waters at the estuaries before the river empties into the ocean and the natural colour of the shrimp is due to the plankton that the shrimp feeds on. They are one of the most flavourful shrimps I have ever tasted. The briny crustacean flavour is so strong that it made my fingers smell like keropok for quite a while! The head of the shrimp is full of yummy tomally (liver) which would have gone so well in a paella! These are the tastiest shrimps I have come across! Pity they are $22 each or I could be quite happy just ordering a plateful of these to enjoy with some beer! (Paco, my Spanish food expert tells me that these are also expensive in Spain where they can fetch 60 euros per kg!) 4.5/5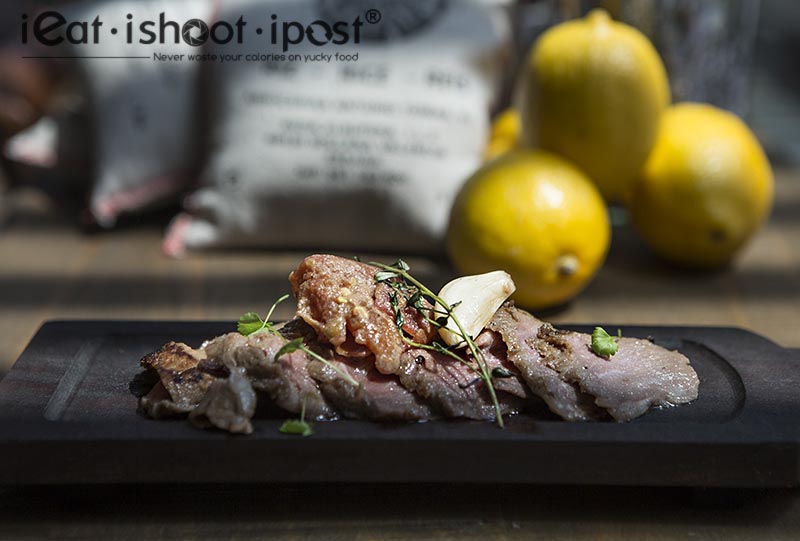 If you love pork, the the Secreto Iberico is a real treat. Secreto Iberico literally means the "Secret of Iberico" and refers to the area just between the foreleg and the belly of the pig. Char Siew lovers are familiar with this cut. We call it the pig's armpit. The cut is excellent when grilled as they give a wonderfully bouncy texture due to the intricate reticular marbling of the meat in these areas.
But of course, this Secreto Iberico is even more special because it comes from the Pata Negra or black footed pigs whose hind legs are made into Jamon Iberico. Chef marinades the pork and then grills them over charcoal and mesquite wood to infused it with a nice smokey flavour and serves them pink. He tells me that the quality of the pork is so good, there is no problem in eating it less than well done. The pork was very tasty and had a natural sweetness that hits the back of the palate and lingers there for the wine to wash it down. The texture was excellent. 4.25/5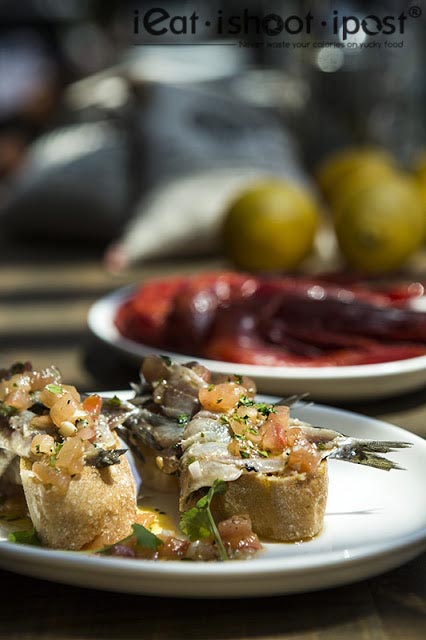 Another popular dish for tapas in marinated anchovies served with bread. For those of you (myself included) who are quite averse to anchovies, these are actually not as fishy as I expected. These tasty little fish are now airflown to Singapore, so they are quite fresh. Served with diced tomato, olive oil and a squeeze of lemon, it really makes you feel very Mediterranean. 4/5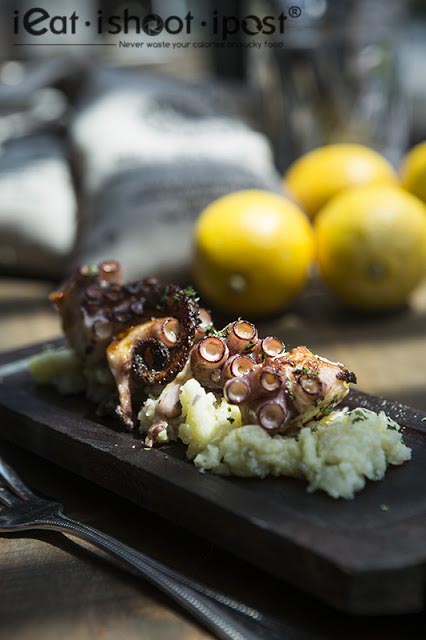 The traditional dish of pulpo ala gallega (Galician style octopus) is a very simple dish to make. Basically, you take an octopus, boil it for 45 mins till tender then use the same water to boil some potatoes. Then just slice the potatoes and octopus, assemble and drizzle with some olive oil, seasoning and pimento. (See Mark Bittman's video recipe) The key is to get the texture of the octopus right. It can't be too tough nor too mushy. Usually this dish is served in a saucer with the sliced potatoes on the bottom and octopus on top. However, Chef made a few minor modifications. First he grilled the octopus on the hotplate (plancha) to give a wonderful aroma and then he serves it on a bed of crushed ratte potatoes. These wonderfully nutty and buttery potatoes are a favourite amongst French chefs and is a great compliment to the octopus. 4.25/5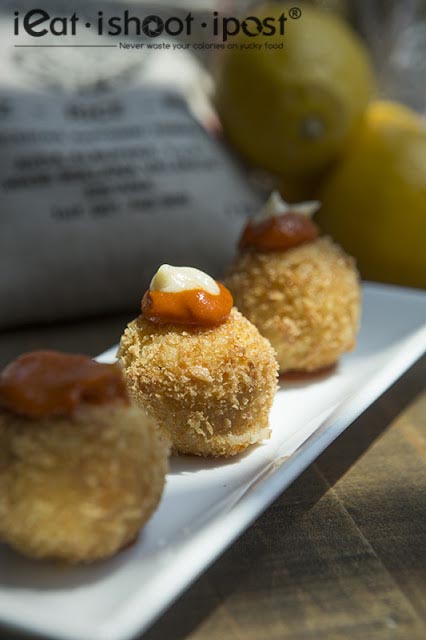 Another tapas are the croquetas. Not to be confused with croquets, croquetas are basically made from a bechamel sauce which are cooled first then shaped and coated with egg and breadcrumbs and deep fried. Between the Potato Bomba and the Jamon Iberico croquettas, I would pick the latter. It's crunchy on the outside, creamy on the inside and full of that Jamon flavour. Very easy to like, but a croquette is a croquette is a croquette. Know what I mean? 4/5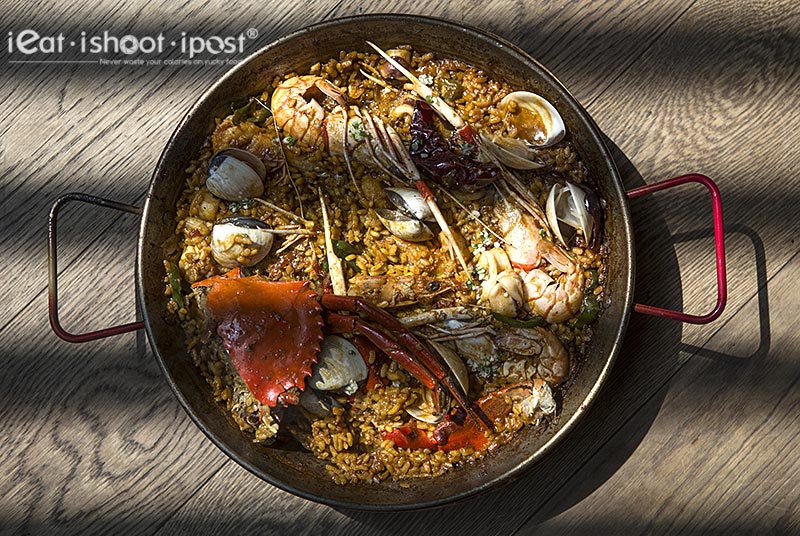 Bomba prides itself as a place for paella. So they insist on cooking the rice only when you order rather than cooking the rice first and finishing it when you order. However, if you have been to Spain, you would know that a proper paella might take an hour to an hour and a half to cook! That is because, you need to first prepare the stock on the pan and then put the rice in. In order to shorten the cooking time, what Chef did was to make the stock ahead of time. So the waiting time is between 20-25mins which is the amount of time the rice needs to cook.
Spanish paella is different from the Italian risotto in that it is left to cook on the pan without stirring. Italians stir their risotto continuously to produce the starch which makes the rice creamy. Spanish paella on the other hand is not supposed to be creamy, but dry and with a crust at the bottom of the pan called the soccarat. Chef is very particular about the soccarat and would refuse to serve the paella if the soccarat was not formed properly.
The Langostine, Squid and Prawn Paella has a wonderful briny crustacean flavour coming from a wonderful seafood stock with Chef makes from roasting prawn heads. The texture of the rice a little gritty which I am told is the way the Spanish like their paella. Personally, I would prefer it to be just a little bit more tender and chewy. 4.25/5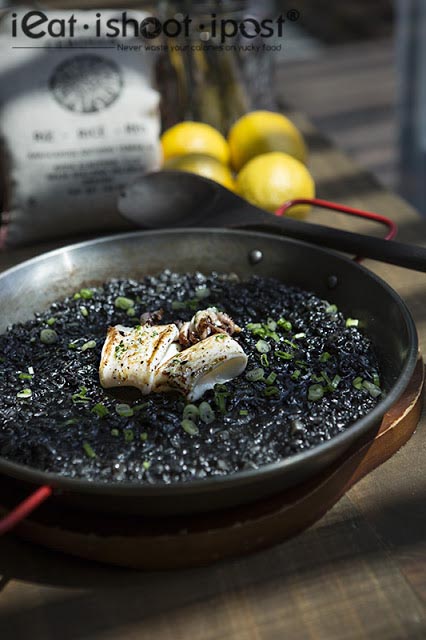 If you like squid ink pasta, then you will enjoy the iconic Arroz Negro. Strictly speaking this is not a paella even though it is cooked like a paella. Chef tells us that the primary difference is that it is wetter and does not have the soccarat. (My friend Paco on the other hand says it does) It is essentially rice that is cooked in squid stock and squid ink. This dish is simple, yet so tasty. The squid ink and stock gives it a nice umami that is more subtle than the seafood paella, but is the sort of thing that you can take small mouthfuls at a time to really enjoy the taste of the sea. I look forward to eating this again! 4.5/5
Conclusion
I don't have the luxury of having ever visited Spain so I can't tell you how authentic the dishes in Bomba really is. But based purely on my tastebuds, I found the food very tasty and well executed. I like the casual atmosphere and the pricing is reasonable considering there is no service charge. Bomba got me all excited about discovering more about Spanish cuisine. I guess that sort of sums it up!
Special for ieatishootipost readers
Dine between 6pm to 8pm and get a free dessert for every two diners. Make your reservations under ieatishootipost in order to enjoy this offer. Valid till end of November.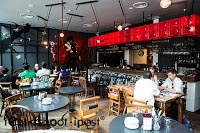 This was a media invited review