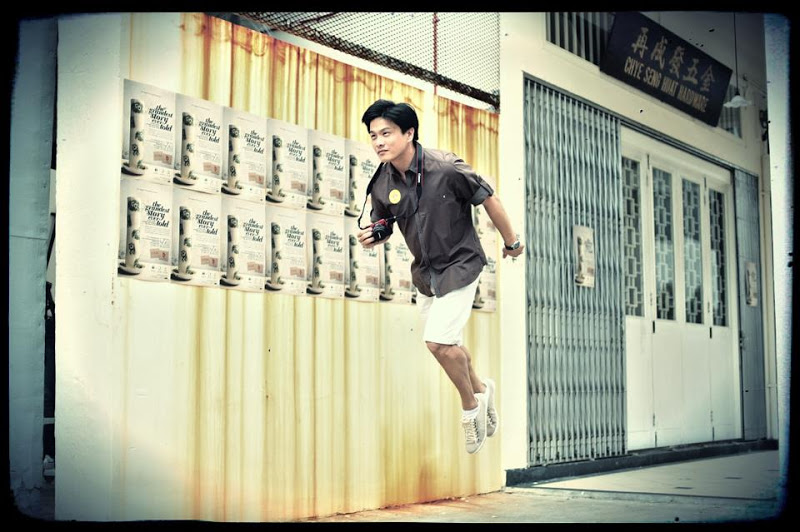 Levitating outside of Chye Seng Huat Hardware: Photo by Jeff Cheong
Recording the oral histories of our hawker food heritage has been my passion for the last couple of years and I am always fascinated whenever I talk to the men and women who have dedicated their lives to feeding Singaporeans. They really are the backbone of our society and a big part of our Singaporean cultural heritage!
I remember the first time I spoke with the uncle at Ghim Moh Chwee Kueh and discovered how Chwee Kueh used to be steamed in little clay saucers before they became the metal ones which we see nowadays. The story fascinated me and I wrote it up in my post, hoping to record that bit of history for Singaporeans of future generations. I also recall the time when I found out that Kueh Tu Tu was invented in Singapore in the 1930's by the Tan family! At the time, my first reaction was "Wow! Here's a dish that is truly Singaporean in origin!"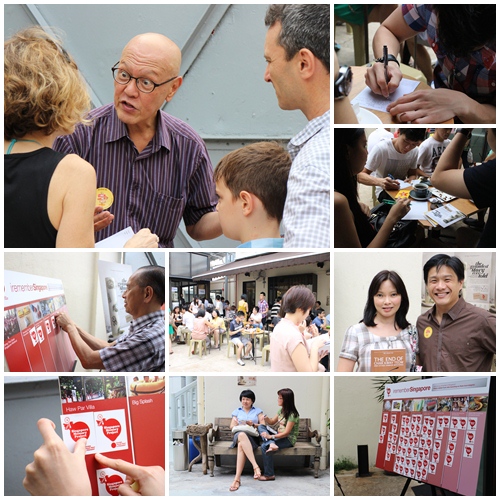 Grandest Story Ever Told Event
But you know, all of us have some fascinating stories of the past which we can share. You might not want to start a blog and write about it like my friend James Seah of Blogtoexpress whom I met at Chye Seng Huat last Saturday, because, well, that simply takes a lot of effort and dedication!
But, if you have an interesting snippet of Singapore of the past, you can easily band with others and record it down in http://www.singaporememory.sg/ which is a site where you can simply share a memory with fellow Singaporeans!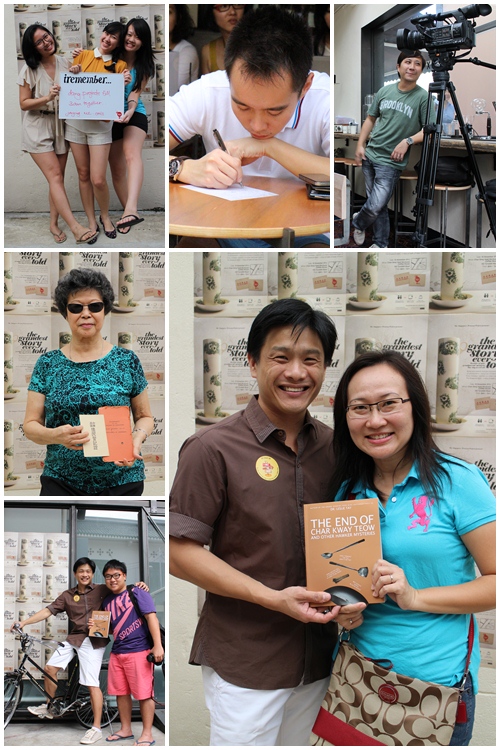 Last Saturday, we met up with fans who have turned up at Chye Seng Huat Hardware to share their stories. Everyone had a story to tell once you put a pen and postcard in front of them and everyone seemed to have so much fun reminiscing about the past!
I am sure you have an interesting story to tell too! It's actually quite fulfilling once you start writing! Just see what you can remember about:
1. Singapore Wonderland
2. Singing Stand Up for Singapore
3. Haw Par Villa
4. Van Kleef Aquarium
5. Ice Kachang Balls
6. Tuckshop food
7. Rasa Singapura
8. Satay Club
9. Toa Payoh Swimming Complex
10.A&W
Remembered something? Better still, you have a photo so share? Then go to http://www.singaporememory.sg/ and write it down! Have fun reminiscing!
This post was sponsored by the Singapore Memory Project