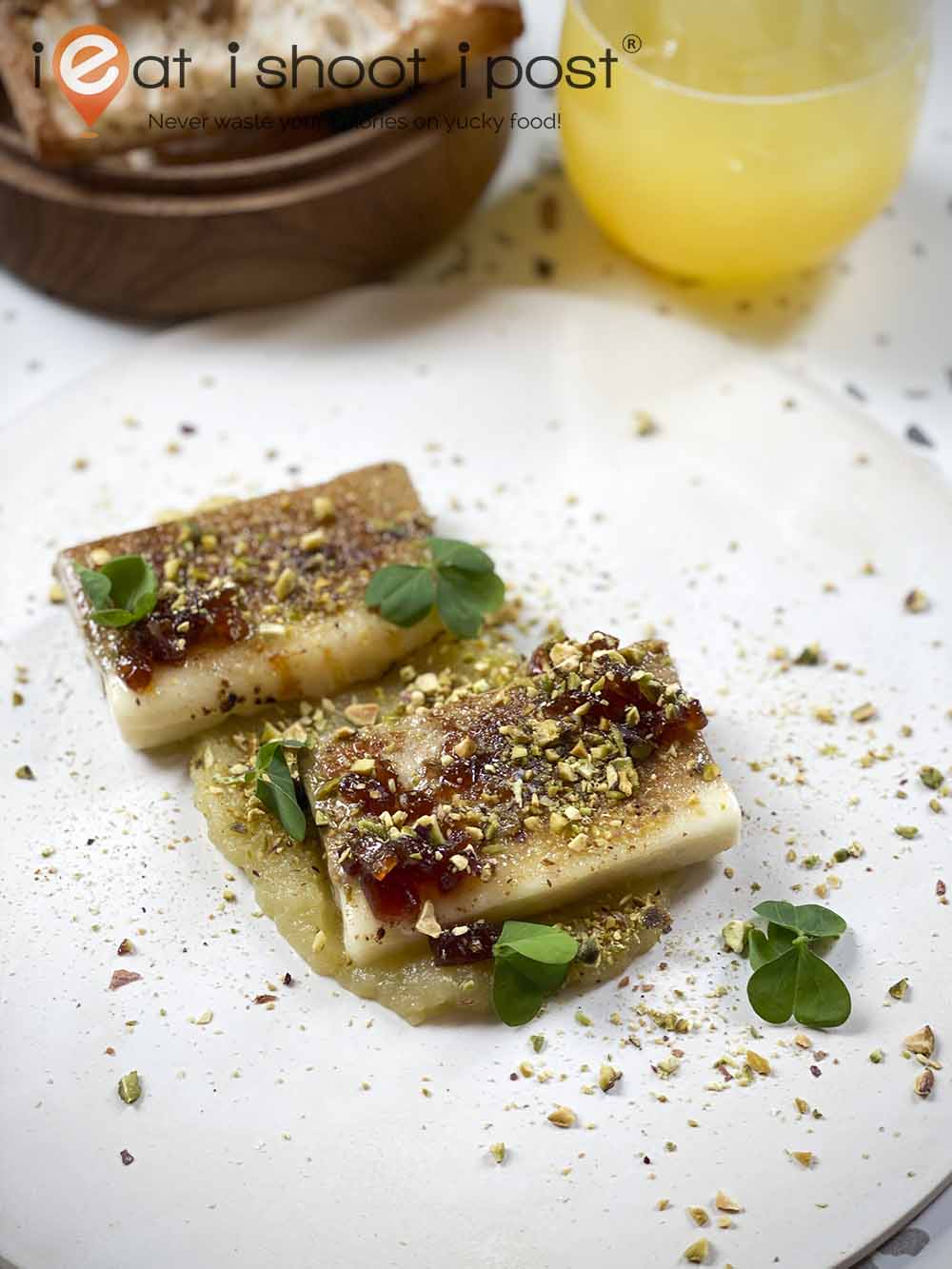 If you have read our blog long enough, you'd know that we are big fans of Spanish food, especially for their delectable Josper oven-grilled meats and vegetables. That's why we didn't hesitate to RSVP when we received the media invite to the latest Spanish restaurant in town. What's more, the restaurant is billed as a "fire" restaurant serving flame-grilled Spanish dishes with a modern twist!
Lumbre means fire in Spanish, and it is an apt name considering that the restaurant serves grilled cuisine as their specialty. This spanking new Spanish concept restaurant is the latest project from the same people who brought us Kulto, Kilo, Senor Taco, and La Mexicana.
The dishes served at Lumbre were delicious, with some dishes really standing out for their creativity, such as the foie gras terrine which had a layer of Manchego cheese which is quite an unusual companion for foie gras.  Their grilled meats were excellent.  They had that requisite smokey flavor and were done just right with imaginative sauces. The dishes were mostly very competent.
We do have several reservations.  Firstly, the dishes were all a bit pricey for small plates.  $26 for 3 croquettes was a bit hard to swallow even if they were done with squid ink and had uni on top.  The other issue is that even though it is positioned as a modern Spanish restaurant, it felt more Mediterranean cuisine with touches of Italy and France.  That may be good for those of you who are looking for something new, but if you are expecting classic Spanish dishes like paella, tortillas and a char grilled secreto iberico, you would be sorely disappointed.   Call it a modern Mediterranean restaurant and expectations will better managed.
Our last concern was that the items in the menu didn't quite fit a consistent theme.  Some dishes like the rigatoni and croquettes felt that they belonged to a fine dining restaurant while the grilled lamb chops seem to signal a more casual, sharing plate style restaurant.  This being their opening menu, I am sure the chefs will continue to hone it based on customer feedback.
Here are the dishes we tried starting with the dishes we really liked!
Must-Try Dishes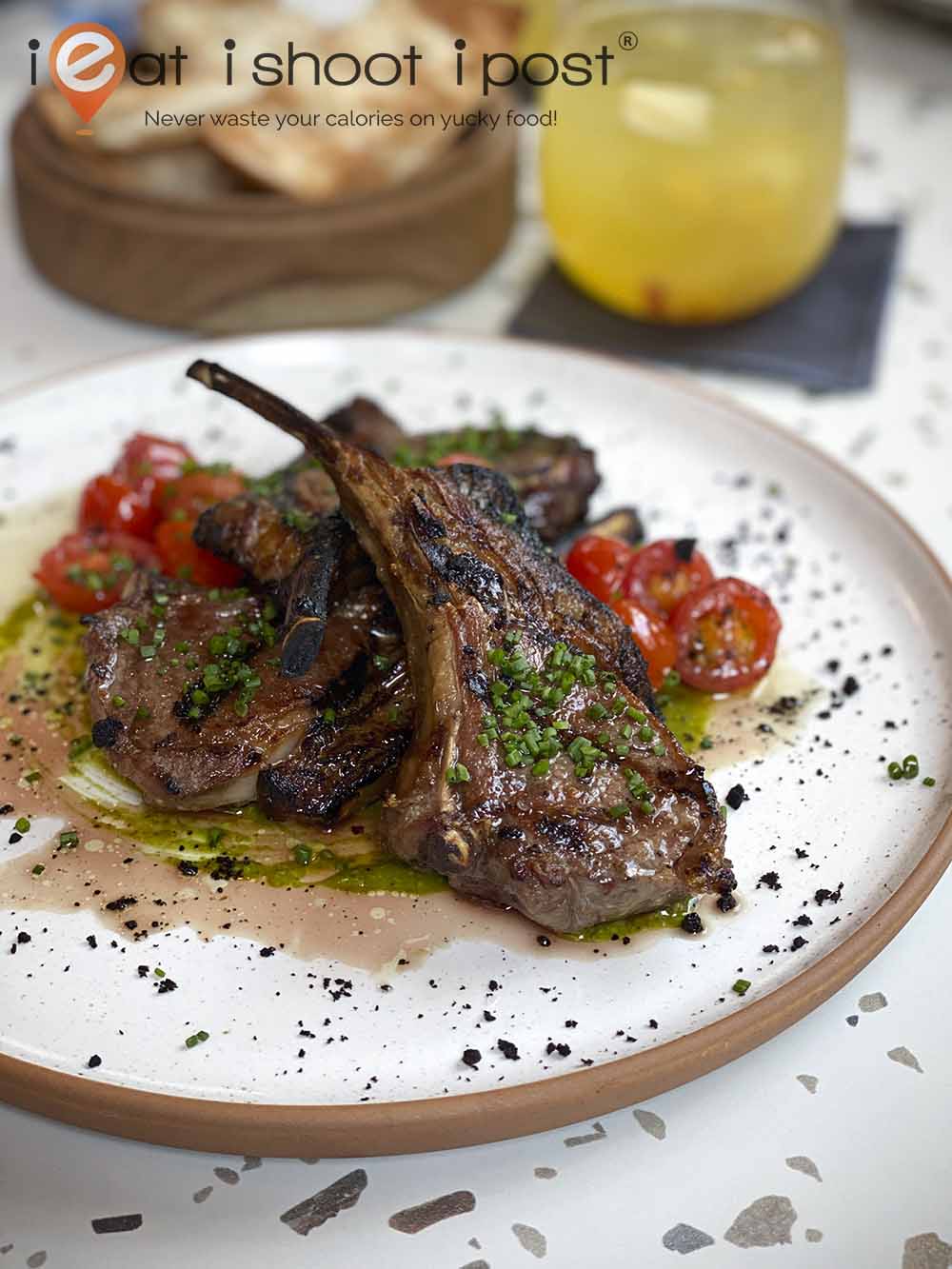 The Lamb Rack is the kind of dish I was expecting of Lumbre.  The lamb was grilled to perfection and had that charred fire-kissed flavor which is what you want to experience of a "fire" restaurant.  The pistachio sauce made with top quality Iranian pistachios was excellent and the confit tomatoes added a nice sweetness to the dish.  4.25/5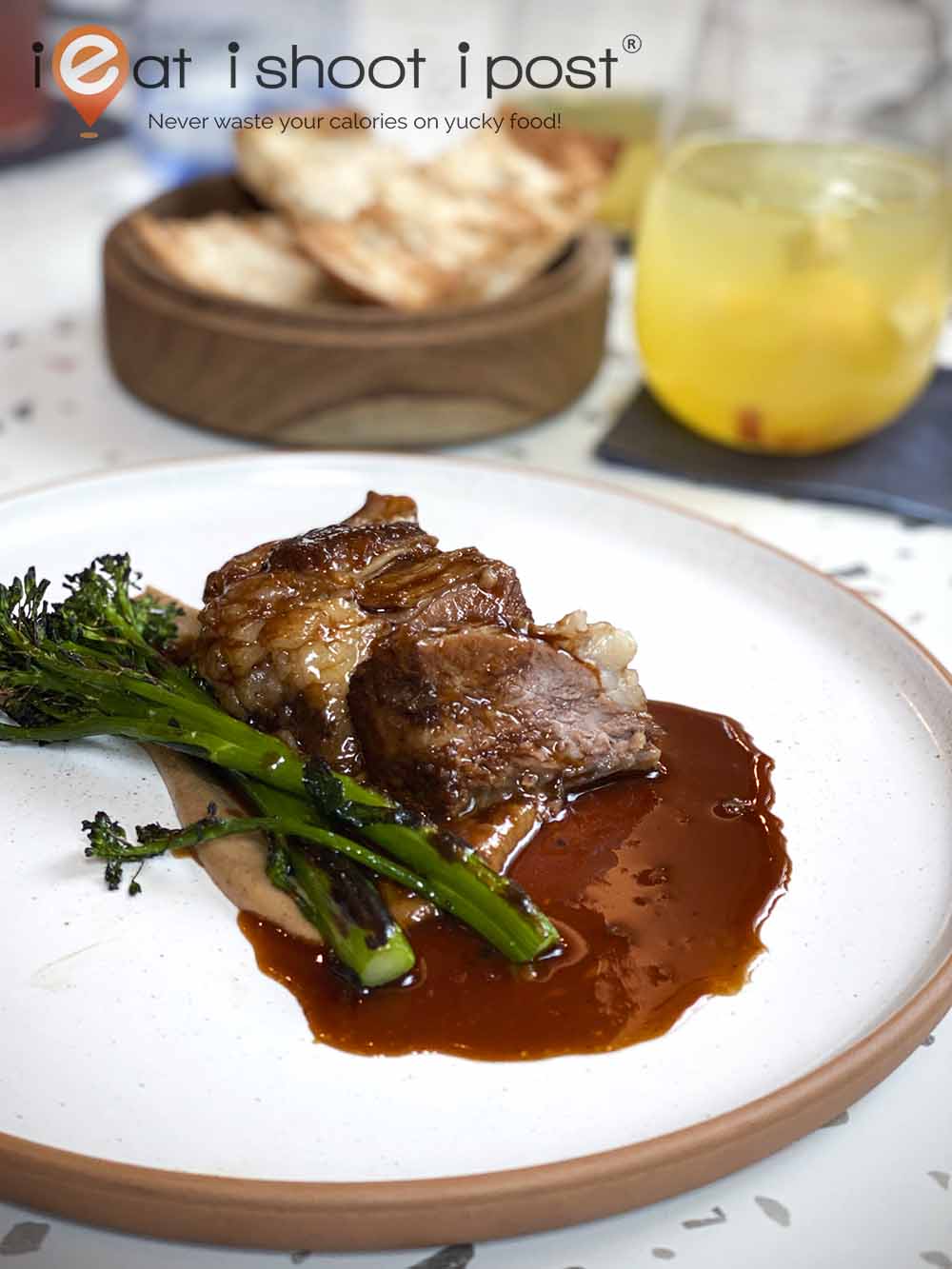 Their slow cooked beef short ribs are one of the best I have come across.  By cooking the USDA Angus short ribs low and slow, they have managed to make them really tender while the fats are still intact just waiting to melt in your mouth at the slightest pressure.   The sauce that that lovely lip-smacking feel indicative of the long cooking process. 4.5/5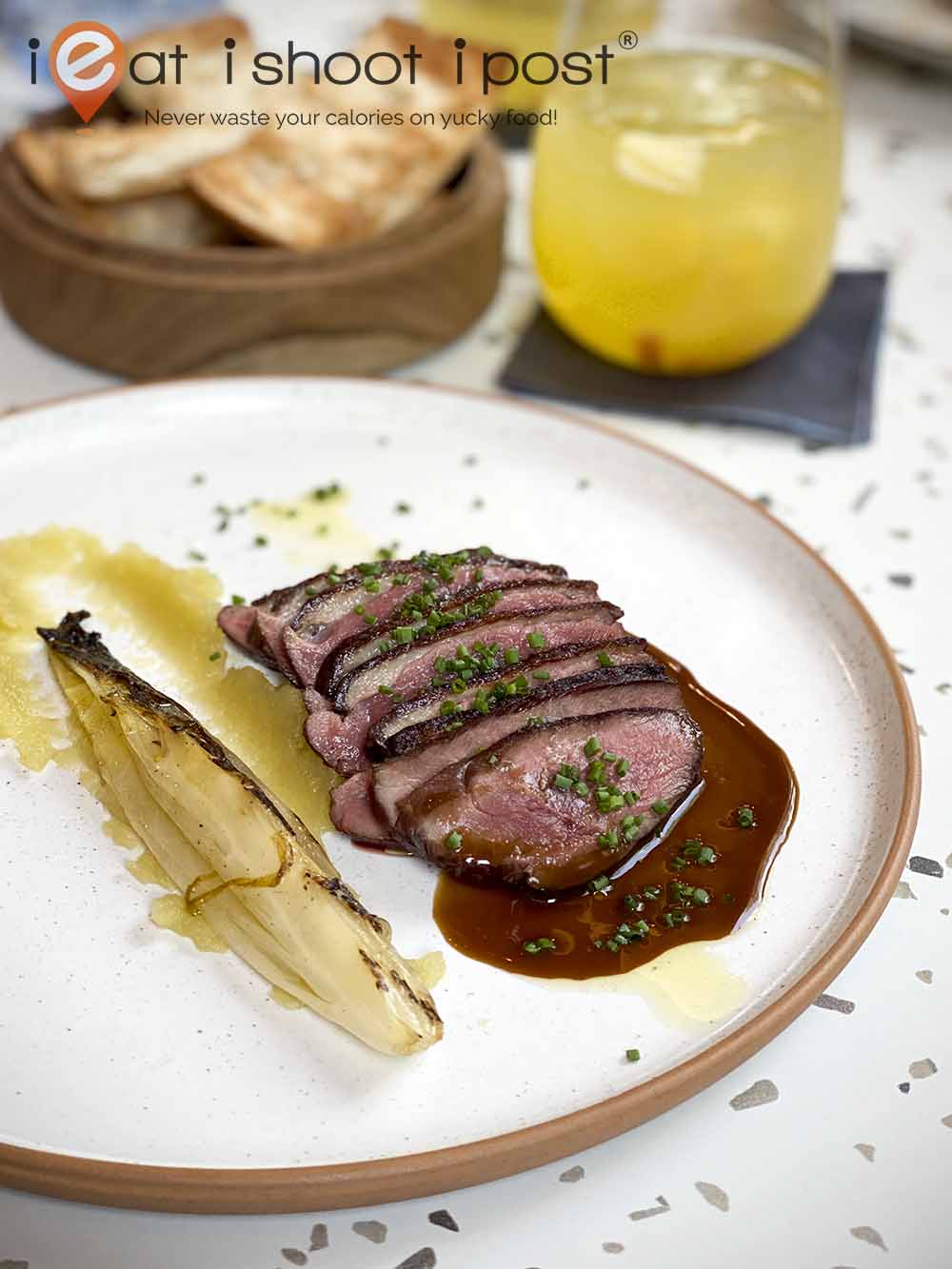 Another hit is their duck breast served with apple puree.  The French duck was done just right.  It wasn't gamey and the meat was juicy and delicious. This dish was wiped up faster than the other dishes on the table! 4.25/5
Can-Try Dishes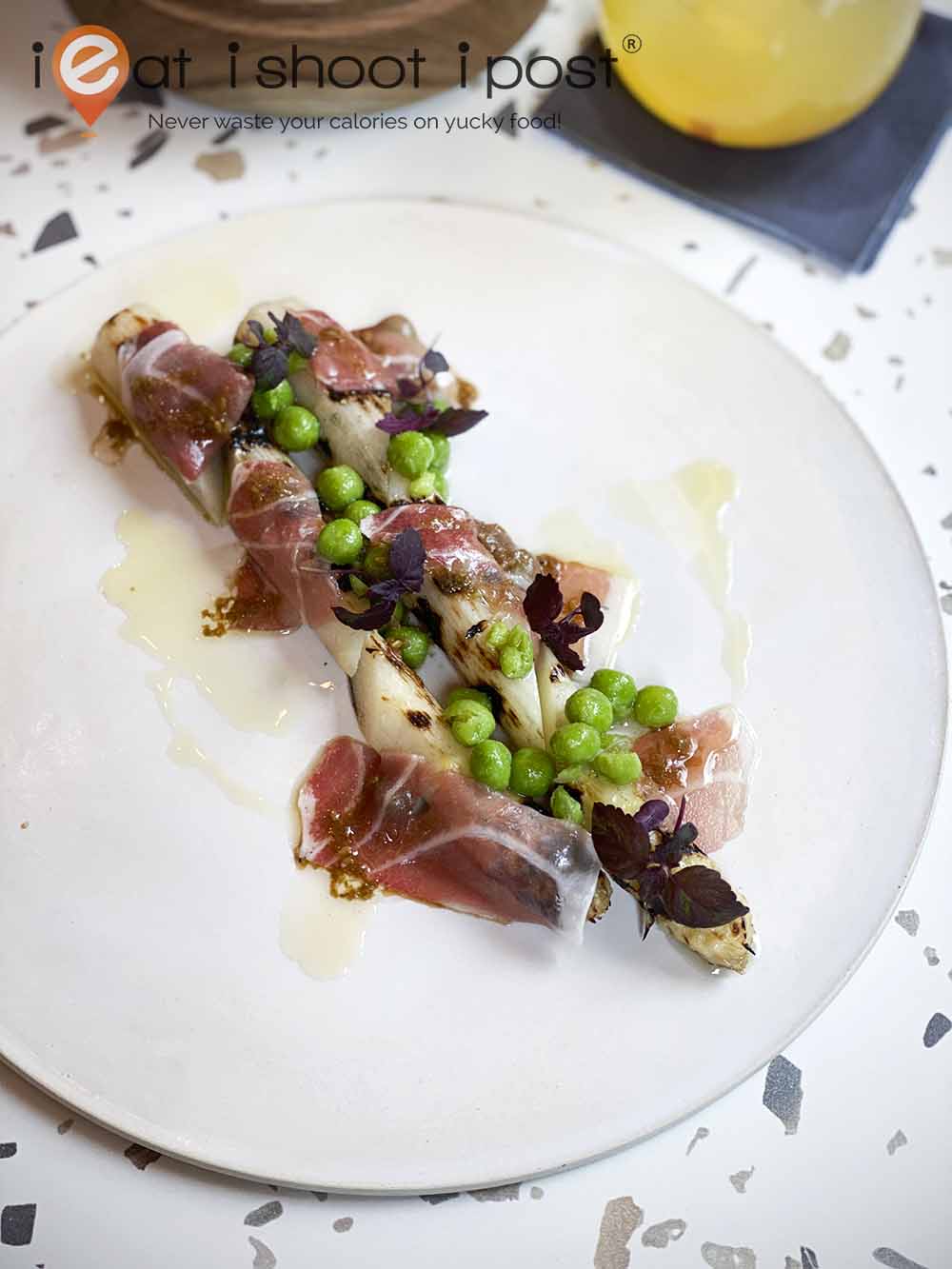 It's white asparagus season and we enjoyed this dish of  charred white asparagus dressed in olive oil and topped with slivers of protein which looked like Jamon but turned out to be bluefin tuna that is sourced from the Mediterranean sea, no less. The tuna belly was nice, though it didn't quite have the same punch as Jamon Iberico. (even though it looked like it!)  4/5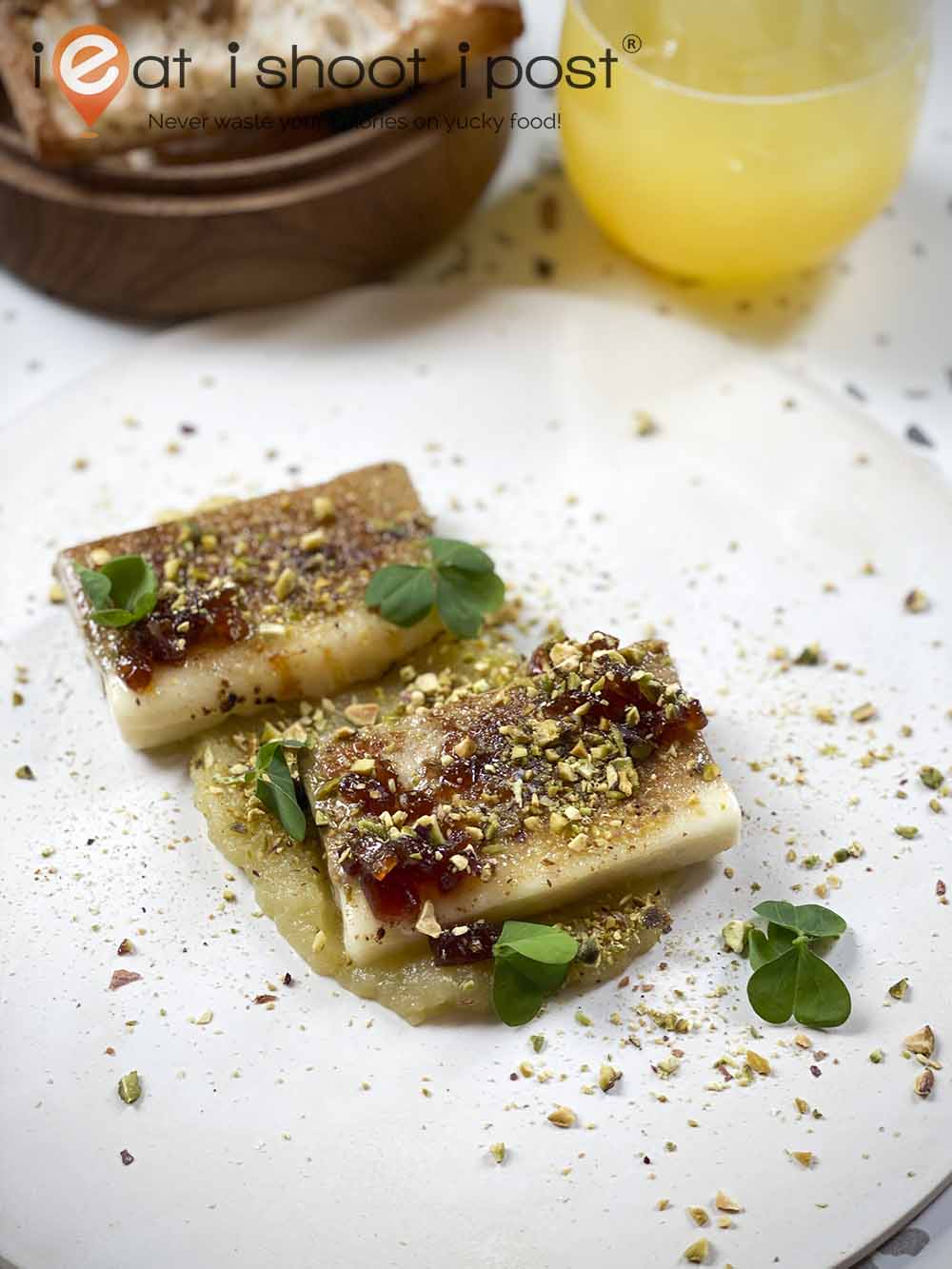 Their foie gras terrine paired with a layer of Manchego cheese and apple puree was very nice. It was served with super crispy and lacey crystal bread which was made in-house. The sweetness of the apple puree complimented the savouriness of the foie gras beautifully and it was great on the airy and crunchy bread.  4/5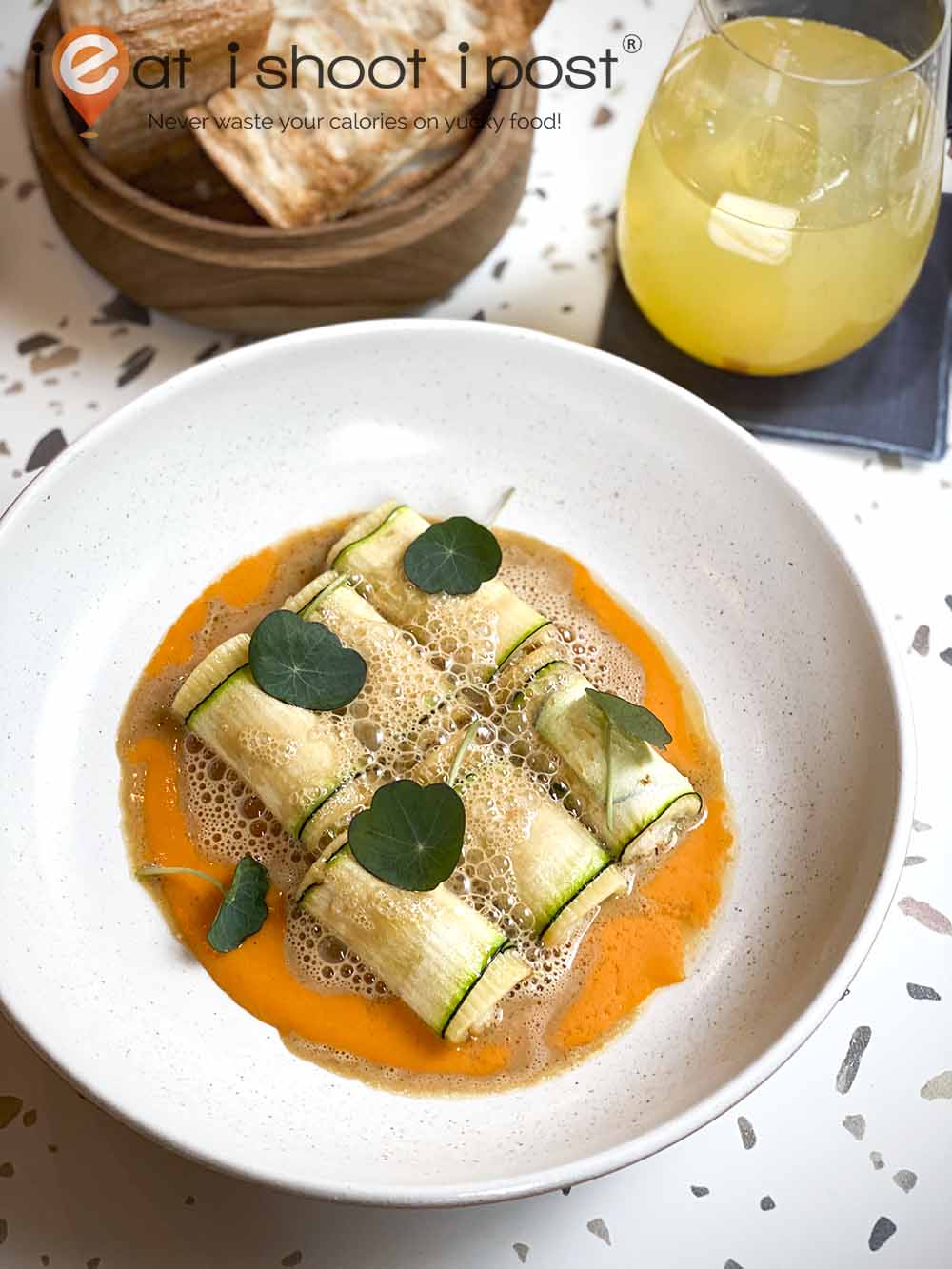 The Rigatoni Pasta which is stuffed with three different types of seafood and served with a wonderfully robust crustacean bisque was very nice. However, this is one of those dishes which I felt was a bit out of place compared to some of the other more casual style dishes. Still, it is a dish worth going back for. 4/5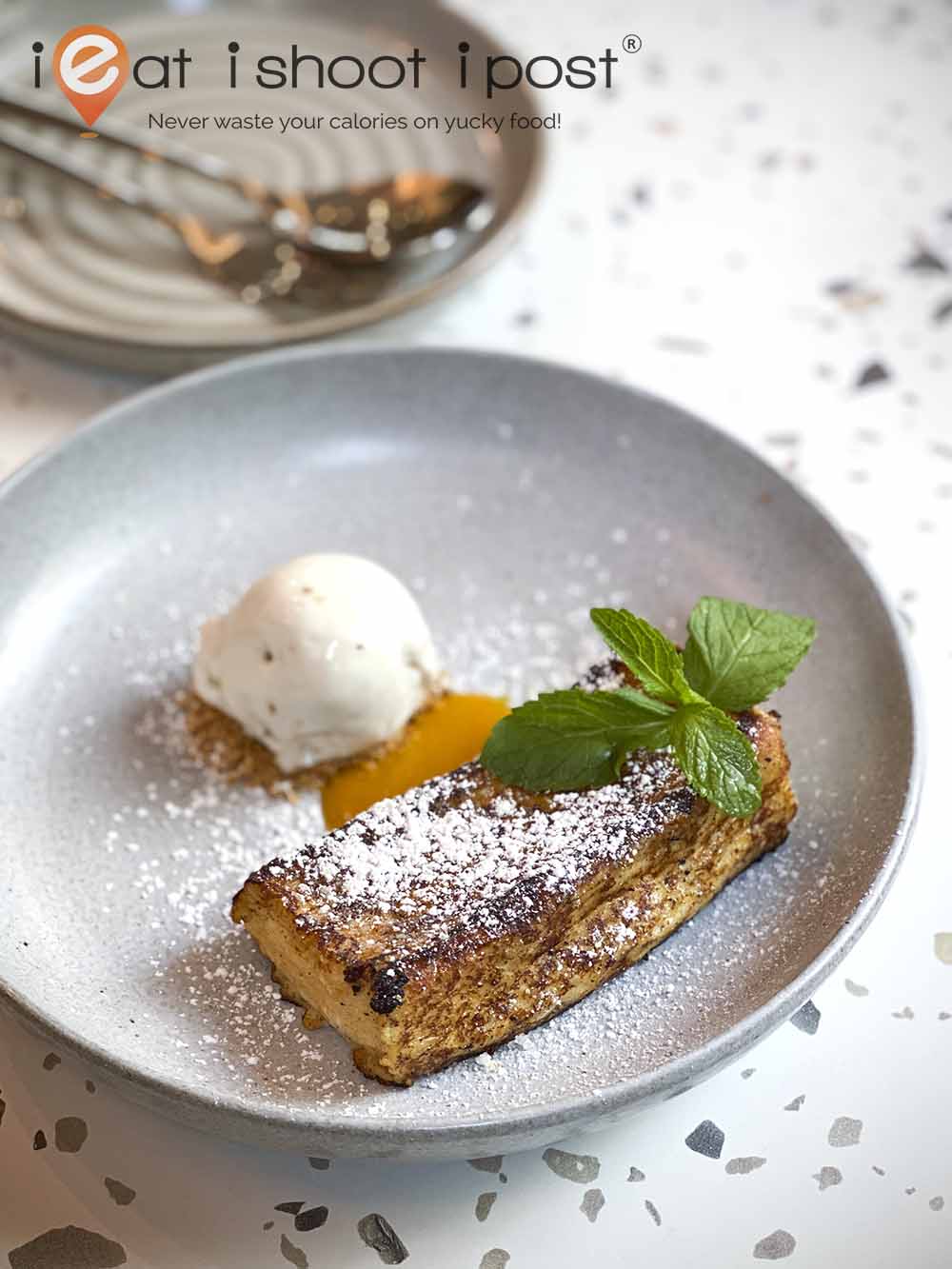 We felt that this was a little out of place. Why French toast in a Spanish restaurant? However, the chef informed us Spaniards do eat french toast regularly. Their french toast is also made with brioche bread and is chewier than regular french toast and soaked through with the custard.  4/5
Try-If-You-Must Dishes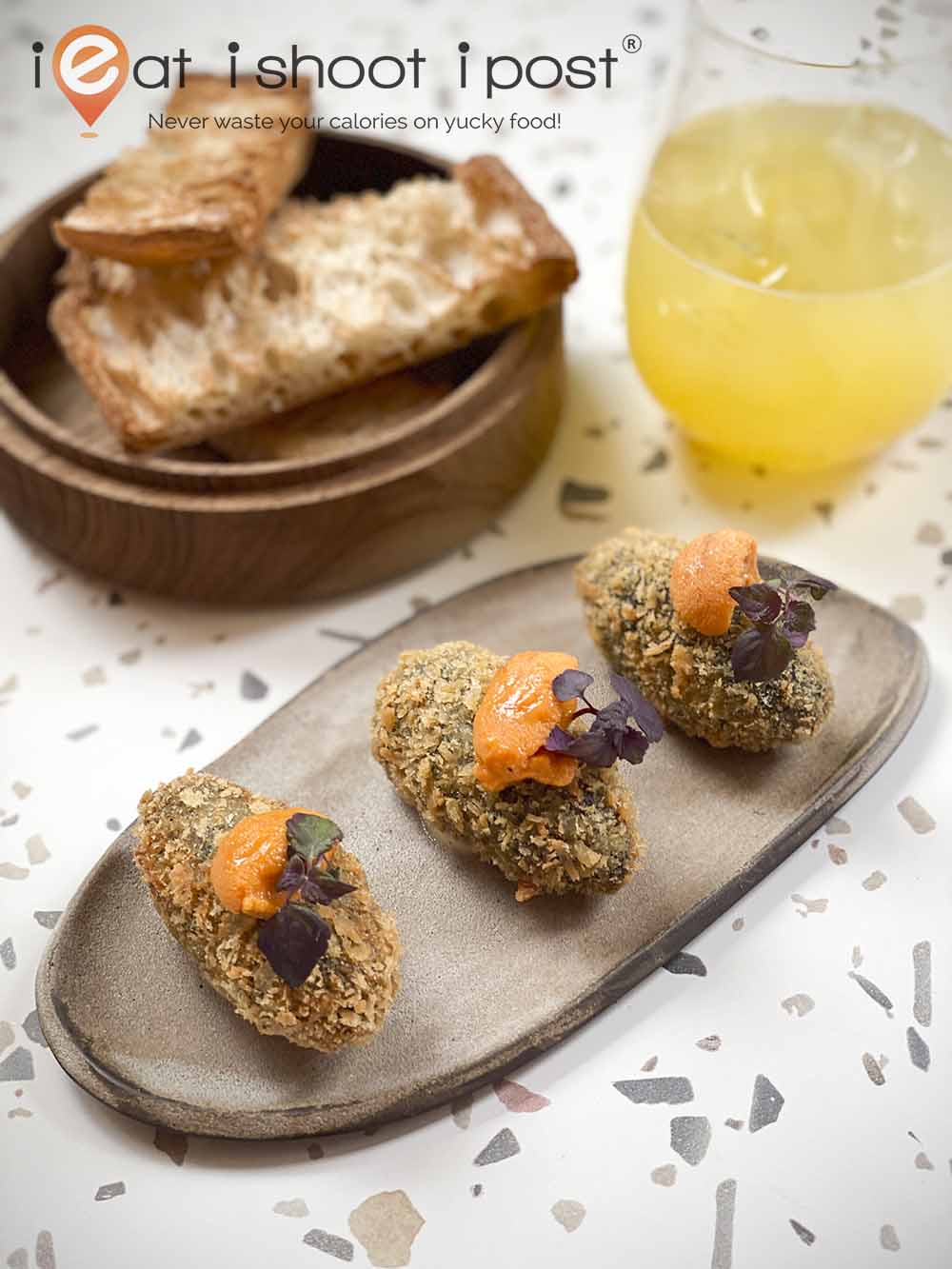 Although we felt that the food was very competent overall, the thing that is holding us back from giving it high marks is their price point.  The croquettes were nice. They were crispy on the outside, moist and tasty on the inside and the topping of uni makes it look rather delectable. But hold on, it's $26 for three bite-sized croquettes and they don't have the option of a no-uni (ie cheaper) croquette.  So if your idea of a Spanish meal includes a serving of croquettes, then you are going to be sorely disappointed.  4/5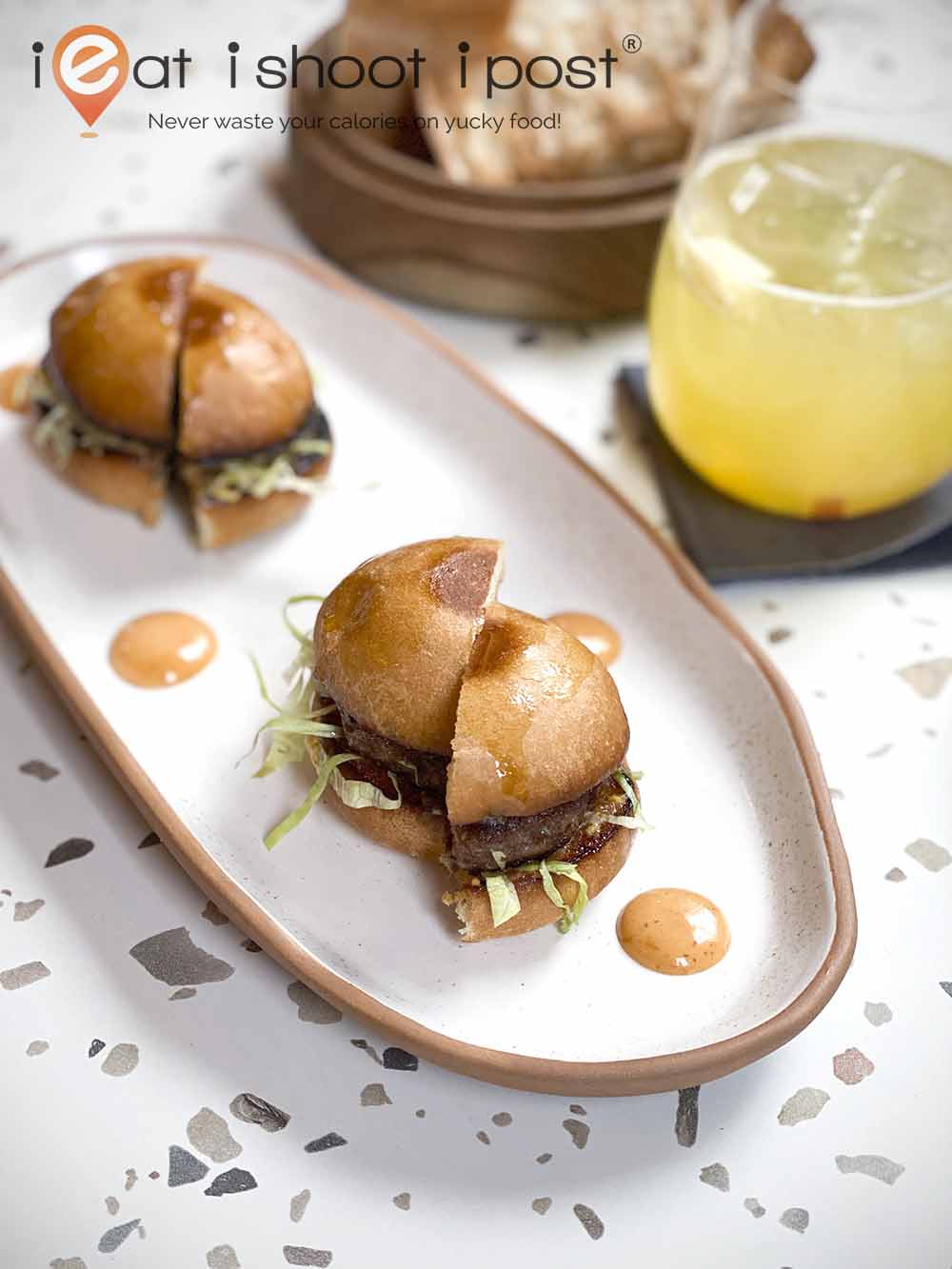 These dry-aged Angus beef sliders were really nice.  The meat was juicy and has that beefy, funky aroma when it arrived. I wouldn't hesitate to order it again if someone else was paying for it.  $26 for two bite-sized burgers is a bit much especially when you can easily get a fully loaded full-sized gourmet burger for the same price and probably lower– and it would also come with fries! 4/5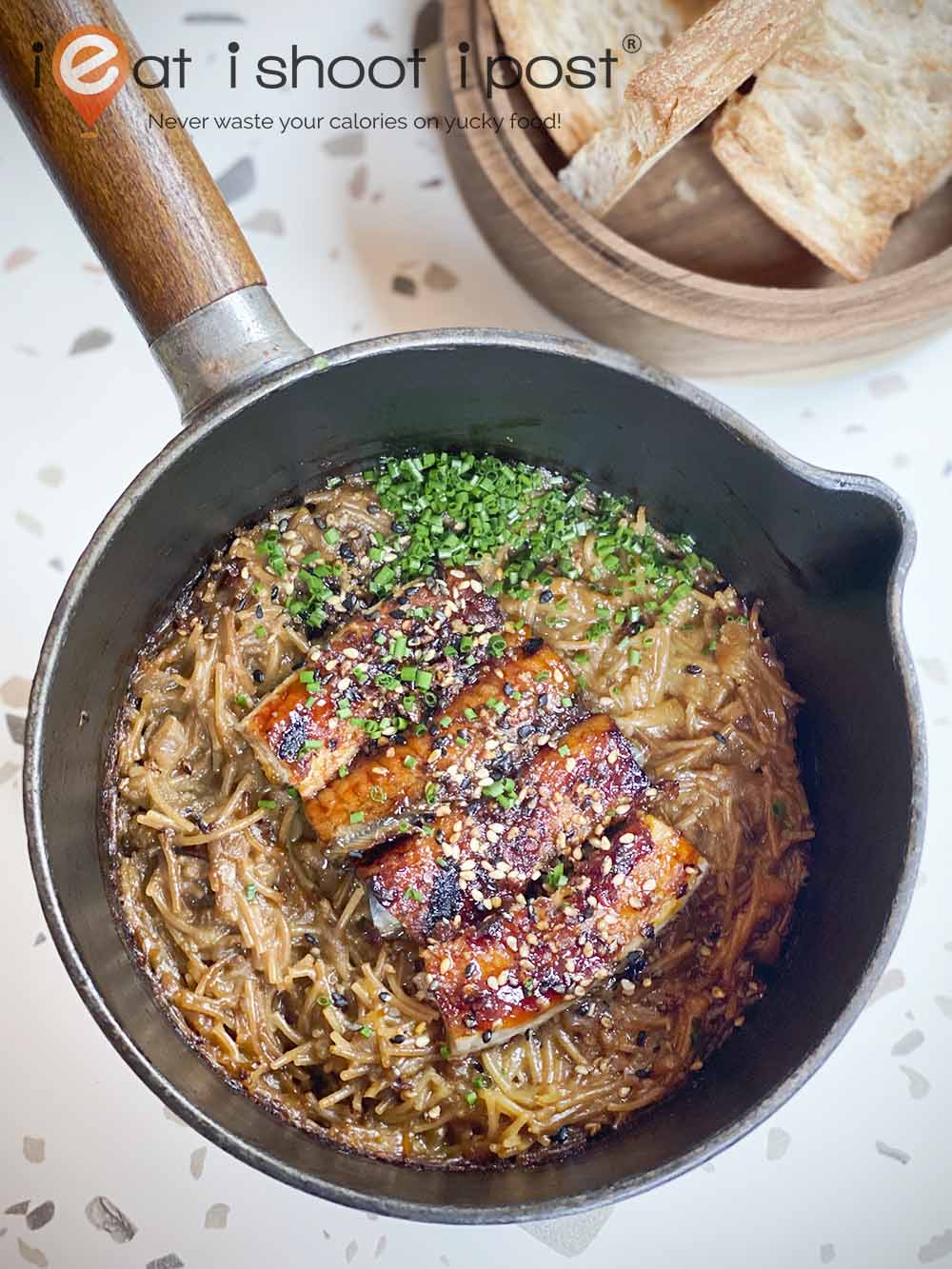 It's good to be able to order a lesser known dish like Fideua which is like a paella but made with short and thin pasta instead. This dish is reminiscent of our own seafood bee hoon. The broth is robust and full flavoured, but  $48 for a one-person portion is a bit steep even if it has Japanese unagi on top. We would have liked to have the option of choosing a less expensive version of the dish sans the unagi. 4/5
The Ambience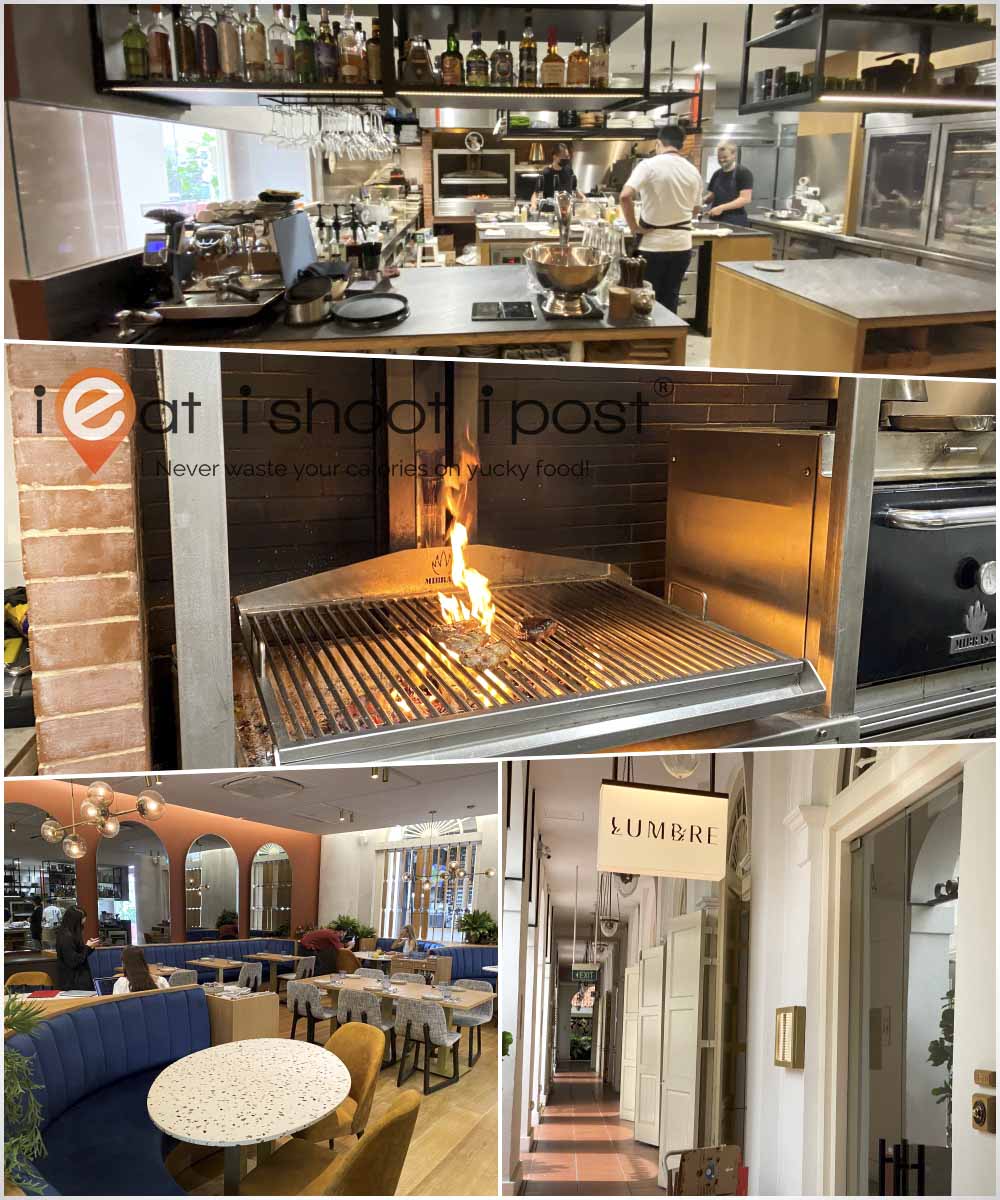 Lumbre is cosy and feels like the type of place you'd like to go to at the end of the week to relax.  There are two sections, one that is dim and overlooks the open kitchen and a brightly lit section with large windows which is more like a Mediterranean bistro during the day.  The Josper oven and Parilla grill feature prominently in the kitchen and the sight of the flames leaping out of the grill to engulf the meats really add to the anticipation of your meal.
Conclusion
Good food, great ambiance.  It would be a great place to go back to if they moderate the prices of some of the dishes and tweak the menu to fit a more consistent theme.
Disclosure
This was a media invited review.