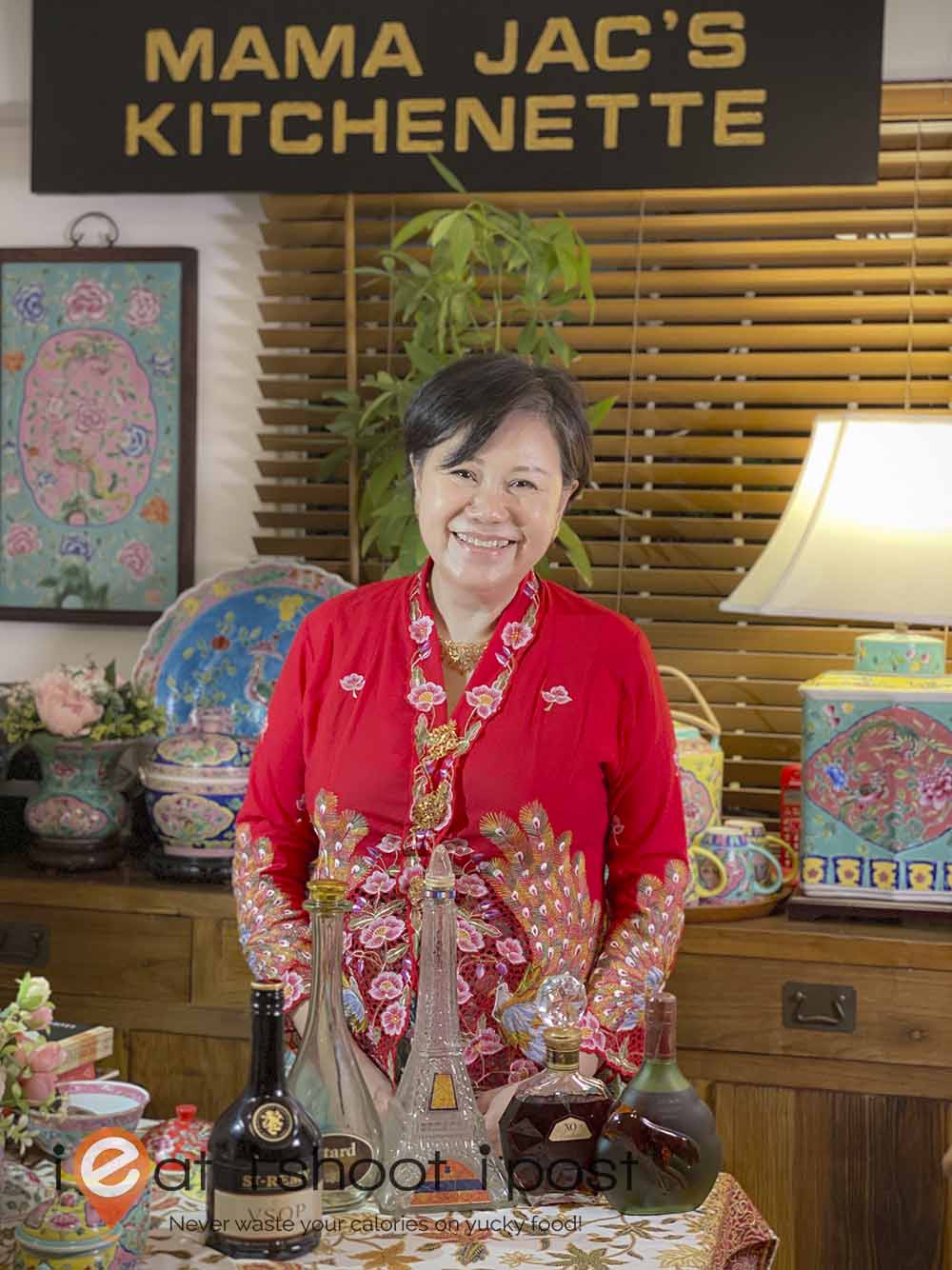 The best Peranakan food in Singapore is not found at restaurants but in the homes of passionate Peranakan cooks. Unlike something like Char Kway Teow or Hor Fun where you need a super hot wok to create that wok hei flavor, a lot of Peranakan food relies on the laborious pounding of the rempah, meticulous slicing of herbs, low and slow cooking times, and long marination/fermentation of various ingredients.  It is the kind of cooking that really is more suited for the home than for a restaurant.  Ask most Peranakans where the best Nonya food is, and most will turn their gaze upwards as they recall what Ah Mah or Ee Gor used to cook.  So, some of the best places for an authentic Peranakan meal can be found only in the homes of these marvelous home chefs!
Mama Jac's Kitchenette started in the middle of the pandemic as a way for Jacline Ng to express her love for Peranakan food and also for her to have something to focus on while undergoing treatment for cancer.
She admitted that she is fully Cantonese with no trace of Peranakan blood to boast of and no Nonya mother to inherit her recipes from.  Instead, her recipes were all gathered from books from which she did extensive research and from her experience of eating Nonya food.  Far from being handicapped, I think her Cantonese approach to Peranakan food is actually an advantage as she is unhindered by tradition to attempt new things!
Jacline also happens to be a collector of Peranakan antiques, so her home is full of stuff you can look at!  Just be a little more careful when you handle the cutlery because some pieces are actual antiques that may be worth more than the price of the meal itself!
We had a lovely meal at Jacline's HDB unit in Clementi and discovered many new and almost extinct dishes! Below are the dishes we were presented with.  The typical meal is usually about 8 courses, but we were treated to some extra dishes because she was excited to show us some of the new dishes she was experimenting with!
Executive Summary
Excellent place for a homecooked Peranakan meal!  The food is lovingly prepared with an emphasis on disappearing Peranakan dishes. I am sure you would find something you miss or something new here!  Do make a reservation at this private dining place soon before the waiting list grows to a year long!
Commentary on the Dishes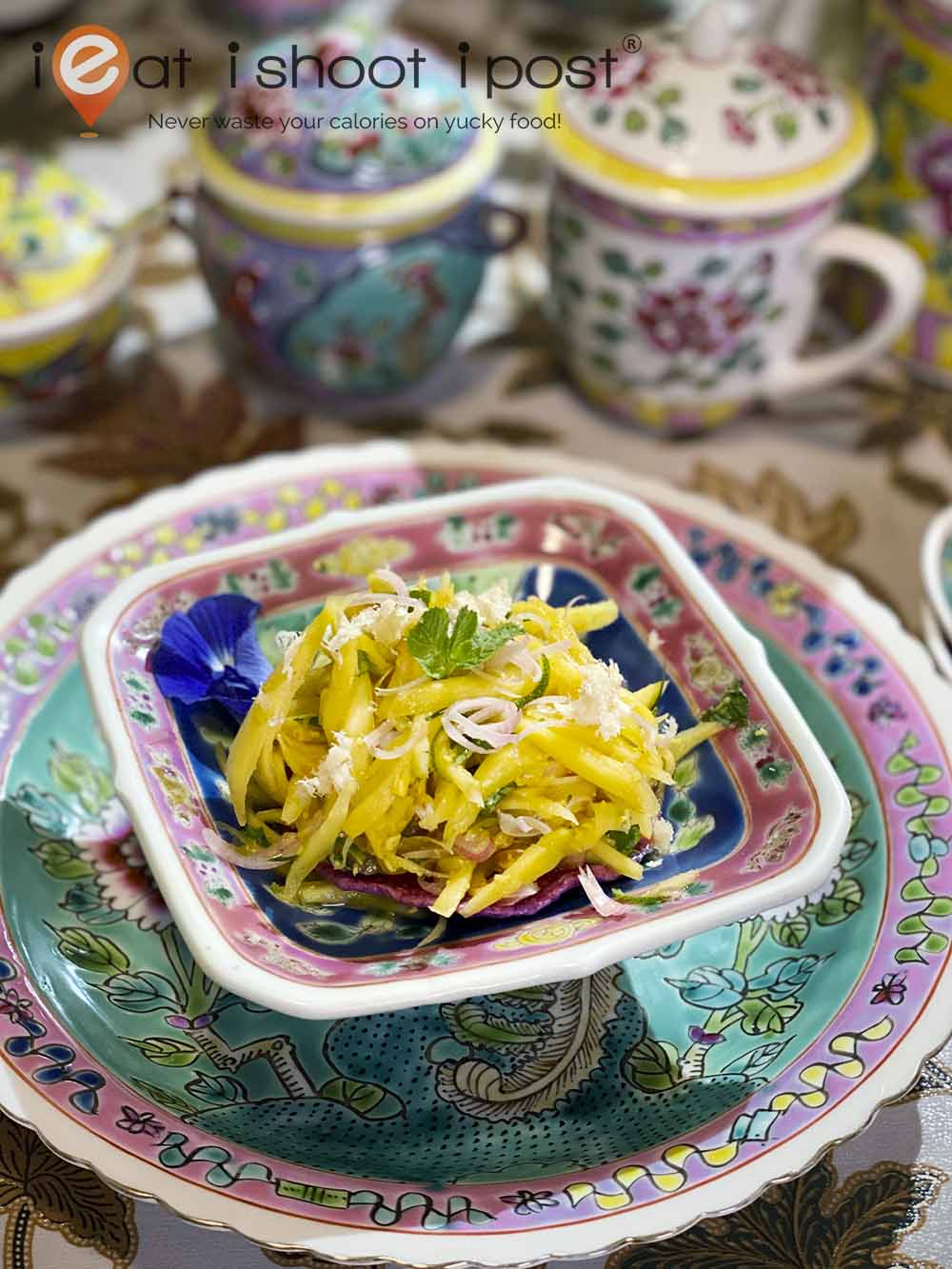 1.  Mango Kerabu
Our meal started with a refreshing mango kerabu which is a salad made of half ripen mangoes, finely sliced ginger torch flowers and other herbs.  The texture of the mangoes was just right which made this a very nice starter.  4/5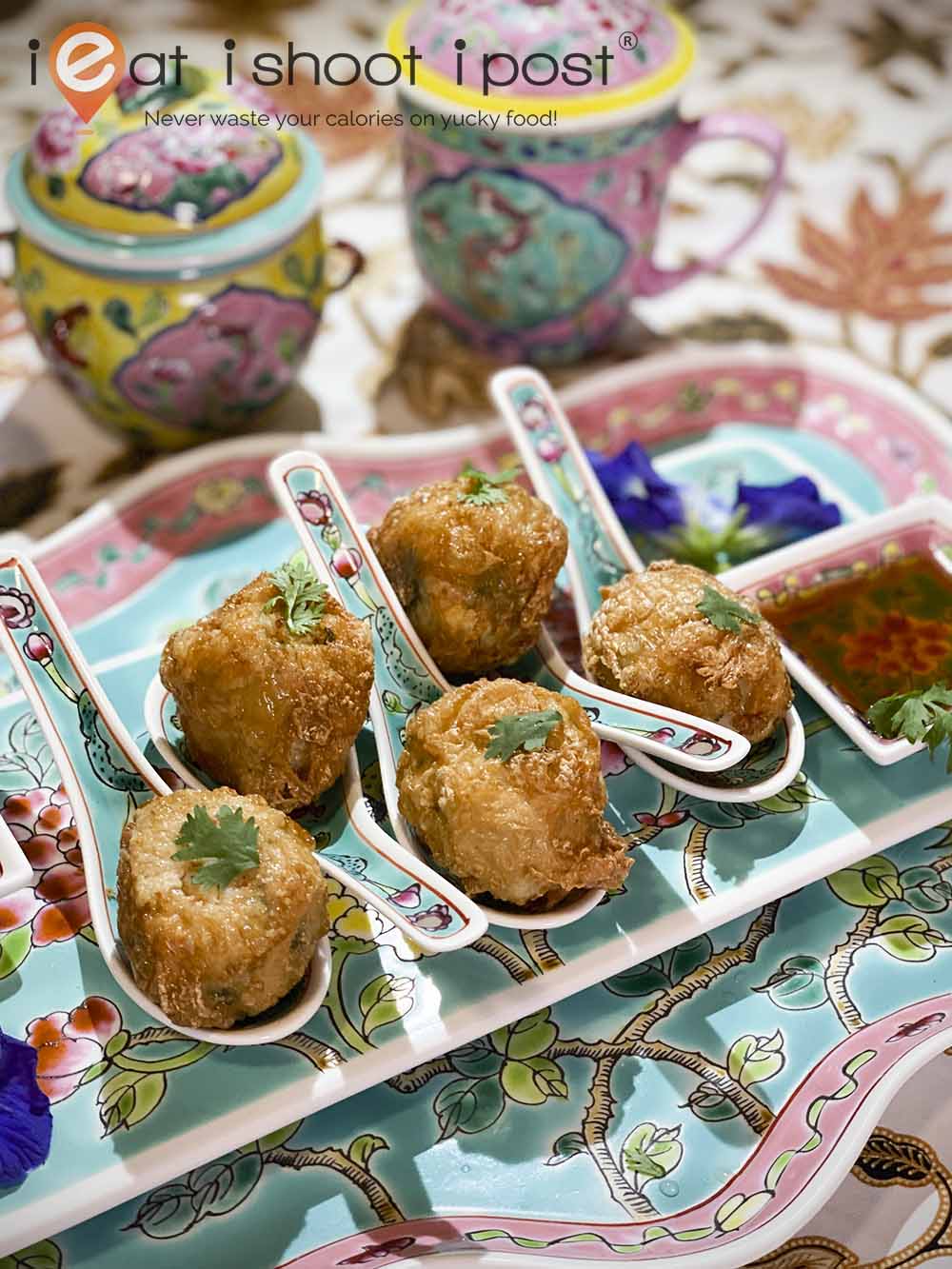 2. Hoi Jor (Crab rolls)
This is the dish that really got me excited about the rest of the meal. These hoi jor were some of the best I have come across.  This is a Teochew dish Jacline learned from her mum and consists of chopped prawns and chestnuts with a whole piece of crab meat embedded in the middle.  The roll was tied to make them into individual segments, steamed, and then divided into balls resembling large red dates which are then deep-fried.  She managed to capture that delicious crustacean flavor which is rather delectable. I would eat a few more if not for the fact that there were so many dishes following. 4.5/5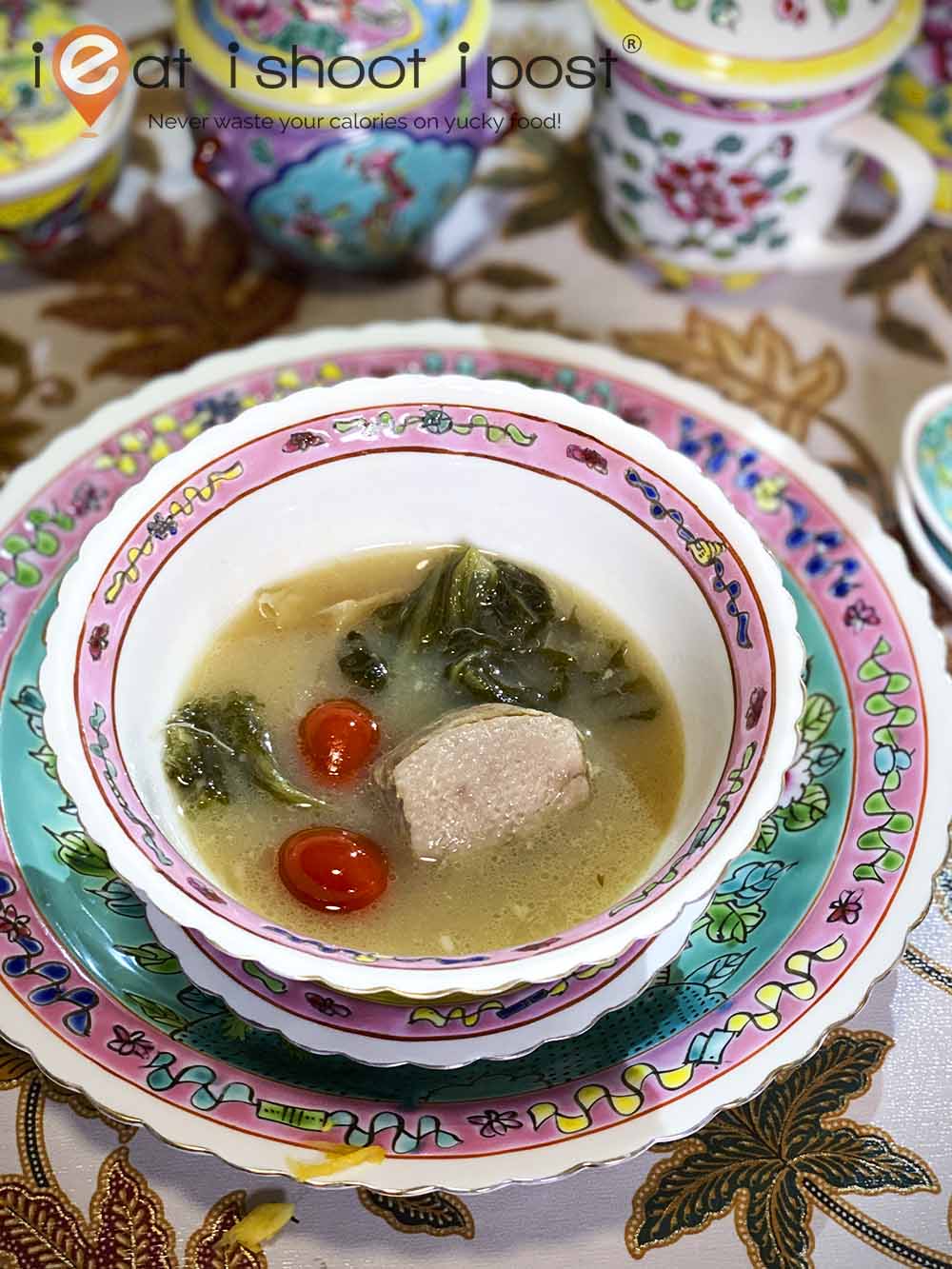 3. Itek Teem (Salted mustard duck soup)
To make this dish, fresh duck is first marinated with brandy overnight. The soup base is made with roasted duck bones which are cooked for 3 hours, and added to a 24 hr, slow-cooked pork bone broth. When it is time to serve, the salted mustard vegetable is added without overwhelming the duck-pork flavor to give the soup a delightful and tantalizing taste.  I don't think you can easily find anyone using that much brandy in your dishes! Jacline has the good fortune that her son operates a few bars, so there is always a ready supply of brandy! 4.25/5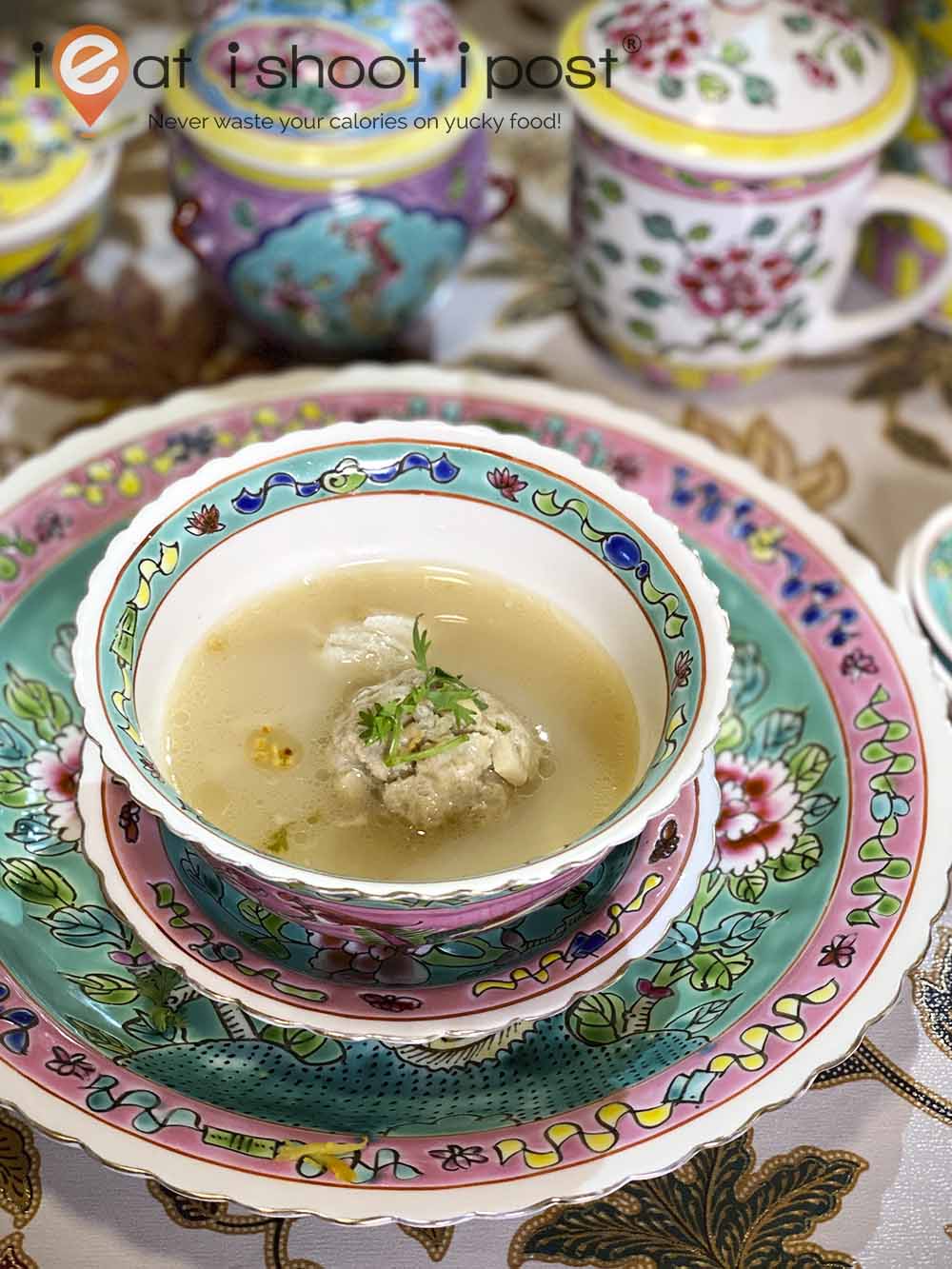 4. Bakwang Kepiting
This is yet another celebratory soup that is often seen at Peranakan restaurants.  The pork ball is mixed with crab meat and cooked in a pork bone broth.  It is lovely, but if you need to choose one soup, I would go for something less common like the spicy papaya soup (below) since you can easily find Bakwang Kepiting at other Peranakan restaurants. 4.25/5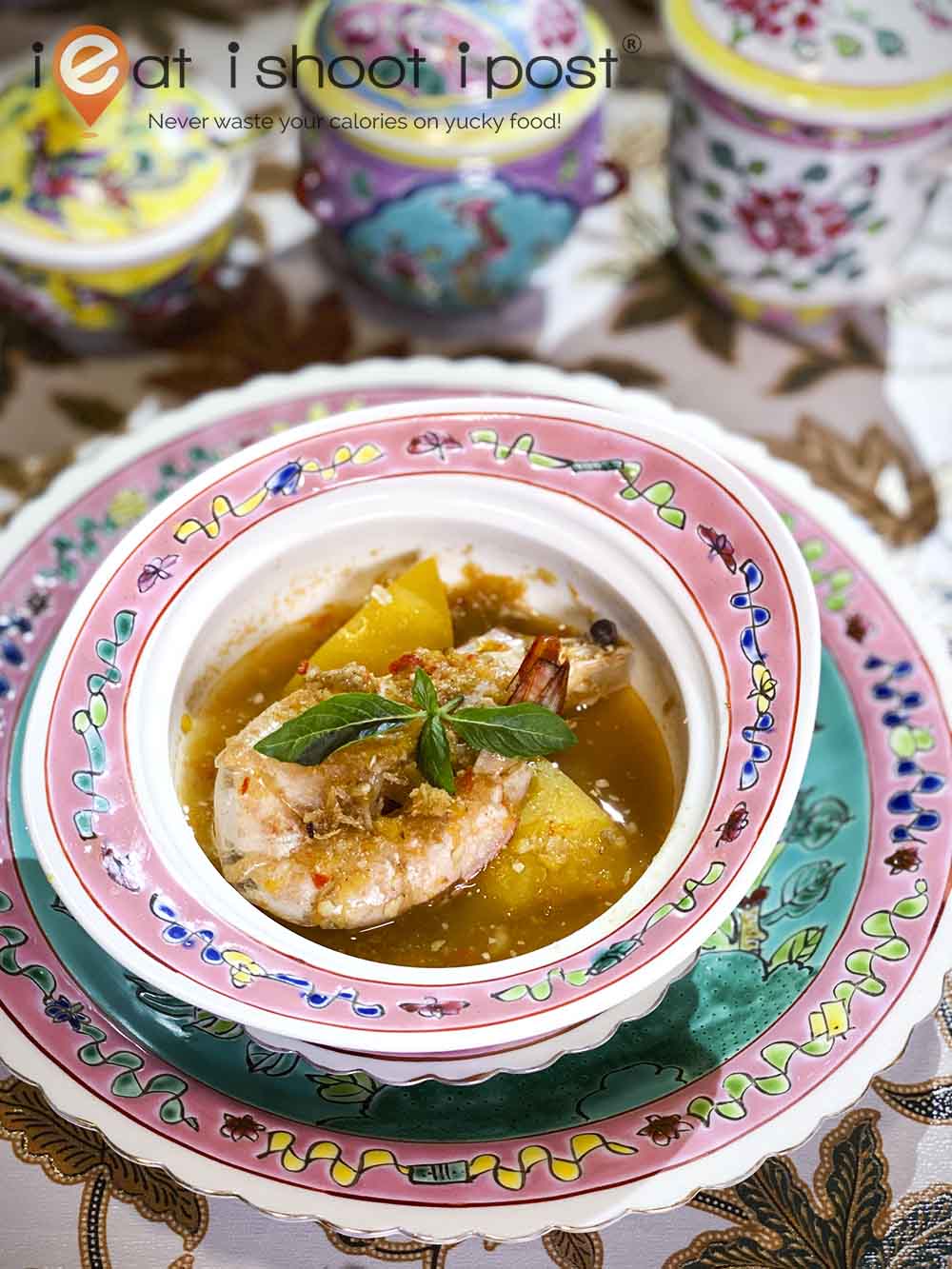 5. Buah Paya Masak Titik(Papaya in spicy soup)
This is my first time trying the dish and I think I would order it again the next time.  The soup base is made from dried salted fishbone which is commonly used by the Cantonese. The combination of the salted fish bone broth and semi-ripen papaya is quite interesting.  It is important that the papaya is semi-ripened.  To do that, you need to buy green papaya and wait a week for it to just turn orange.  It's no wonder that this dish is not commonly found at your Peranakan restaurant! 4/5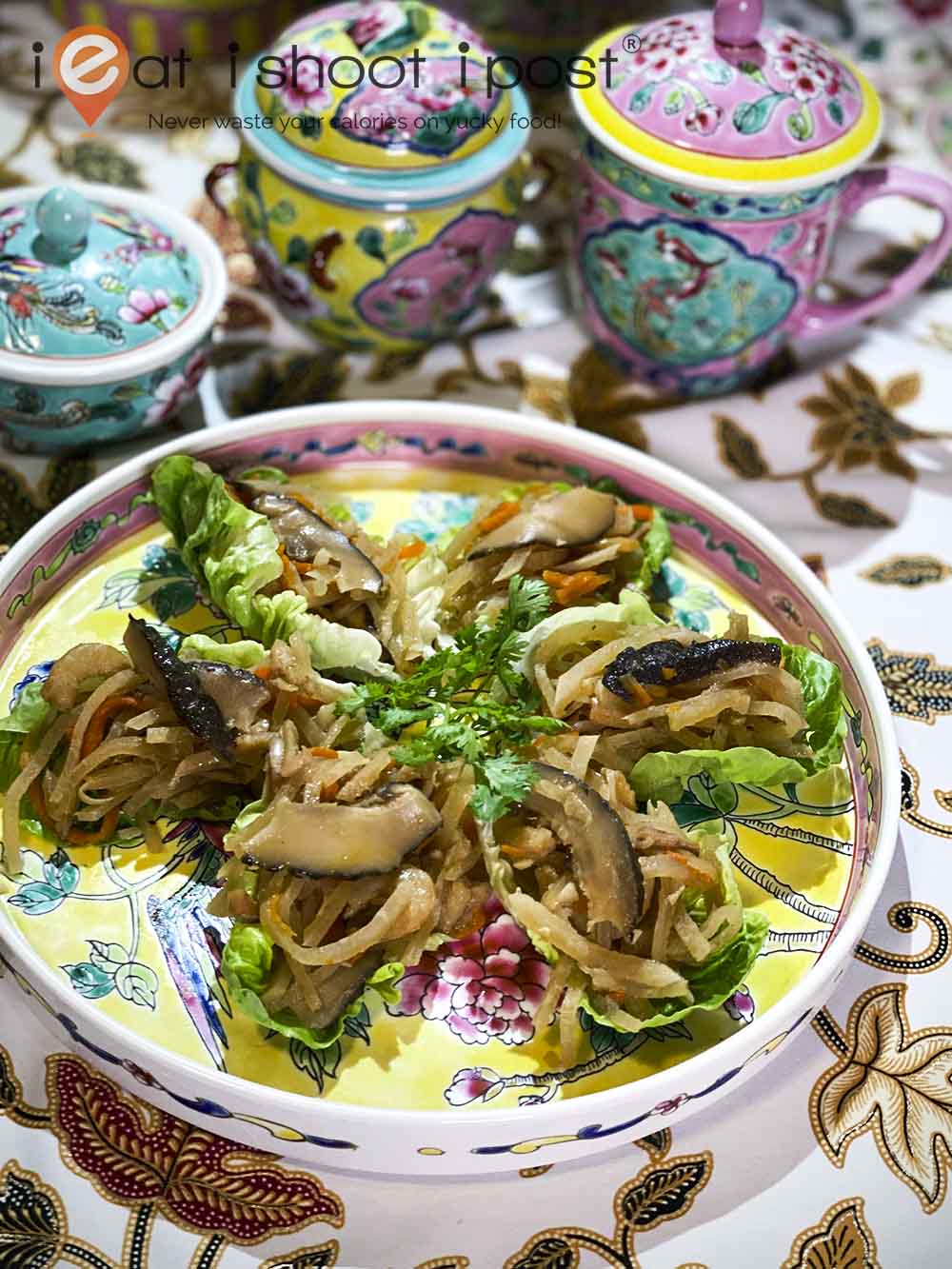 6. Jiu Her Char
This is essentially your poh piah filling made with jicama (bang kwang), mushrooms, and carrots, served on a crisp lettuce leaf with slivers of cuttlefish (jiu her) to add extra umami to the mix.  I think it would be nice also in kueh pai tee cups for extra crunch! 4/5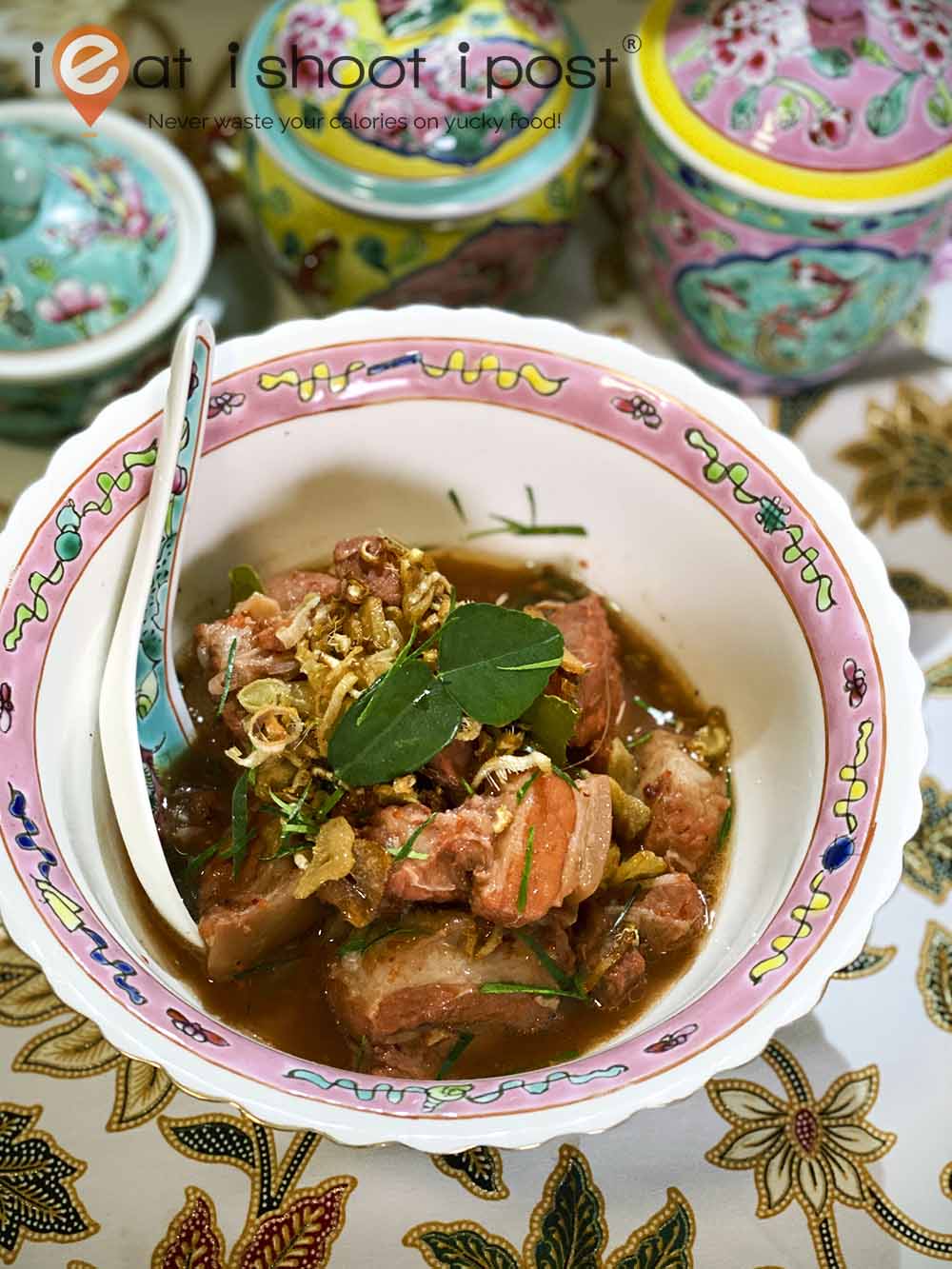 7. Babi Tohay  (Braised pork dish)
I first encountered this dish at Peramakan and it has been my look- forward-to-eat dish ever since.  It is a seasonal dish as it has to be made with fresh krill which is fermented with red yeast rice, white rice, and brandy. Jacline marinates the fresh pork belly with brandy (I told you she uses a lot of brandy) overnight. The dish is cooked with aromatics such as lemongrass, garlic, kaffir lime leaves, onions, and a thick pork bone stock which is prepared weekly and cooked for more than 24 hrs.  The result is an addictive, moreish dish that you can't stop eating.  If you never tried Tohay before, you really have to!  4.5/5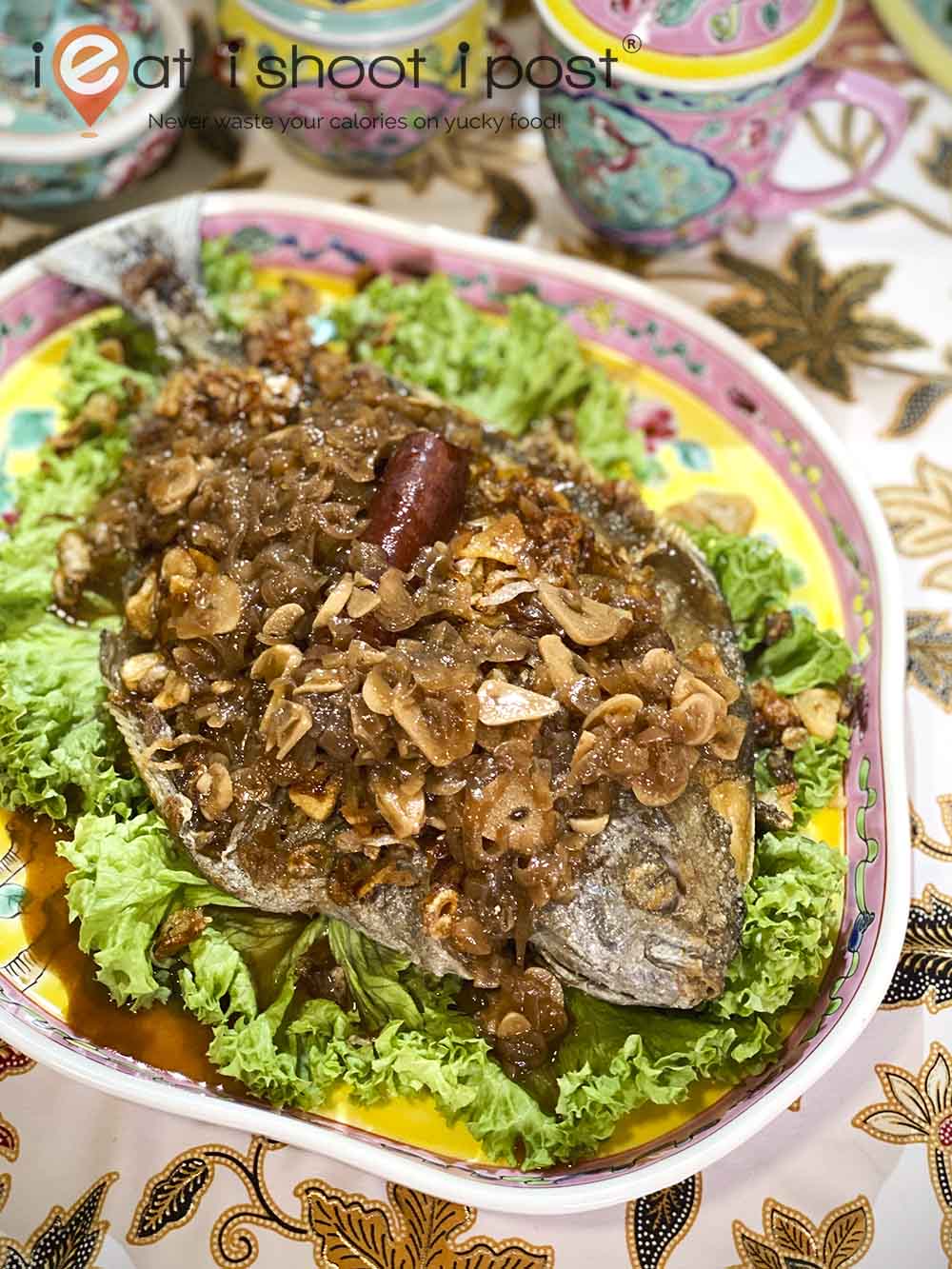 8. Ikan Belanda
This is another new dish I discovered at Jac's.  Belanda is simply what the Indonesians call the Dutch but I have no idea how the Dutch are associated with the dish?  Anyway, the sauce is made from simmering tamarind paste and cinnamon after which fried fried shallots and garlic are added.  Jacline had tried the sauce on different fish before finally choosing the black pomfret.  It's very good and well worth trying. 4.25/5
9.  Ayam Buah Keluak
No Peranakan meal would be complete without sampling the Ayam Buah Keluak.  This is a festive dish as it takes a week to prepare the buah keluak nuts.  But since we only get to get Nonya food occasionally, each time we get to eat it is like a festive occasion and this iconic dish can be found in any Peranakan restaurant in Singapore.  Jacline's style is to remove the kernel, mix it with minced pork and then stuff it back into the shell.  I actually like it this way but my wife grew up eating pure kernel and is still adamant that she prefers it that way.  At any rate, Jacline marinates her chicken overnight in rempah before cooking so the chicken is nice and flavourful and it is one of the best version of the dish I have come across.  It's a trick I will employ the next time I cook my Ayam Buah Keluak. 4.5/5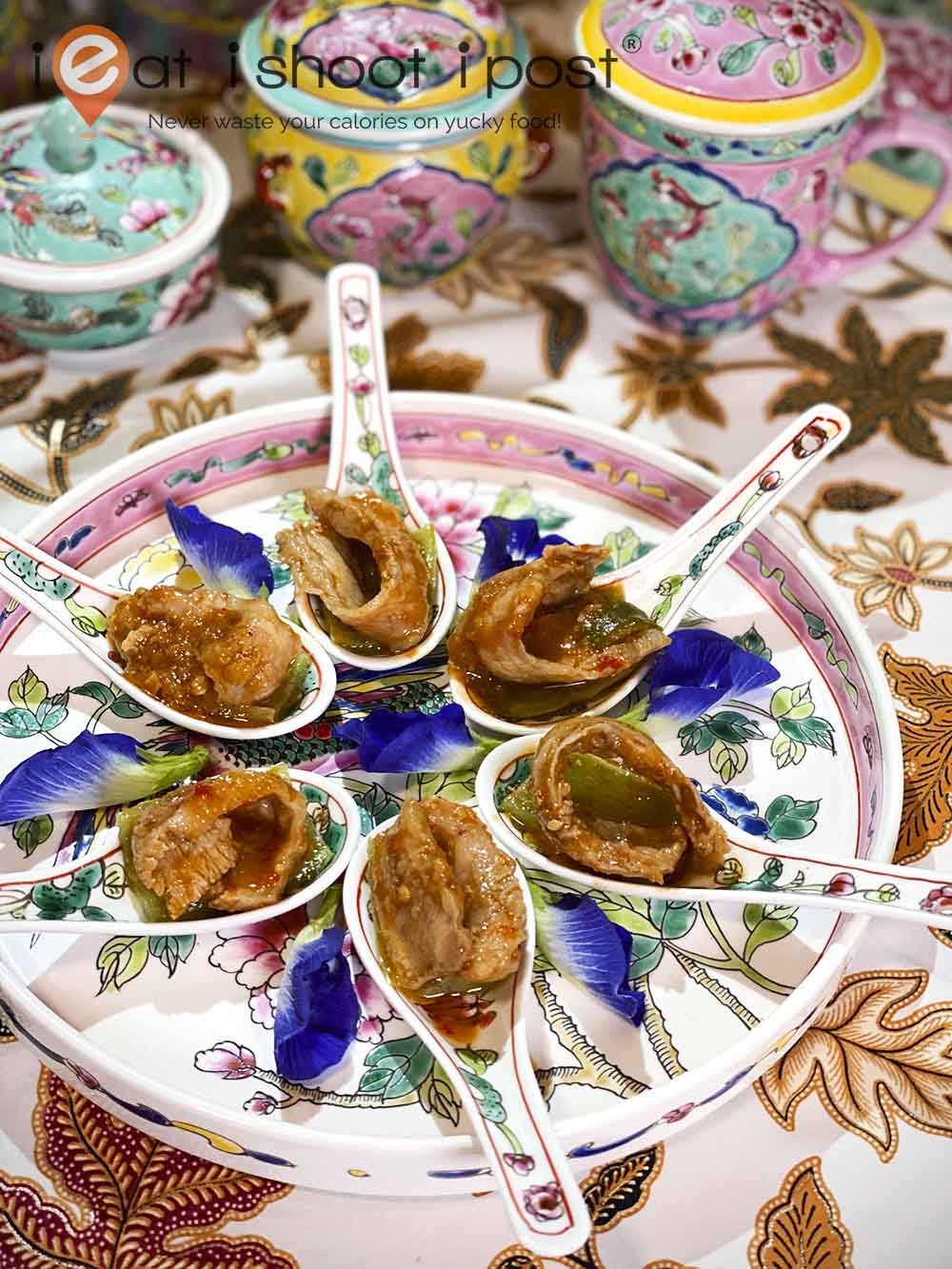 10. Mengkabo – Babi Masak Ayam (Pork belly in spicy Tamarind sauce)
This is a rare dish from Malacca that I have never come across in Singapore.  It's basically pork belly which is cooked in a green chili and tamarind sauce.  Jacline uses pork jowl which gives the pork a lovely bouncy bite.  We only got a slice as a tasting portion.  Next time, I think I would go for a proper serving.  4.25/5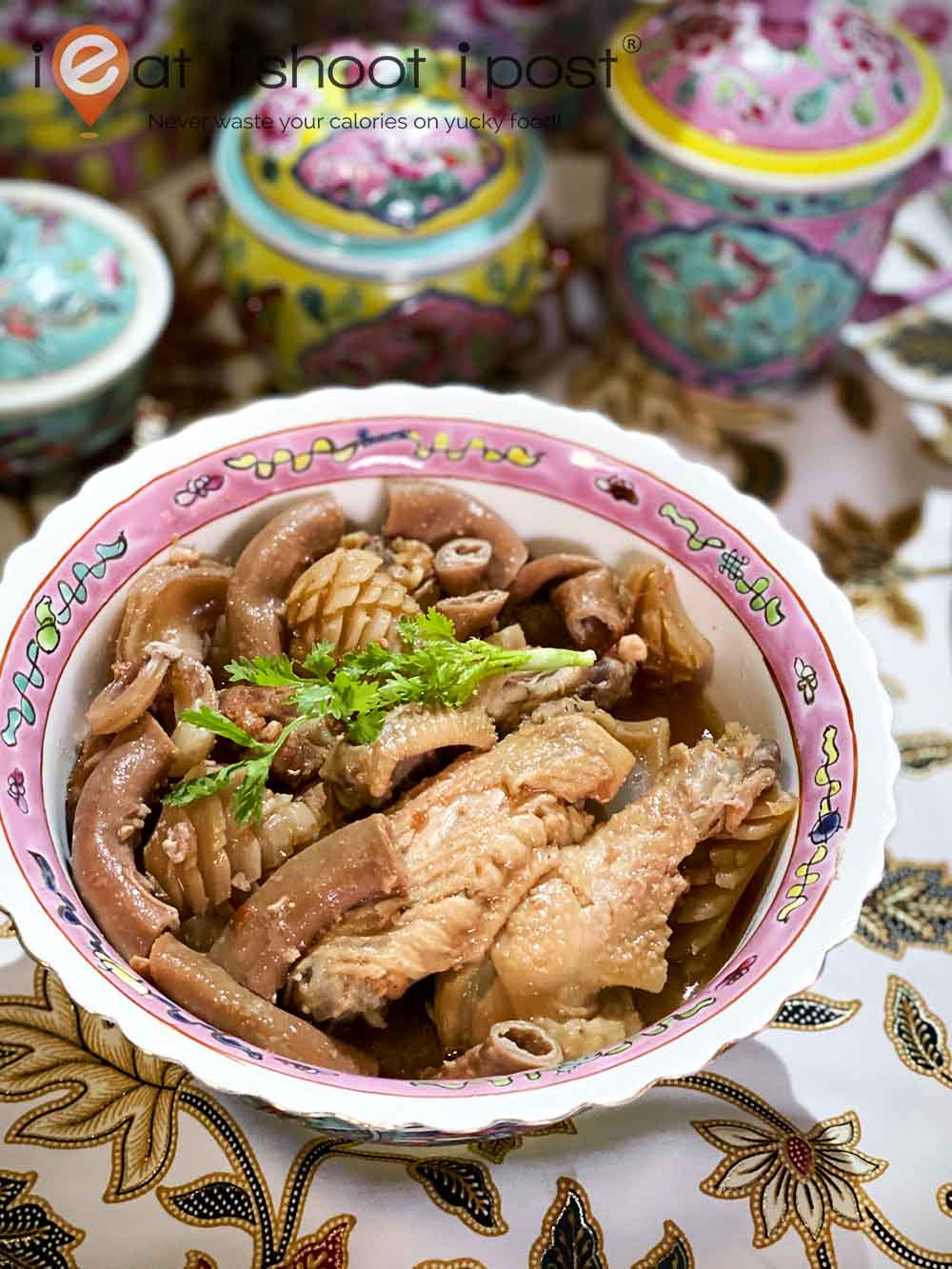 12. Loh Kai Yik (Stewed chicken wings)
Originally a Cantonese dish where it is known as "Loh Mei" (braised delicacies), this dish also makes its appearance in the Nonya kitchen.  I had this last time at Charlie's Peranakan.  However, up till then, I had never really understood why the dish was so beloved amongst the older generation.
My epiphany came with the version I had at Mama Jac's who learned this dish from her late mother.  She prepares it with a very good quality Chu Hou sauce from Hong Kong instead of taucheo (salted bean paste) and fermented red bean curd (nam yee). Aside from chicken wings, she also adds pork belly, fried pork belly skin , soya curd puff, and kangkong to the dish and after simmering it is allowed to rest overnight for the flavors to really sink in.  It's now a recipe that is on my to-do list!  4.5/5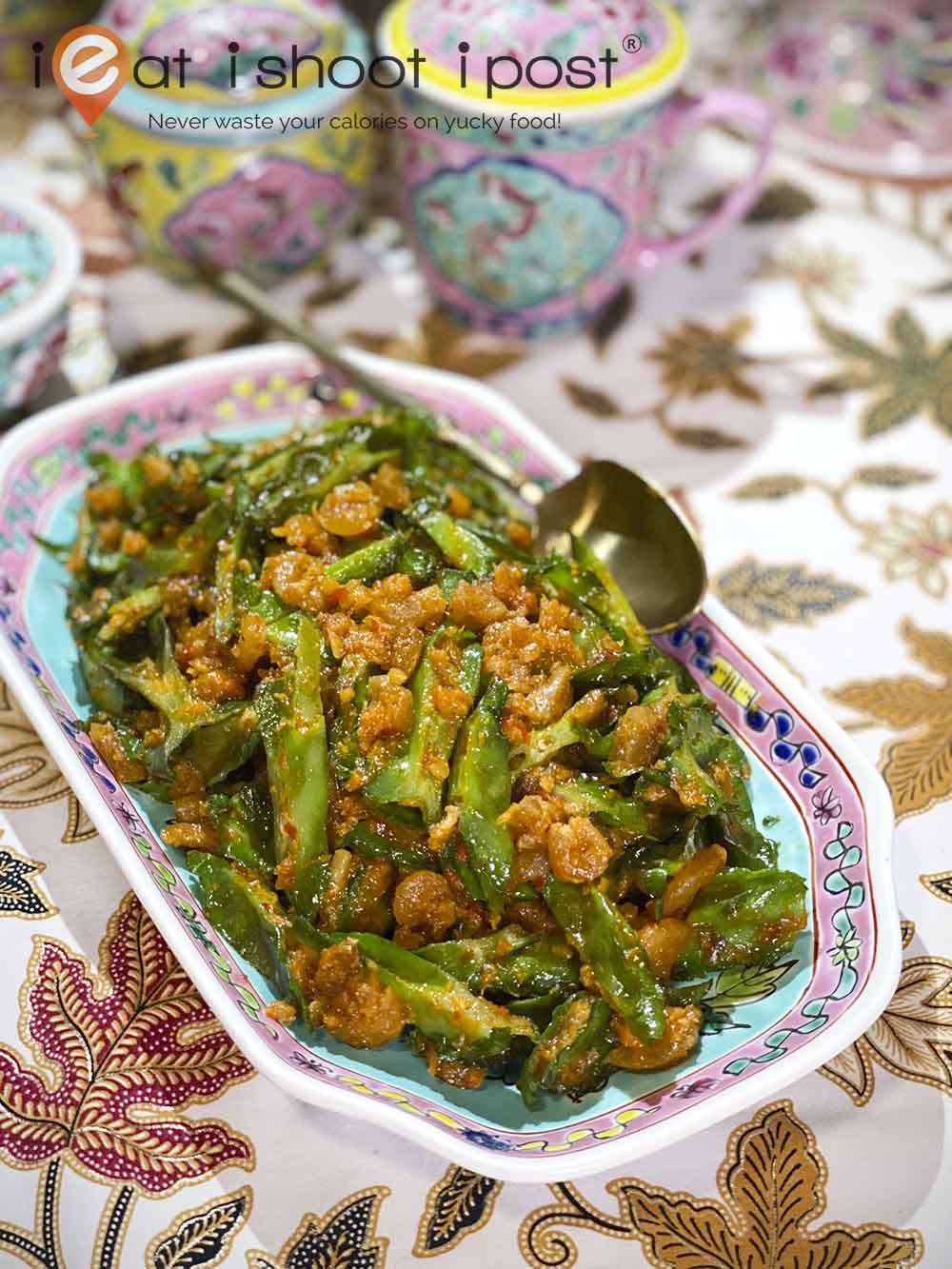 13.  Sambal Wing Bean
The sambal was rich with quality hae bee (dried prawns) and was nicely balanced without being too spicy!  Very good but a dish you can find in many other places.  4.25/5
14. Chap Chye
A proper chap chye is not easy to do.  You have to make the pork stock and prawn stock separate and then cook the items individually before putting everything together.  The version here is very well constructed, though it is a dish that you can find in most other Peranakan restaurants.  I would love to have crispy fried bean curd in my chap chye to add contrast.   4/5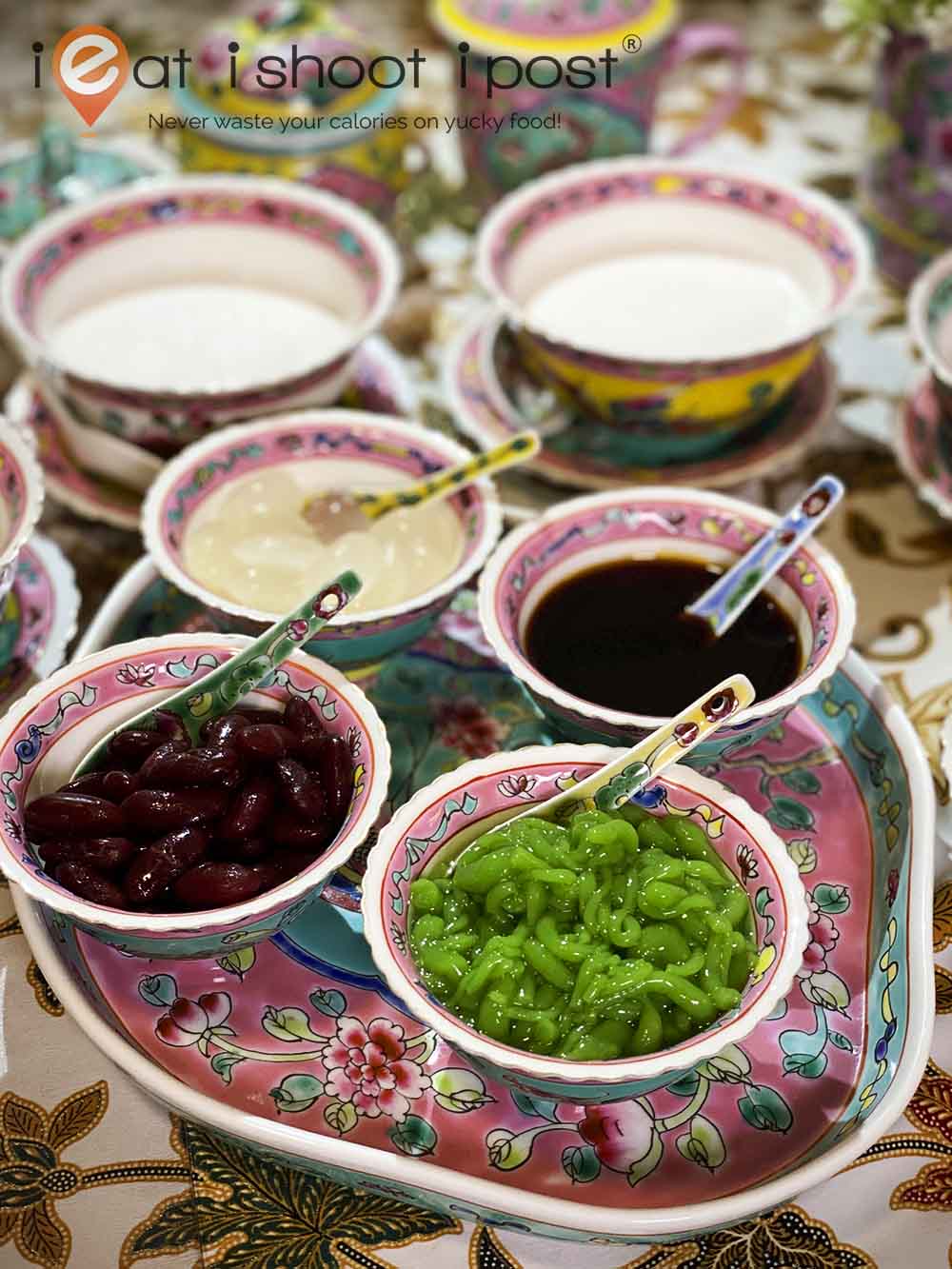 15. Panna Cotta Nonya Special
Instead of fresh coconut milk, Jac made a coconut pudding to which house-made cendol, gula melaka, kidney beans, and attap chee are added.  The panna cotta itself is lovely which a strong coconut flavour.  However, I thought it stole the spotlight from the cendol itself as you are unable to slurp the cendol. Too fancy for me. I would stick to the classic. 3.5/5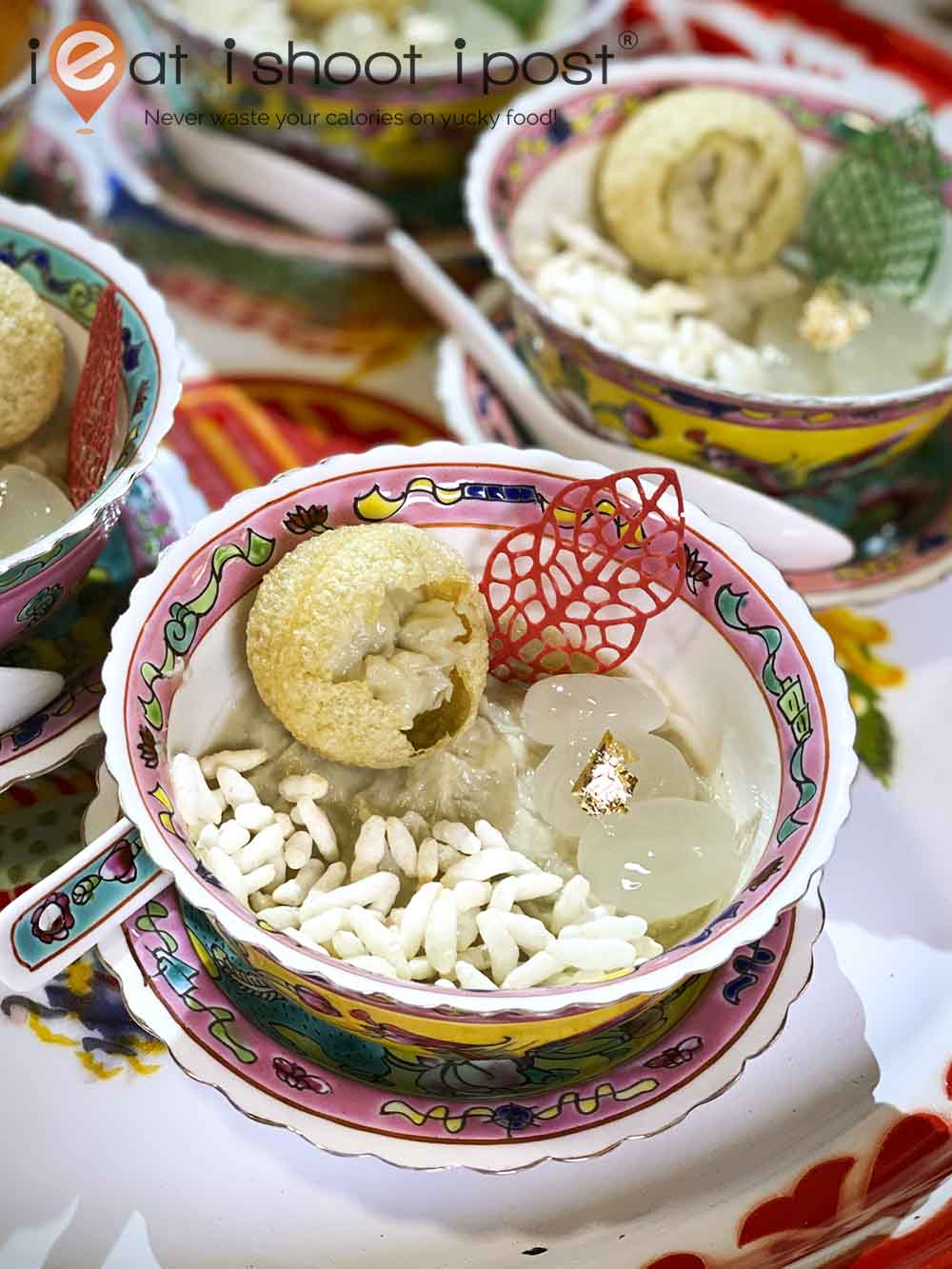 16. Durian Pengat
Jac's creative twist on durian pengat is to add crispy rice crisp and a pani puri shell (that ping pong ball) to a rich durian mousse made from D24 durian.  She also added gold leaf and attap chee.  Nice but again, unnecessarily complicated for home dining. 4/5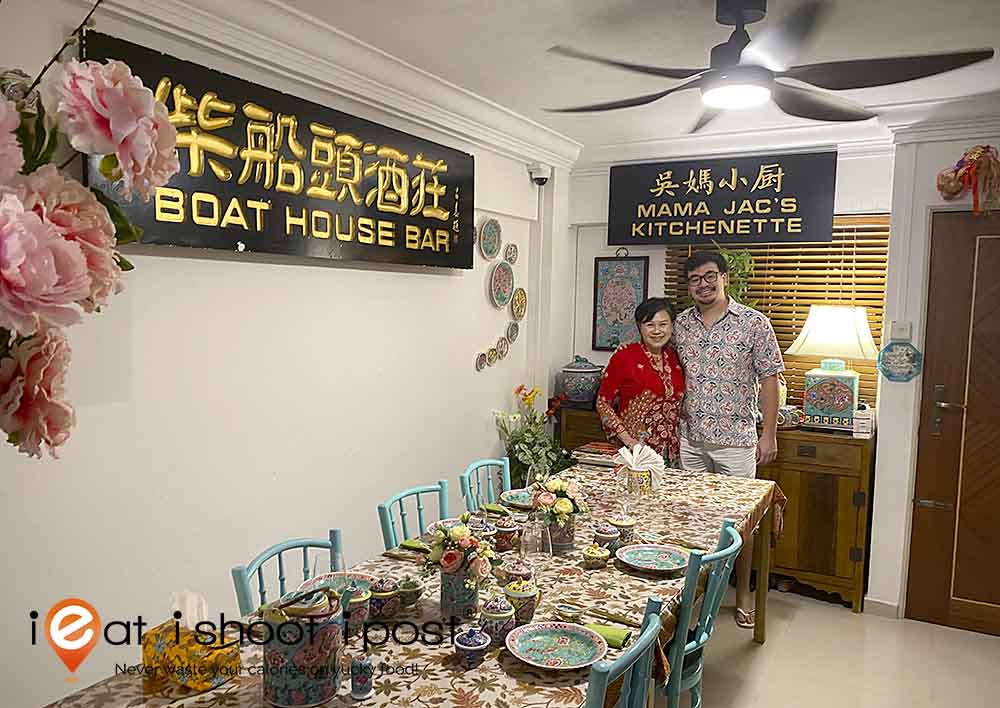 Disclosure
This was a media invite.  The meal was hosted but we were under no obligations to write.