Photos by Cactuskit
I can't speak for the rest, but last Saturday's Makan Session at Peramakan was probably my best Peranakan meal ever. The food was great and the Tok Panjang (Long Table) was very Panjang! (Long). Not only was the food excellent, but there were so many new Nonya dishes that I have never tried before! (I don't have the privilege of having a Nonya Grandma). In fact, even some of the Peranakan kakis went home determined to find out more about certain dishes from their Grandmothers and why they never cooked it for them!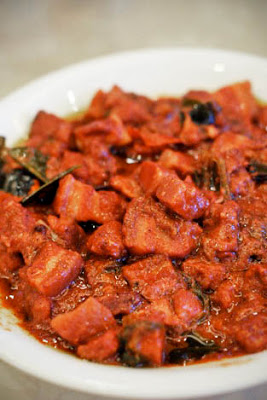 One of the fast disappearing dishes which I personally found to be a Umami Bomb was the Babi Toh Hay. This is a seasonal dish because the marinade is made from Udang Bubok which is only available for a few months of the year. Udang Bubok is a tiny shrimp (smaller than Chinchalok) which is fermented in wine and red yeast. The taste is very unique and it is one of those dishes which makes you want to eat a lot of rice. This dish was made specially for our makan session and is not usually found in Peranakan restaurants. I have asked Bibik Katherine to include this particular dish on their menu for the month of April at least so that our readers might have the opportunity to go down to try it. 4.75/5
The Hati Babi Bungkus was another dish that was new to me. This is made from pork liver and meat, marinated with spices and wrapped in Peng Seh (omentum) and deep fried. I never liked liver but they have managed to make it so that you don't have that porky smell and it was excellent. 4.25/5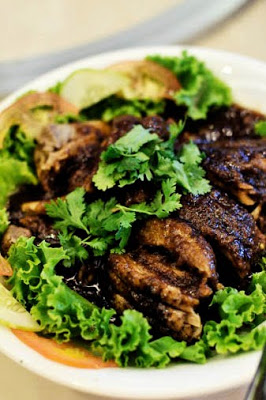 I think all of the dishes were well worth recommending, but I want to highlight just one more dish which is the Itek Sio (Duck). This was the best Itek Sio I had ever. It was tender and prepared in a way that you don't have the gamey flavour of the duck, yet very flavourful. 4.5/5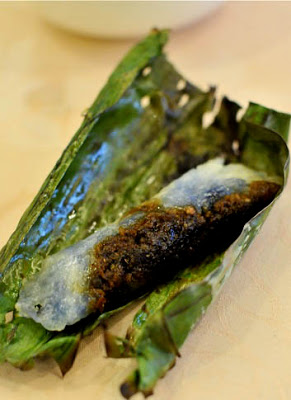 As if the 10 dishes were not enough, we were treated to 4 desserts including the Rempah Udang which was the favourite dessert of the Chor Chor in the TV series "Little Nonya". A lot of kakis remarked that they never expected that Rempah Udang would be a sweet dish as the ones they buy outside all tend to be spicy and savoury. But in fact Rempah Udang is supposed to be a dessert and the ones that you get normally is the Nasi Pangang. The Rempah Udang last Sat was excellent! 4.5/5
Here's the video recipe of the Rempah Udang which I filmed with Bibik Katherine last year.
Many thanks to everyone who turned up for the makan session! It is because of your support that we are able to organize these sessions! Many thanks to Holydrummer and Soundman for organizing the event and also to Cactuskit for taking the photographs! Thanks especially to Kelvin and Bibik Katherine for hosting the session and working with us to raise $1230 towards the ieatishootipost social project for the year, which is the Goducate van for the impoverish kids living in Sandakan.
In case you missed out on the sessions, not to worry. As I said, the die-die-must-try dish, Babi Toh Hay will be on the menu for the month of April. If you want to try the full menu or if you want to specially order some Peranakan dishes, you can always contact Kelvin or Bibik Katherine and I am sure they can do something special for you. Peramakan also does catering and they assure us that the food will be the same standards as what you get at the restaurant.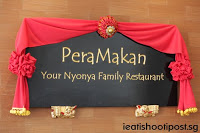 Click here to read the last post on Peramakan