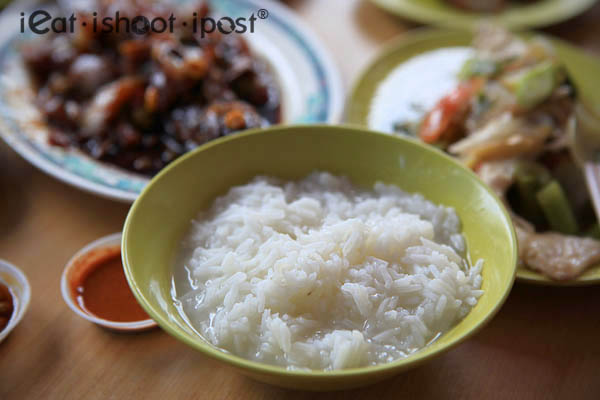 The one thing I do look forward to during reservist training is the opportunity to discover food in the Northern part of Singapore. The Sembawang area is one of those places which you can still feel as if you had just made a pit stop during a road trip across Malaysia. For me, such environments always means that there would be good food around.

I heard that Sembawang Shopping Centre had just been renovated and that the Thai Cze Char restaurant that I used to eat was still there, so I went looking for it. However, I couldn't find it anywhere in the new complex, so we crossed the road to the old shop houses opposite to see if we can locate it. It was here that we chanced upon this rustic Teochew Porridge stall which I felt really got "Seh" (potential). The crowds of people slurping on their hot porridge along the sidewalk got me even more excited.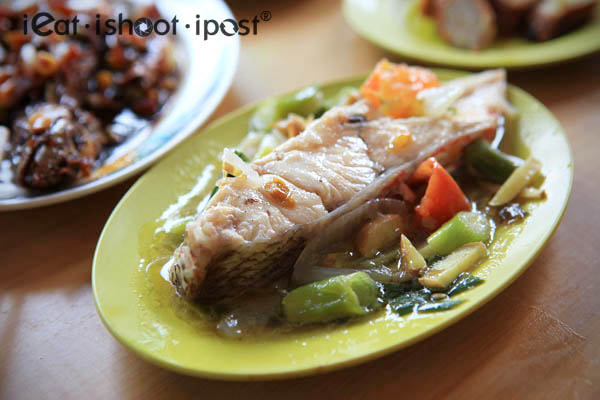 Steamed Snapper Teochew Style $3
Sure enough, the food here is absolutely rustic, absolutely tasty, absolutely oily which is why it was absolutely shiok. On top of that, it was cheap too! The steamed fish was steamed to perfection. It was tender, moist and the steaming sauce was delicious. It was rather oily, like a steamed version of fried fish, but boy was it good. 4.5/5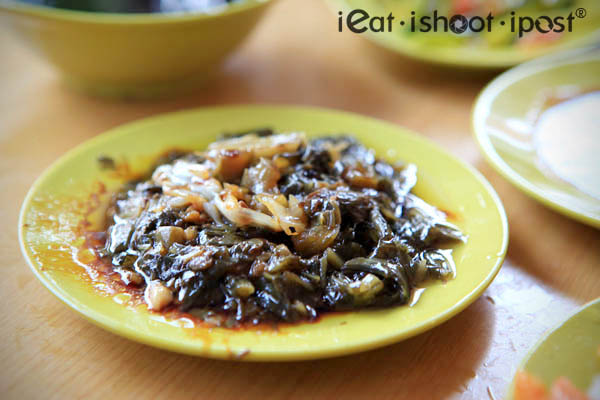 Mei Cai $2
The Mei Cai (Preserved radish leaves) were equally oily and delicious. Teochew porridge is very plain, so you do need something Umami, Salty, Oily to inflame your tastebuds before dousing it out with the watery porridge. This one really does it very well. 4.5/5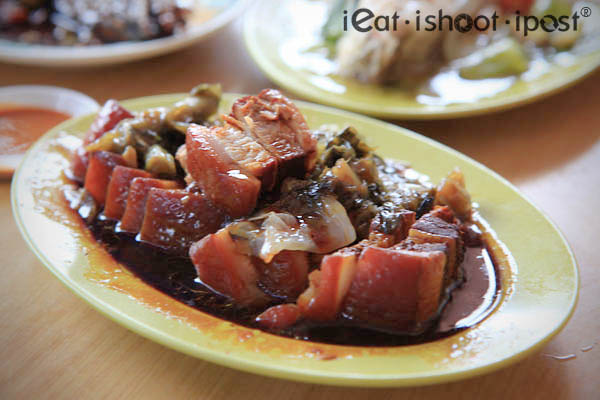 Mei Cai Braised Pork $3
Now, the usual preserved vegetables at Teochew Porridge restaurants is Chye Buay, but the Mei Cai here was really good. It was even better together with the Braised Pork. I would have liked the Braised Pork even more if the skin was fried before stewing. The style of Braised Pork is not really Teochew style as it had the thick gravy instead of ther watery version, but it was excellent with the porridge. 4.25/5
Conclusion
It is too bad that by 1pm, a lot of the food has already sold out. So that means that if I get there after my usual clinic session which ends at 1pm, I wouldn't get to order everything. So as I alluded to at the beginning of the blog, it would be something to look forward to during reservist training.
Update 10 August 2011 (Thanks to Lina for the update)


This stall has moved to the coffeeshop opposite the Caltex Station along Sembawang road near Nee Soon Camp. The new address is Soon Kee Teochew Porridge (33 Sembawang Eating House), 33 Sembawang Road #01-04/07, Hong Heng Garden, Singapore 779084. Tan Boon Huat Hp.9832 9787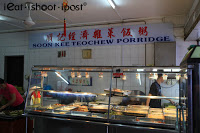 Soon Kee Teochew Porridge
Note new address