Registration is Closed! Thanks for your support!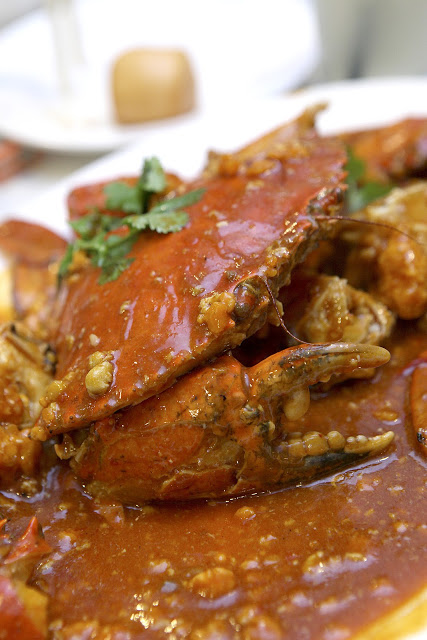 The original version of Chilli Crabs as served in the 60's
Registration is now opened for the ieat AGM (Annual General Makan) 2012!
Join us for a night of food and festivities as we celebrate the end of another great year of makaning with the largest gathering of the ieat kakis! My new book "Only the Best" will be hitting the bookstores at around the same time, and I will be autographing my books then!
Our theme this year is Seafood Sixties and we have asked Roland Restaurant to create for us a menu comprising the seafood dishes that were popular in the sixties including the original version of the Chilli Crab! In addition, we are offering two prizes for the best dressed Guy and Gal! (Dinner vouchers) So make sure you come in Sixties garb if you want to win the prize!
On top of that our organizing committee will be coming up with an interesting program and we have been working hard putting together goodie bags and Lucky Draw prizes, thanks to our sponsors ToTT, Canon, 3M, Hyatt Hotel, Shangrila Hotel, Dempsey Hill and The Sentosa, a Beaufort Hotel!
So make a date to join us for a night of makan and festivities!
Date: 8 Dec 2012
Time: 7.00pm
Venue: Roland Restaurant, Marine Parade Multistorey Carpark, Level 6
Price: $50 (includes goodie bag worth $40)
Menu: Back to the 60's …
1)Fried Baby Squids 苏东仔
2)Braised Melon Strips with Seafood 海鲜翅瓜盅
3) Braised Sea Cucumber stuffed with Pork 酿海参
4) Black Sauce Prawns 酱油虾
5) Crispy Pomegranate Chicken 石榴鸡
6) Chilli Crabs served with French Loaf 辣椒蟹配尖头面包
7) Seafood Kway Teow 乌白叶粿条   
8) Teo-Chew Yam Rolls 潮式饭沙芋
Write to ieatishootipost@gmail.com and in the title write "ieat AGM". In the first line write your Name, Nickname, HP number and No. of Pax. (Max 4 pax)
Note: Once your seats are confirmed, please consider that you have already bought the tickets and find a replacement if you cannot make it to the event!