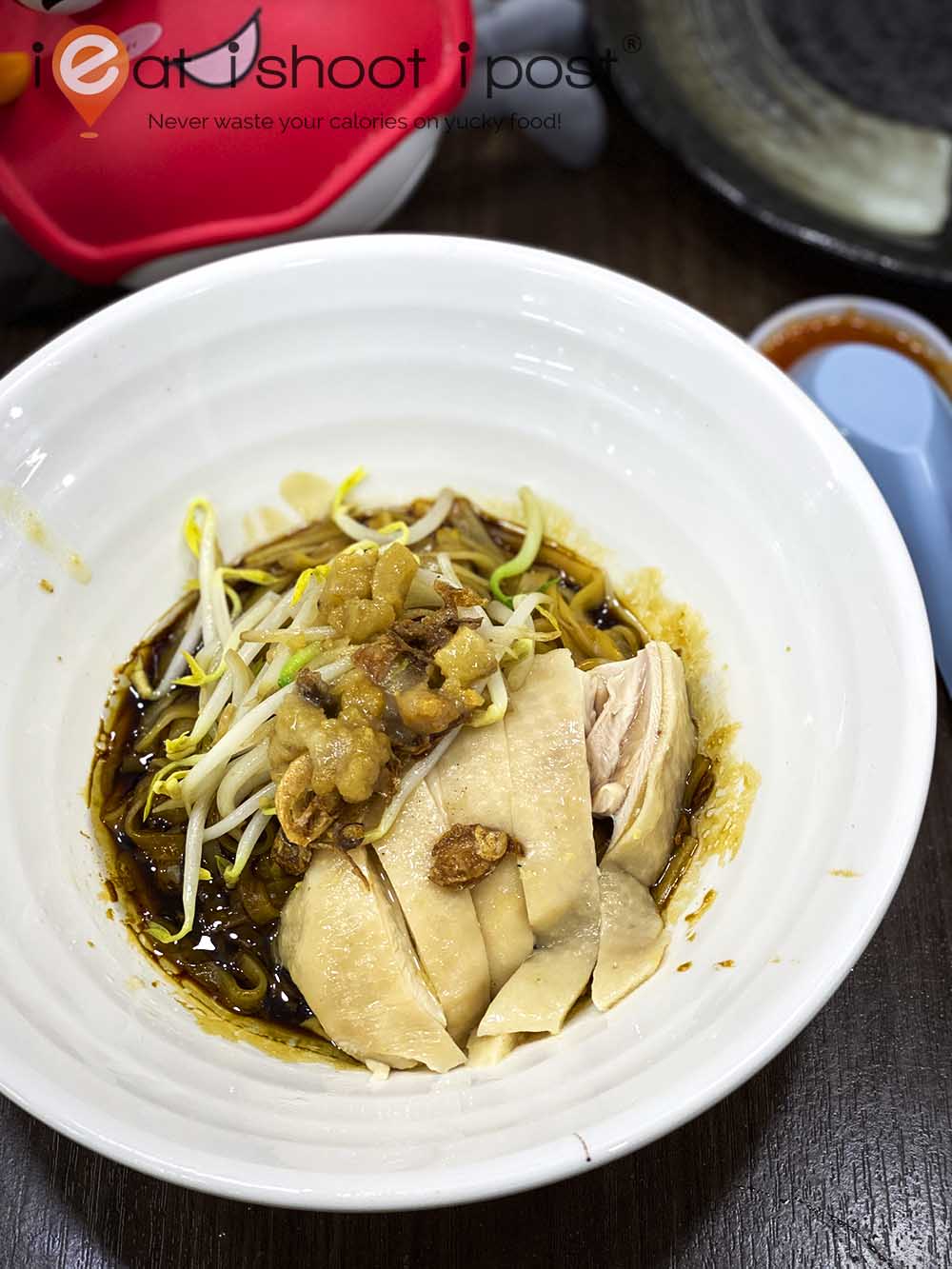 Not only is this eatery located in an old shopping centre that had seen better days, it is also tucked away in a corner where no one would ever walk past.  On top of that, it has a quirky name that doesn't sound like it's hiding anything delicious:
"CHIDERFUL"
What the heck is that?  Wonderful but full of Chi?  Or has it something to do with the Chef's surname?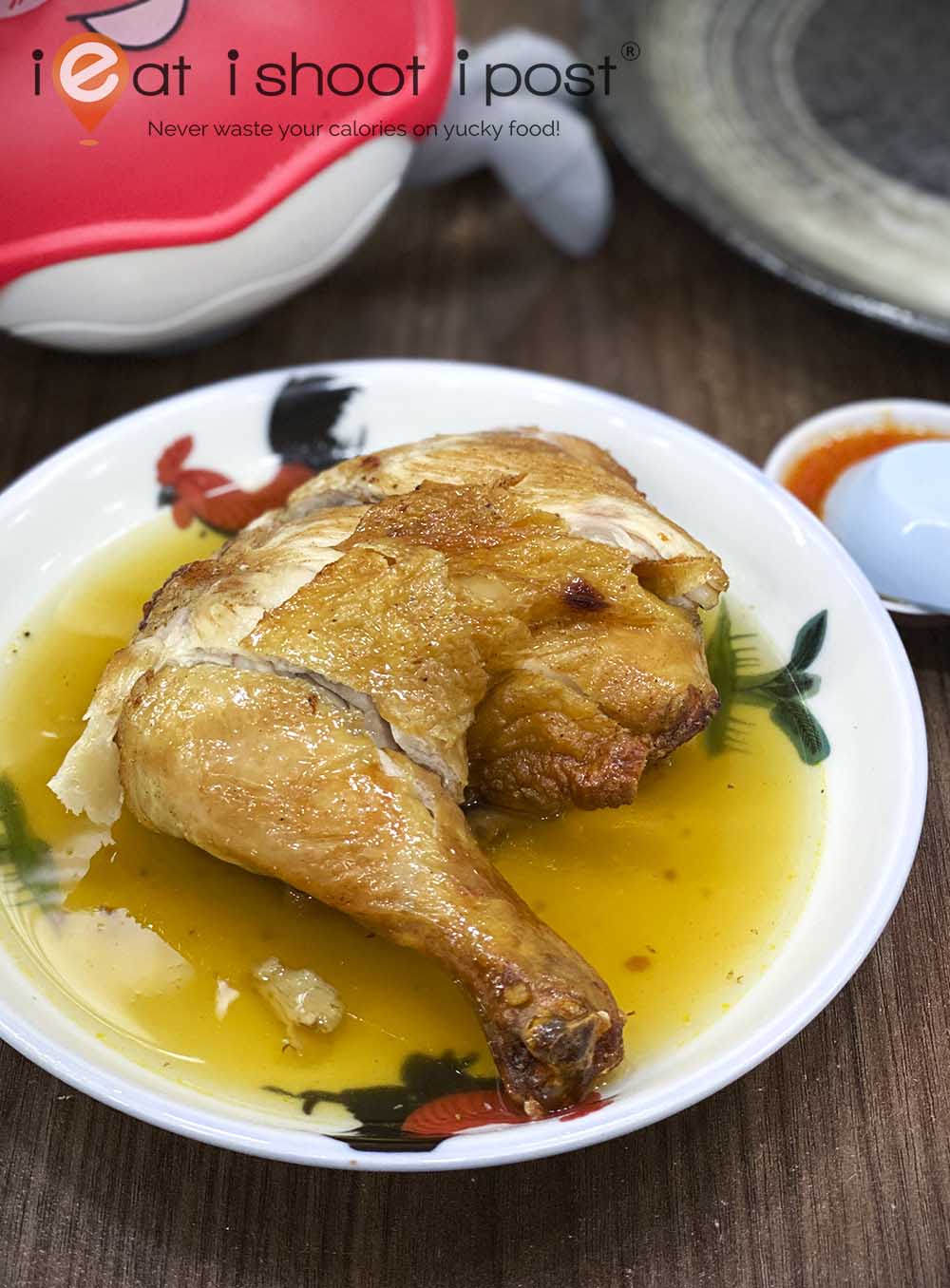 It turns out that "Chiderful" means "Eat Till Full" in Manglish (Mandarin-English).   No one will blame you if you walk past the eatery without blinking an eye, not that you will ever walk past it accidentally.  It really just looks like the kind of sleepy eatery that you'd find in old shopping centers which sells drinks, curry puffs and other snacks.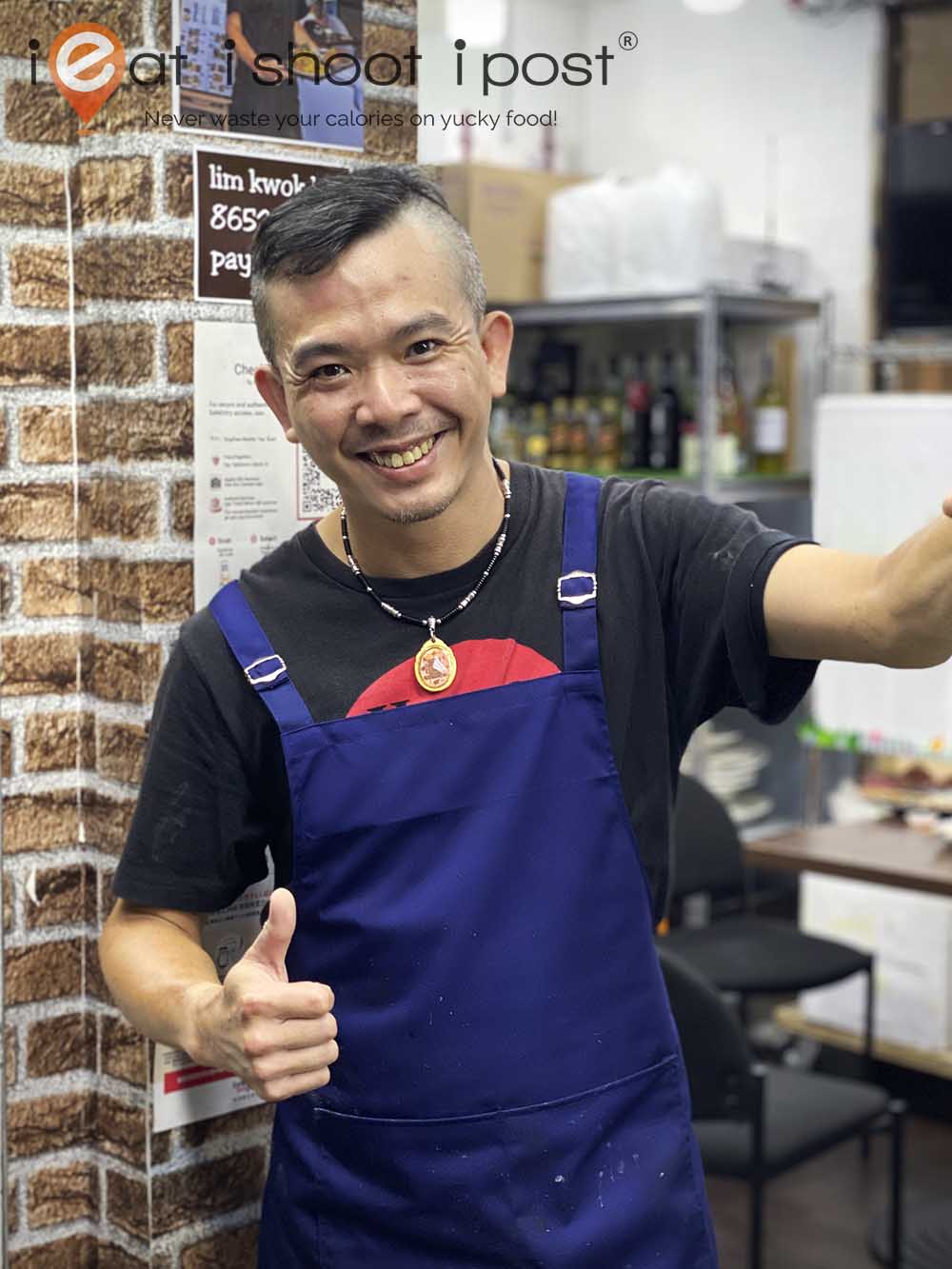 The place is a one-man show run by an ex-RWS chef, Kelvin Lim, who found himself out of a job when Covid struck. After failing to find another suitable job, he decided to take up a shop space at City Plaza to serve his signature dishes.
Everything was done on a shoestring budget.  Kelvin did all the renovations himself and functions as the chef, cashier, waiter and dishwasher.  So, when you come for a meal, you are expected to help yourself to the cutlery, drinks, and ice.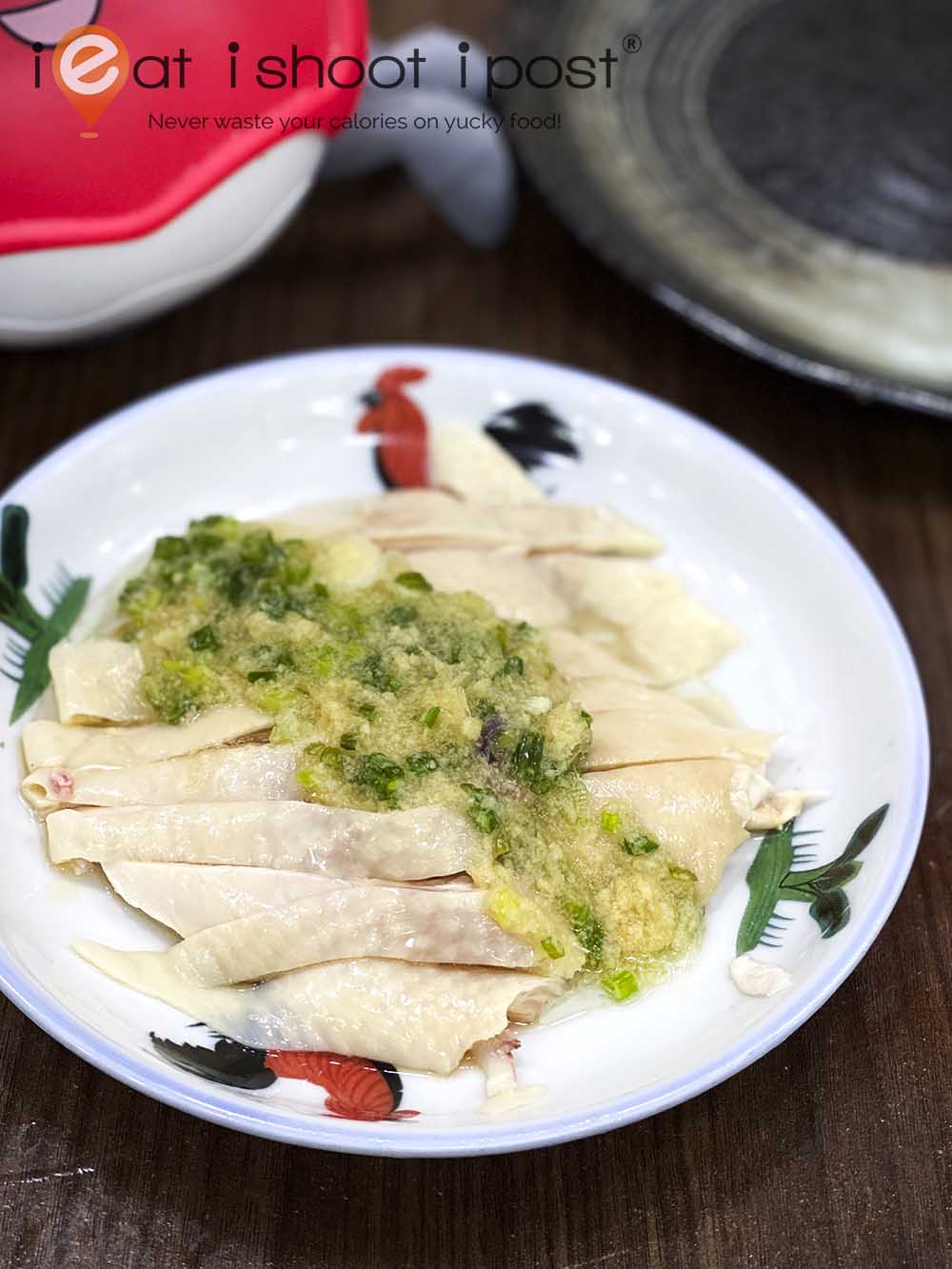 For lunch, his Ipoh hor fun is very popular.  The silky hor fun is dressed with a delicious sauce made with dark soy sauce, oyster sauce, and fragrant shallot and lard oil.  He tops it with perfectly poached chicken and bean sprouts which gives it a nice textural contrast.  4.5/5
If you can't get enough of the chicken, you can add on another serving of "drunken chicken" which has been marinated in chinese wine overnight and topped with ginger and shallot sauce.  I felt the chicken wasn't "drunk" enough, but it is still a dish well worth ordering. 4.25/5
The dish which convinced me that we needed to come back to try his other dishes was the fried chicken with herbs.  Here he combines a crispy fried chicken with a herbal sauce which was quite an unusual combination but worked really well!  4.25/5
After our lunch there, we arranged to come back for an omakase meal. Kelvin has rented another shop space that can house 10 pax where he does private dining starting from $30 per pax.  Here are some of the highlights of our meal: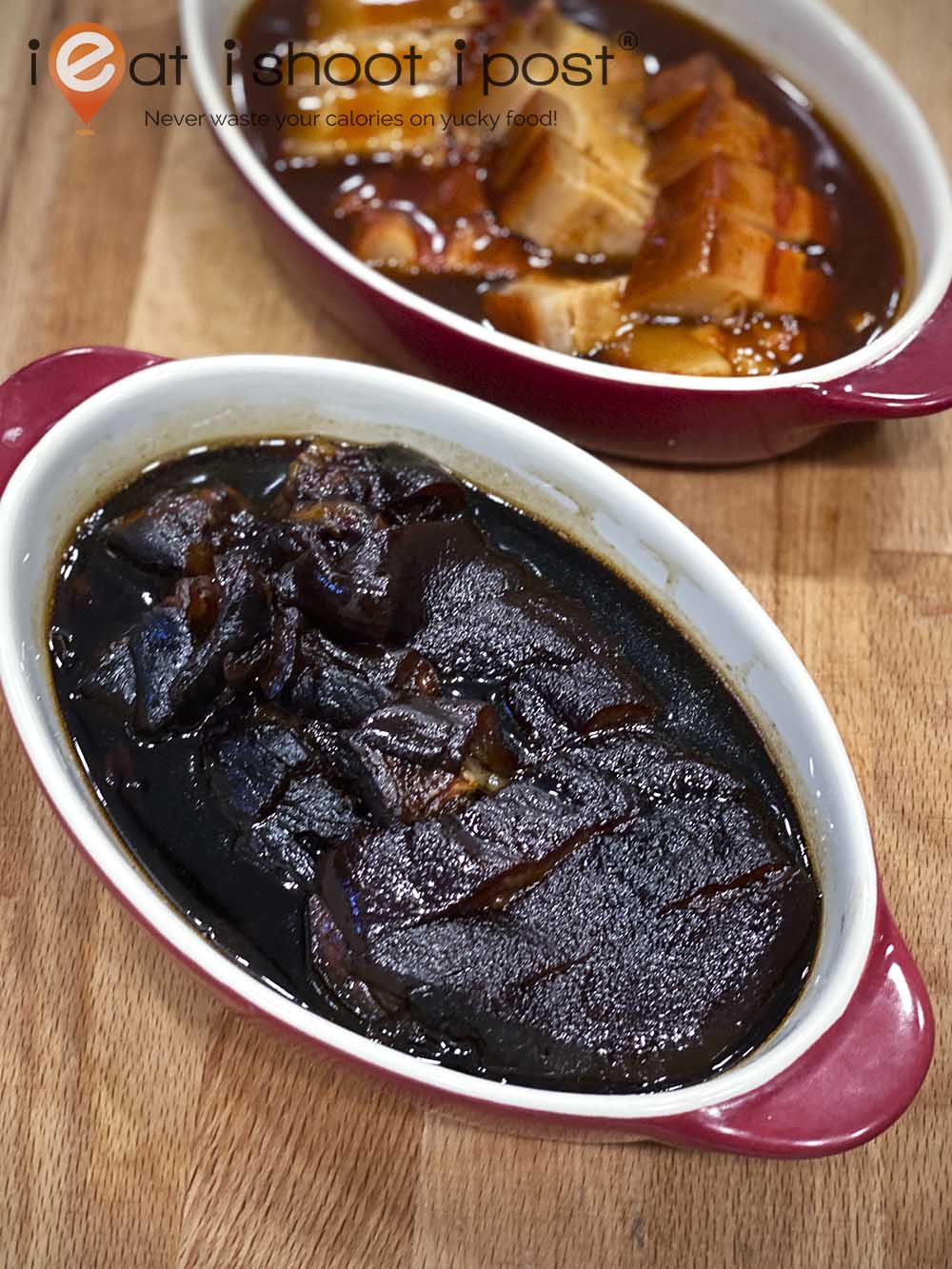 The pork trotter vinegar here is very good.  It's got a good balance of sweet and sour and the sauce goes really well with rice.  It doesn't have as much ginger as other places but the pork trotter was braised till meltingly soft and the sauce will make you order another bowl of rice.  4.25/5
I wasn't as enamored with his Dong Po rou which I feel doesn't quite have the same kick as the pork trotters.  The texture was sublime, but the sauce just didn't quite do it for me.  4/5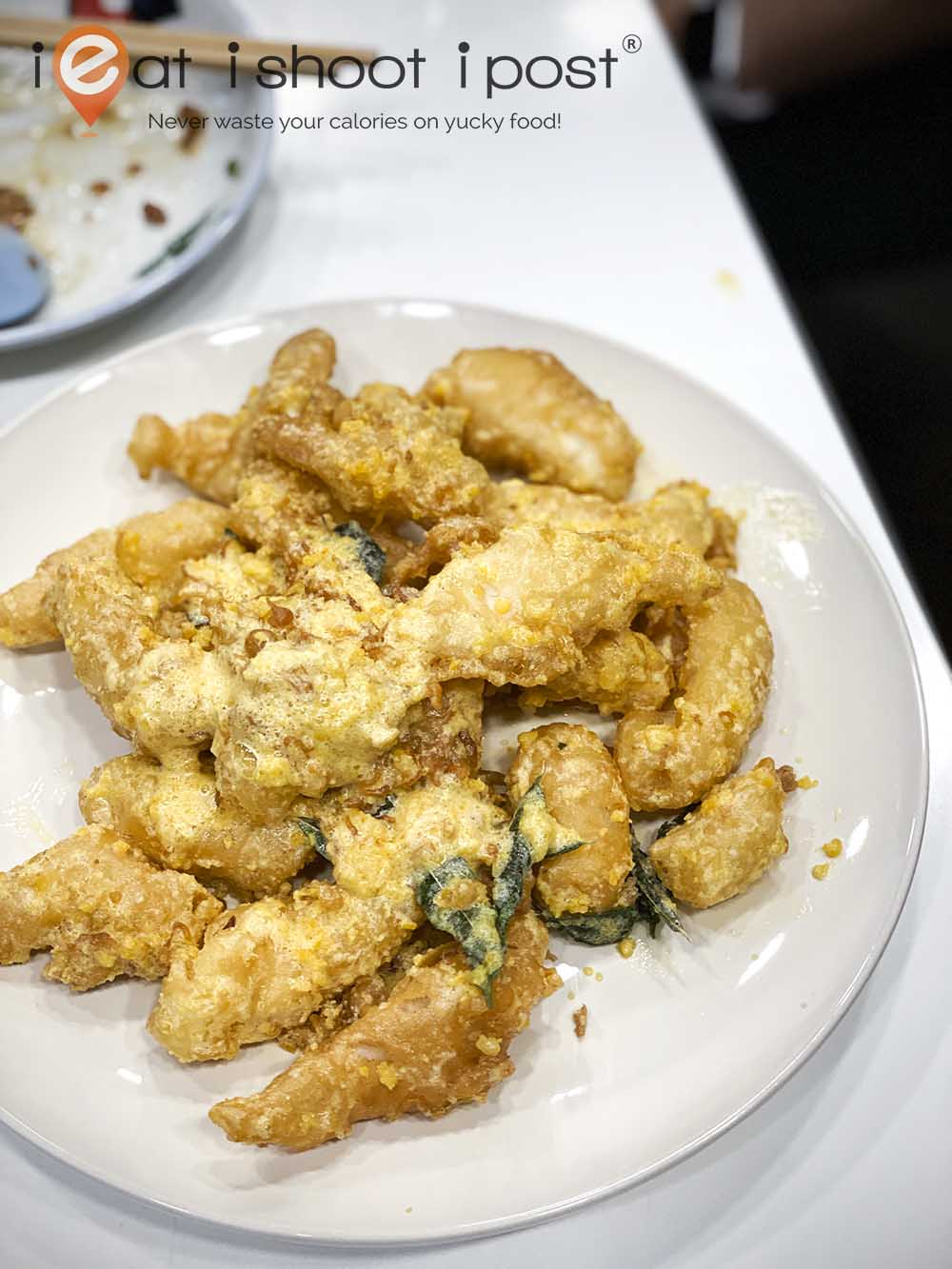 I really like his version of salted egg sotong.  The batter was super crisp and there was just enough salted egg sauce to coat the batter.  It reminded me of the best salted egg sotong I had ever tasted while I was in Rompin during one of my fishing trips.  I am still missing the natural sweetness of the freshly caught squid, but the flavour of the sauce and the crispy batter was very close!    4.5/5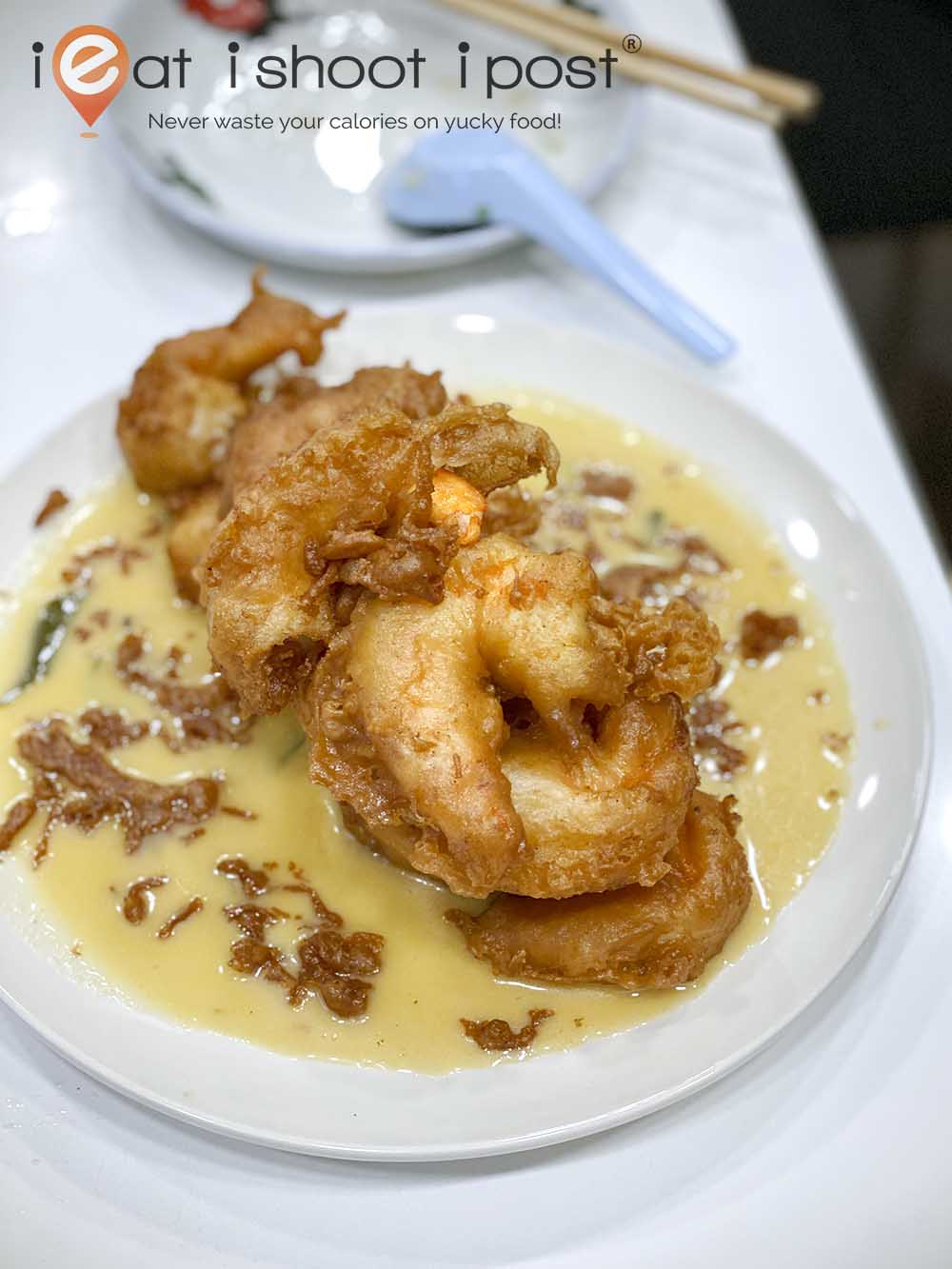 His butter prawns are also well worth ordering.  The batter is crisp and his sweet and creamy butter sauce goes really well with it.  What is more amazing is that he managed to cook all the food without a proper wok and gas fire! 4.25/5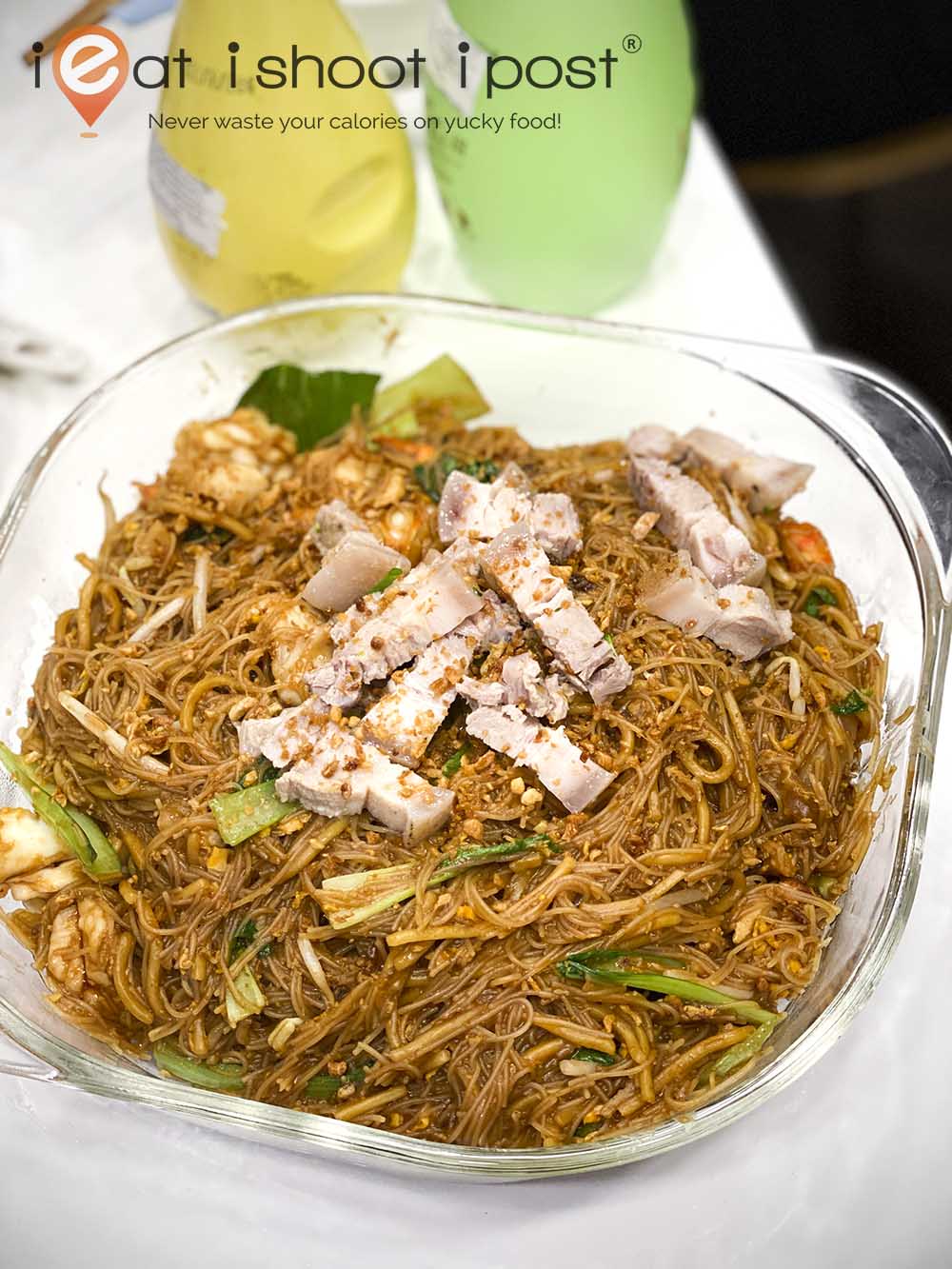 The lack of a big wok fire does means that dishes like his Hokkien Mee lacks that smokey flavour.  3.5/5 It's a shame, really, as the flavour of the dish was very good.  It is still quite amazing the number of dishes that he is able to churn out with his two induction cookers!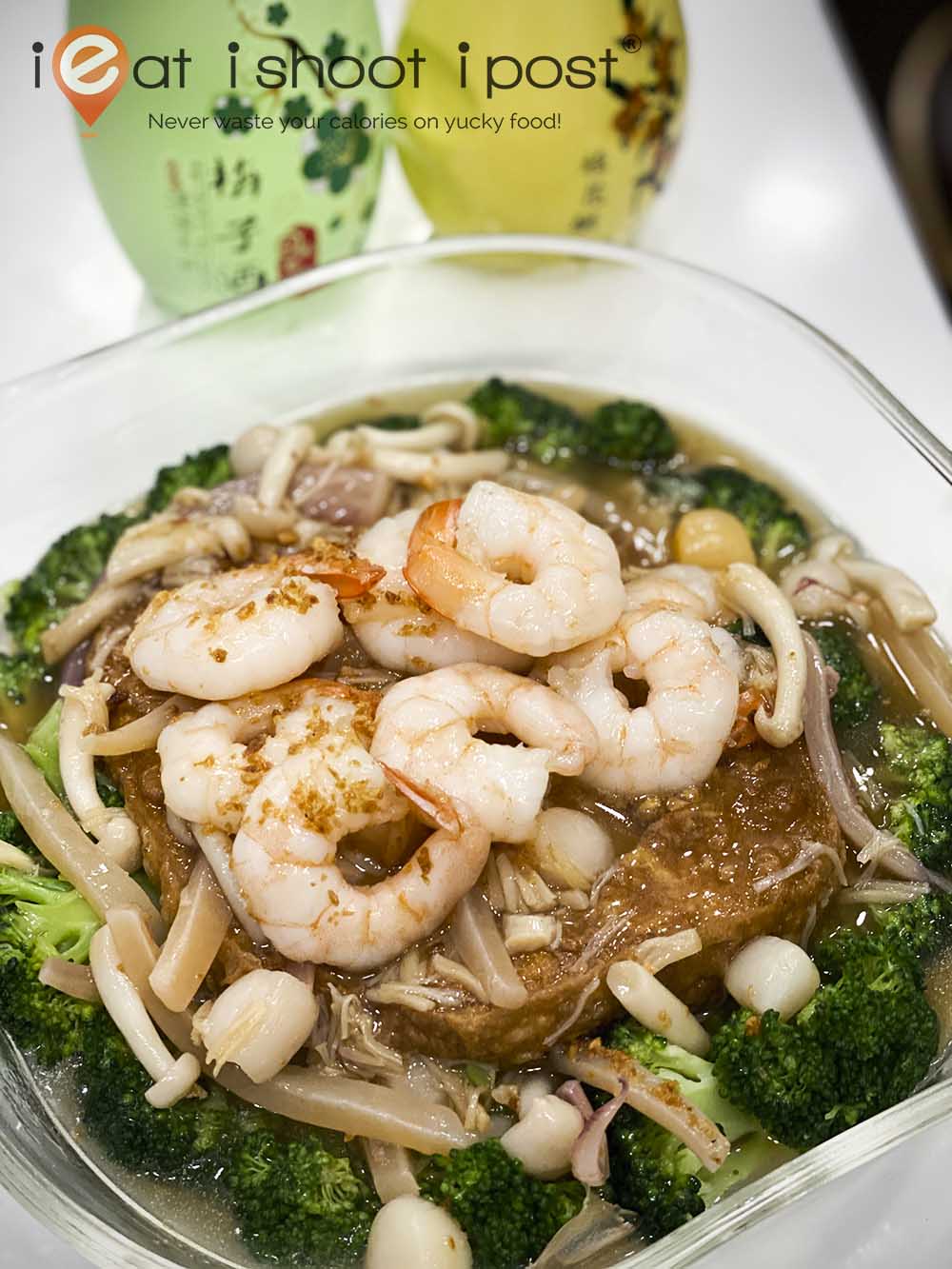 His homemade tofu has a very nice and savory crust which I thoroughly enjoyed, but the dish could have been better if he had used fresh sea prawns instead of the flavorless frozen variety. 4/5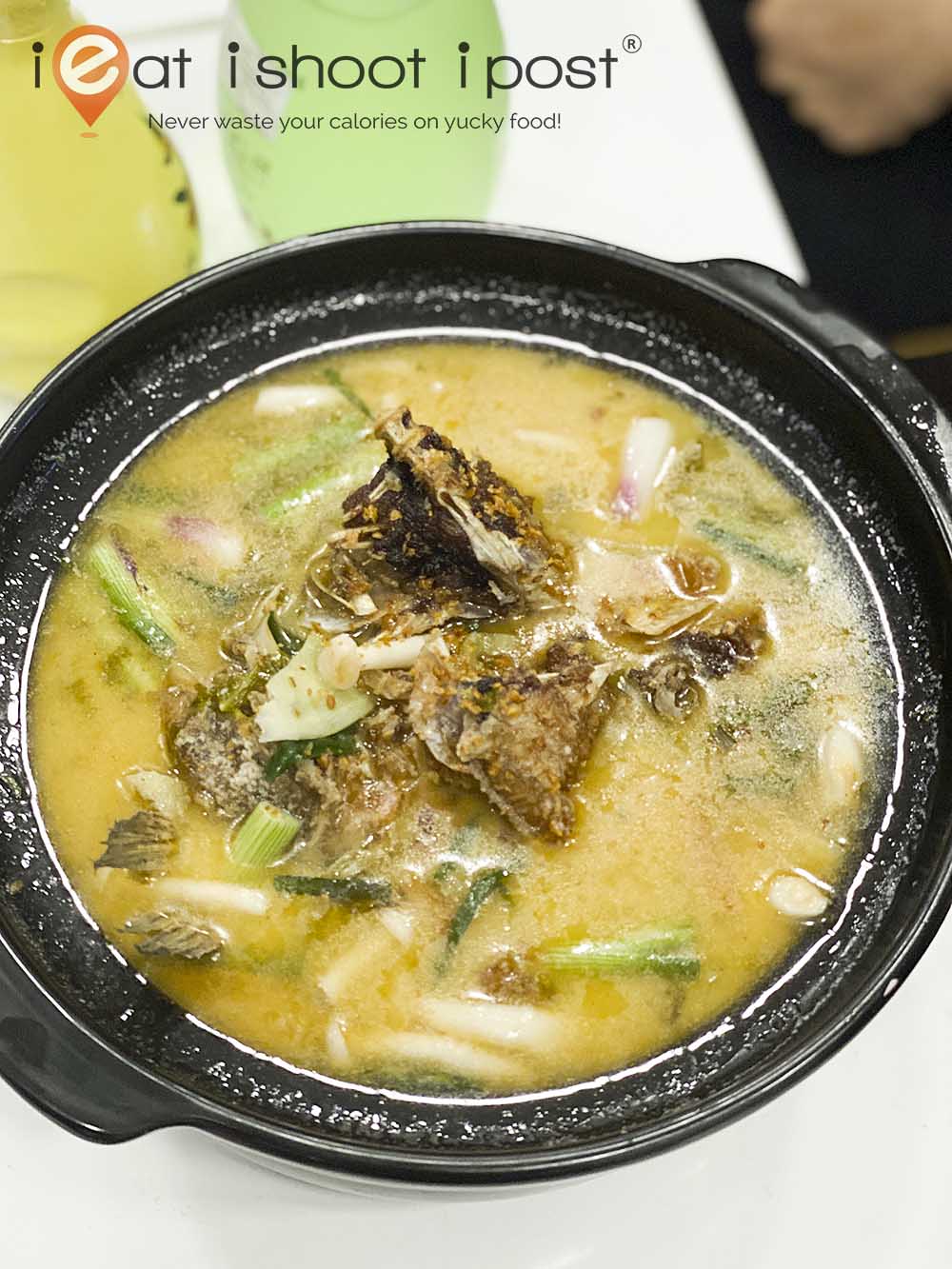 Fish soup is a popular dish that also comes in smaller portions which you can order for lunch  He uses a rich chicken broth for the soup base which makes for a hearty soup when combined with the fried fish head.  4.25/5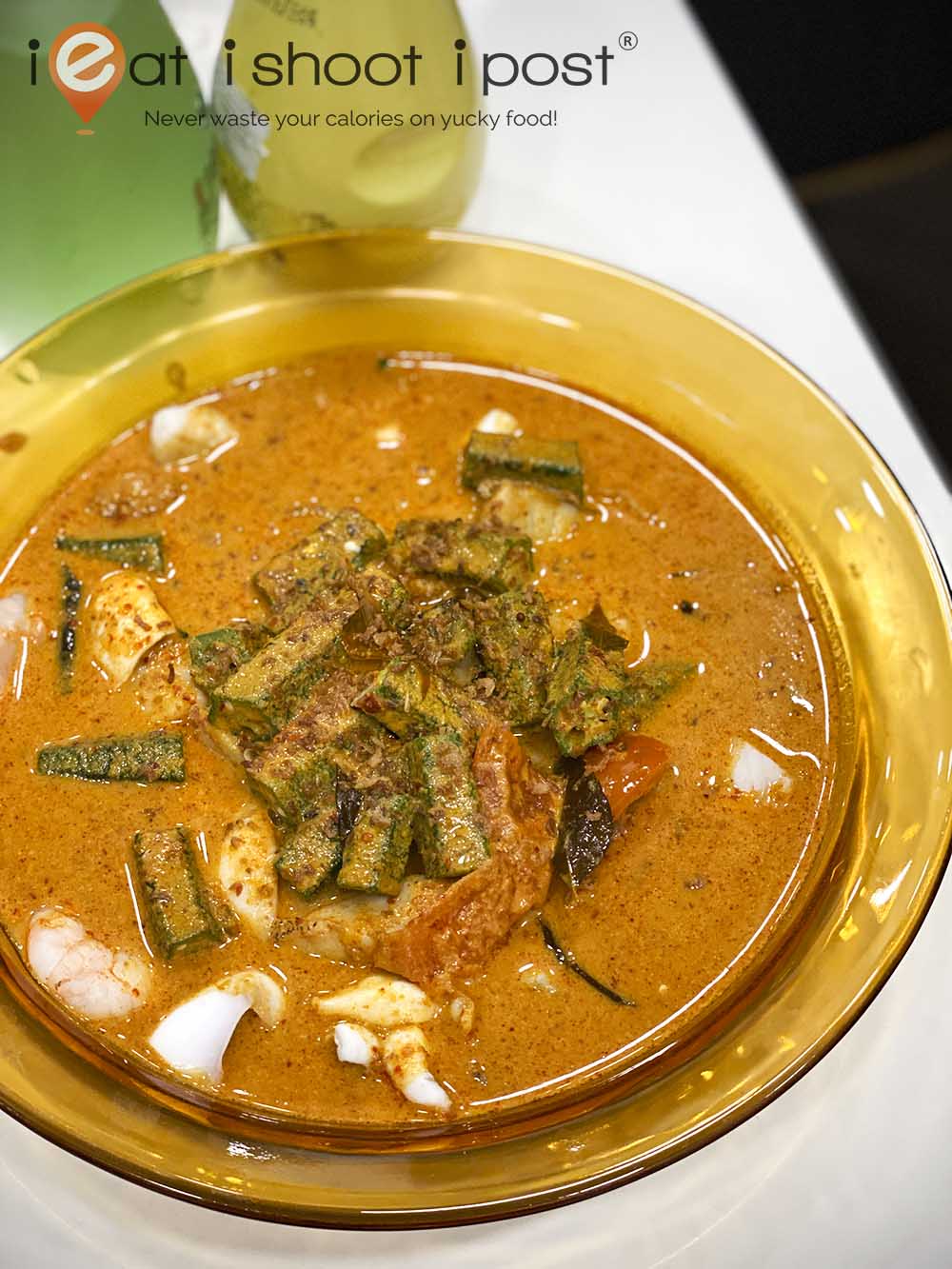 Chef makes his own rempah from scratch and his Malaysian style curry sauce would have been excellent if prepared as fish head curry. Instead, he served it with a selection of poached seafood which didn't quite give the curry that sweetness and textural intrigue as a fish head would have. 3.5/5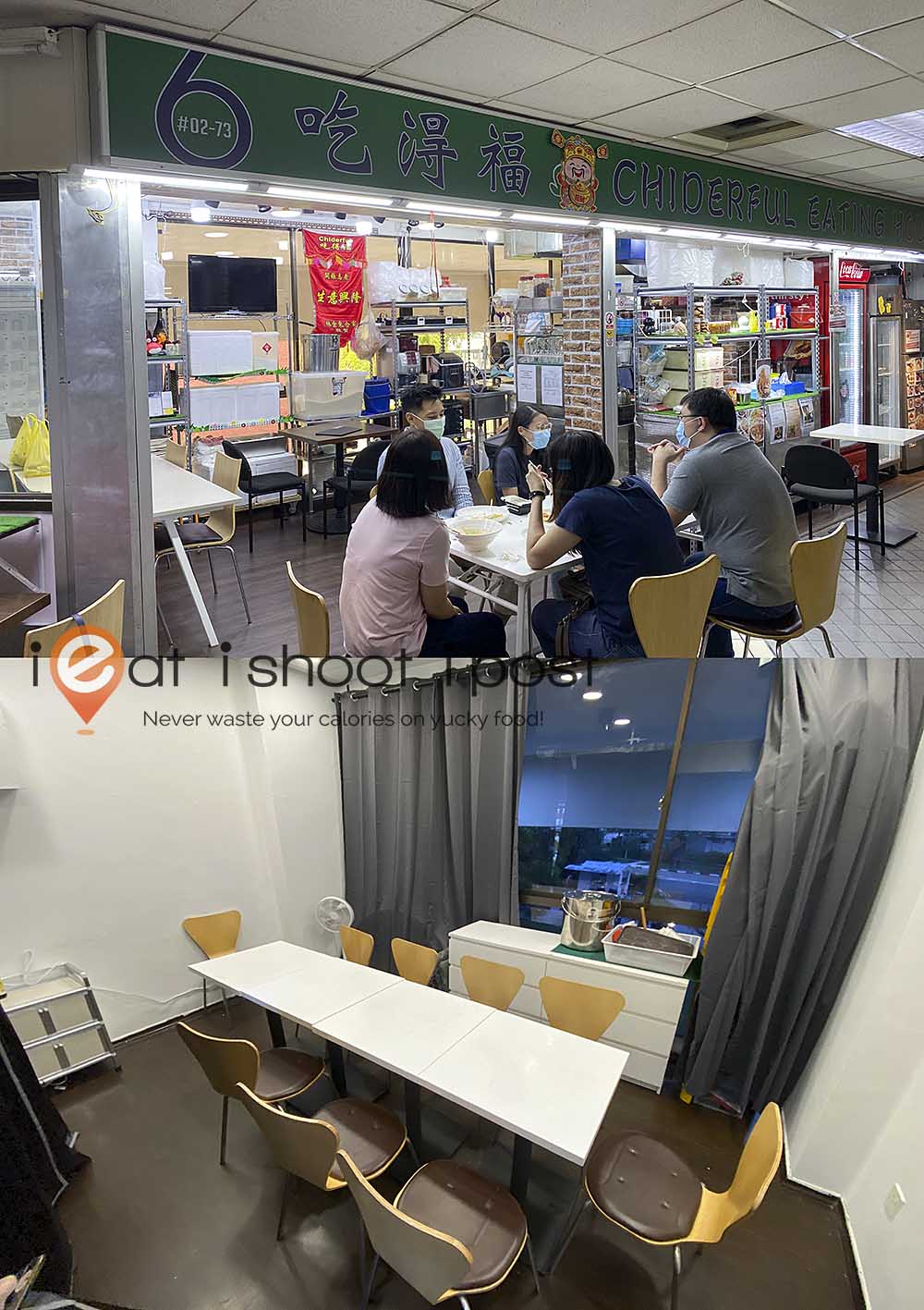 Conclusion
A hidden gem in every sense of the word!  The unpretentious little eatery is helmed by a talented chef who churns out delicious food from a tiny make-shift kitchen.  He is usually a one-man show, so don't expect any table service!  Private dining for up to 10 pax is available with pre-booking.