With Amagada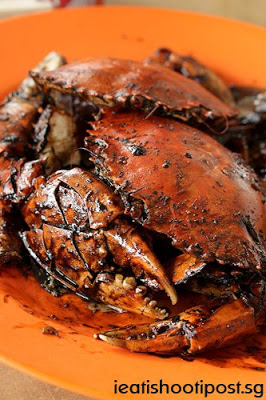 Black Pepper Crabs $38 per kg
We should do a poll to see whether there are more Chilli Crab lovers or Black Pepper Crab lovers. I think that there was one time when Chilli Crabs were the runaway favourites, but then Black Pepper Crabs came onto the scene and stole top spot from Chilli Crabs. Of course, nowadays there are a few other crab fads like Crab Bee Hoon and Salted Egg Crab, but I still think that Chilli Crabs and Black Pepper Crabs are still by far the favourite amongst Singaporeans.
Today we talk about Black Pepper Crabs and as you all may already know, the creation of the dish is widely attributed to the famous Long Beach Seafood Restaurant. But if you ask where is the best Black Pepper Crab around, a lot of people will tell you about this particular place where you have to ring up early in the day to book your crabs before coming down at around 5pm to start queueing for a table.
The notoriaty of this place is legend. The queue is so bad that it had intimidated me enough to not to try it after all these years. There is also the rumour of a Empress Dowager like figure commanding the restaurant and rumours of the Uber Food Nazi chasing people away for the lack of crabs is the stuff of Singaporean Hawker Lore. And then, there is the fact that they are usually sold out by 8pm. How to eat like thaaaaaat? Then again, like that, how not to eaaaaaat?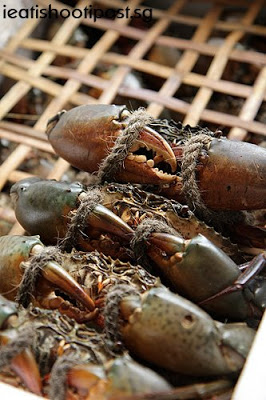 What finally brought me to the restaurant was when I heard rumours that the restaurant had moved to somewhere in Yio Chu Kang and that the restaurant in Joo Chiat is closed. In fact, I have driven past the alleged new restaurant (which I shall not name at the moment) and it says clearly on the signboard that they were previously from Joo Chiat Place. I think it was Holydrummer who told me that he had already eaten the black pepper crab there. So I started making plans to visit the new restaurant at Yio Chu Kang since I thought I might get a chance to eat the crab before people find them and we have to start queuing again.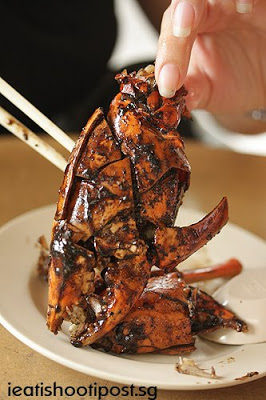 But as I was organizing my trip there, one of my patients told me that she had just eaten Black Pepper Crab at the old Joo Chiat Place! After making sure she wasn't seeing me for diarrhoea, I decided that I would get to the bottom of this mystery once and for all.
So we eventually found ourselves sitting at the old coffeeshop at Joo Chiat Place at 5 pm waiting for our Black Pepper Crabs. We were lucky as we did not ring to reserve our crabs ahead of time but still managed to order some because they had a good supply of crabs that day.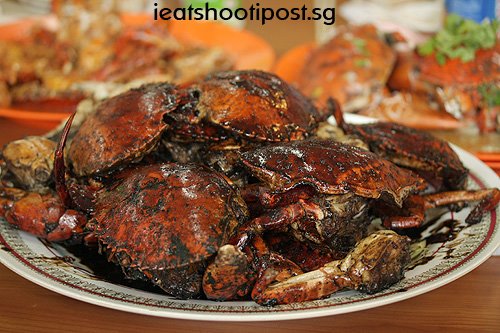 As our gowment says, Two is not enough!
The verdict: Strangely addictive. These Black Pepper Crabs are not like the ones served elsewhere. The sauce is slightly sweet and not overly spicy. As Goldilocks would say, "it is just right!". It was so shiok that I think I ate more crabs at that one seating then I ever had for a long while. 4.6/5
The lady manning the register told me that there is some secret ingredient in the black sauce that they used but stopped short of telling me what it was. She also insisted that rumours of there being a change in management at the restaurant was untrue and that everything was the same as before. She appeared to know about the restaurant in Yio Chu Kang but wouldn't say anymore about them.
Conclusion
I guess the real question is whether I would bother calling up earlier in the day and come at 5pm to start queuing up for the Black Pepper Crab the next time? Quite honestly, I think I would.
But back to the mystery at hand. Something must have happened to have started all the rumours! Anyone knows of what actually happened?