Which NUS Alumni hasn't been to Fong Seng Nasi Lemak. Some places just have the best location. I am not a NUS Alumni, but I can imagine the scenario. You live in the Hostel and have been mugging for an exam. Suddenly you feel your tummy rumbling. You look up and its 2am in the morning. No worries, there is always Fong Seng Nasi Lemak down the road! Hurrah.
With such a great location, all you really need to do is to provide a hearty meal, not charge too much for it and it's "Game Over".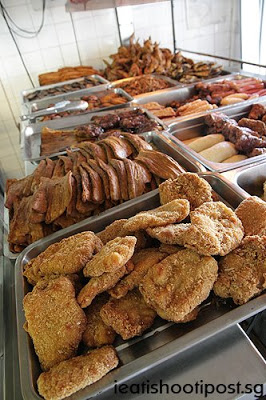 Fong Seng's Nasi Lemak is not bad but I feel that if they had been in a worse location, they would put in more effort to be better. The selection of additional stuff to put onto the Nasi Lemak is impressive, but the rice was really quite hum drum with nothing to rave about. They use the cheaper grade of rice which doesn't have a good bite and you have to close your eyes and shut out all other distractions in order to taste the coconut. What I did enjoy was the chilli which I felt was nice and sweet. Just the way I like it. The wings were not freshly fried, so again was pretty ordinary. (Maybe I have to come during the peak period).
Conclusion
Overall I give it a 3.75/5. But as I mentioned earlier, you really don't have to be all that excellent to be successful when you have such a great location. The place does have a rustic charm about it and I would return again when I in the area looking for something to eat late at night.
Due to the overwhelming consensus of the state of the food there, the ratings have been adjusted down to

3.25/5

.