Fei Fei Wanton Mee is probably one of the best known Wanton Mees in Singapore. The first time I tried Fei Fei was when I stumbled upon it few months back when I drove past this newly renovated coffeeshop which had the Fei Fei name and "open 24 hours" stated on the shopfront. I was not too impressed with the noodles at that time so I wrote it off for a while.
Then I realised there was another Fei Fei Wanton Mee just down the road, in a "original condition" coffeeshop. Could it be that I ate from the wrong Fei Fei? It turns out that I did AND not only from the wrong Fei Fei, but also during the wrong week!
When Grandpa Chan Ah Yean bestowed the famous Wanton Mee stall to his 2 maternal grandsons, he must have expected them to share and share alike. This they did to the letter. The brothers would take turns to run the stall on a weekly basis. After a few years, the elder brother decided to go the franchising way and opened the brand new corner coffeeshop selling Fei Fei Wanton Mee 24 hours daily. However, he still kept his rights to the old stall which he mans on alternate weeks.
Expansion of Fei Fei meant that the care and personal attention to the quality of the noodles had to be sacrificed. Even though the noodles are still made to specification, it lacks that sublime quality of the personal touch. The younger brother on the other hand still goes down to the noodle factory daily to ensure that the noodles are made according to his Grandfather's recipe.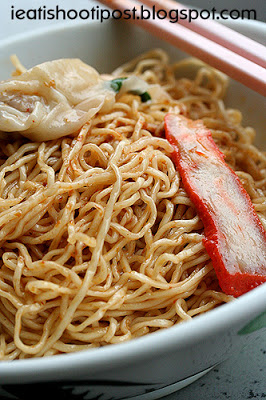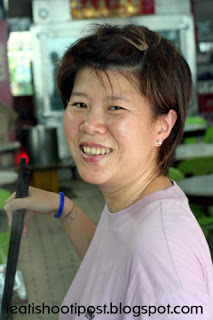 That personal touch does make a big difference. The noodles were lively, QQ and gave me that comforting carbo rush. At Fei Fei, the noodles are undeniably the star of the dish. The wantons were also very tasty albeit a little tiny, about the size of a macademia nut. The char siew was a big letdown. Lau Ban Niang Serena shared that they don't have the facilities to roast their char siew anymore, so the char siew was boiled instead. Good thing they still made their own chilli sauce which complemented the noodles really well. Not overly spicy and it managed to synergize with the noodles to enhance the comforting taste in every mouthful. 4.25/5
Conclusion
This place has the best noodles I have ever tasted, but the lack of a good char siew is one of the major stumbling blocks between this being very good to it being "die die must try". The sauce could also be a little more robust. With some minor tweaking, this has so much potential to be the the preeminent Wanton Mee that everyone would talk about in Singapore!
PS: You need to make sure you get there during the week when the younger brother is selling the noodles! Look for Serena or give her a call to confirm.