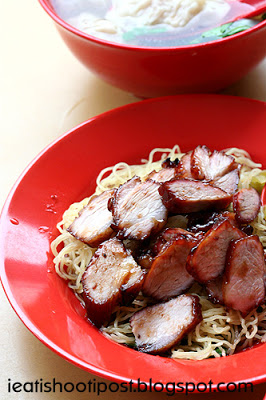 $3 portion with extra Char Siew (Normal $2.50)
Wanton Mee is the quintessential street food and yet I have had so much difficulty finding one that I truly "die die must try" (ddmt). I really cannot understand why it is so difficult to make a great Wanton Mee. The way I see it, you need 1. Great Noodles 2. Great Sauce 3. Great Char Siew, 4. Great Wantons. If you look at the list of Wanton Mee Stalls that I have blogged so far, none of them have actually scored a 4.5. It would seem that Wanton Mee sellers have really been wanton about their Wanton Mees. Can't someone just dish out a truly ddmt Wanton Mee such that people will stop talking so fondly about the ones in Hong Kong?
Perhaps my problem is that I have yet to taste the best one! Fine, so I went on a Wanton Mee hunt and tasted three of the most talked about Wanton Mees in Singapore. Let's see if any of them can truly be called great.
First up is Foong Kee, who was rated #1 in a Sunday Plus article.
This stall has only been in operation for four years, but it has quickly risen to the top of the rankings. You could wait up to an hour during peak periods to get a plate of this Wanton Mee. The strength lies in the fact that they roast all their own Char Siew and they use a very good cut of pork so that the Char Siew is tender and juicy.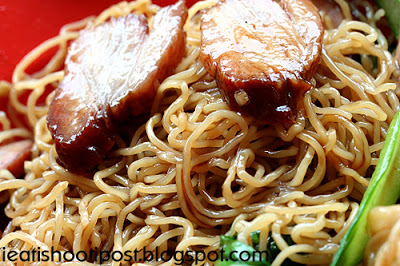 Their noodles are also made to specially from the factory so that they do have a quality taste and texture about it. It was better than most but I still had a niggling feeling that there must be a better one out there. The sauce was good, but just a little too bland for me. To zest it up, I asked for extra char siew sauce and chilli. Ohhh that really hit the spot! The wantons and shui gao were also very good but not outstanding. For a char siew lover like myself, this can be considered a very good plate of Wanton Mee. 4.25/5
Conclusion
The strength of this Wanton Mee lies in the quality of the Char Siew. It's certainly one of the best ones I have tasted in Singapore so far, but still a few elements short of it being legendary.