With holydrummer, iwatch_ueat and Power Aunty and the PowerGang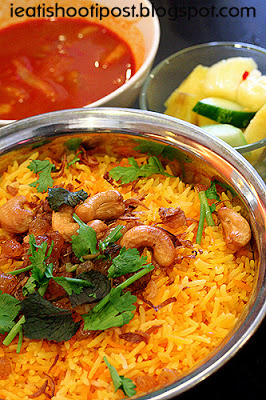 Hyderabad Dum Briyani Chicken $9.90
Ever looked at a cookbook and wonder what the stuff actually tastes like in real life? I have, and when I try to follow the recipe the dish may end up looking almost like the photo, but tastewise it falters half the time. Perhaps its just my poor cooking skills, or could it be that they just publish a recipe that looks good on paper so they can sell cookbooks?
Well, wonder no more! If you are a fan of everything spicy and especially if you own any of Devagi's 16 cookbooks, you can now taste the original dish as depicted in her cookbooks, cooked by the cook (chef lah) herself!
Yes, Singapore's very own Spice Queen and media spokesperson for the Asia Food Channel — Devagi can now be hired (well sort of right?) to whip up your favourite spice dish from any one of her cookbooks right here in her restaurant. Then you can see how it compares to your own version when you tried to follow the recipe!
Devagi fuses Indonesian, Chinese, Thai and Malaysian influences into her own South Indian style cuisine. Sounds like how your own mom cooks? Well yes, this is the true Singaporean homestyle cooking, except of course that it is done at an expert level.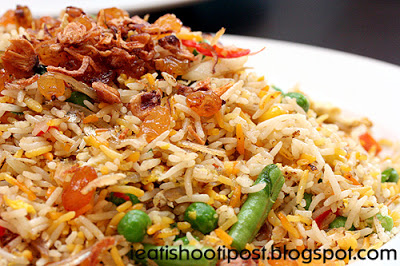 Ikan Bilis Fried Rice $6
The Ikan Bilis fried rice for instance is a fried Briyani rice with ikan bilis and infused with indian spices and raisins. It combines a wok hei flavour of a good fried rice with the spicy aroma of a briyani. This sort of "Chindian" dish should really hit the spot for a guy like Gurmit Singh yah? I jest. The flavours combine very well and we all liked it. 4.25/5 There were other "Chindian" dishes that we sampled as well, like the stir fried long beans with egg and the stir fried cabbage with dried prawns and masala.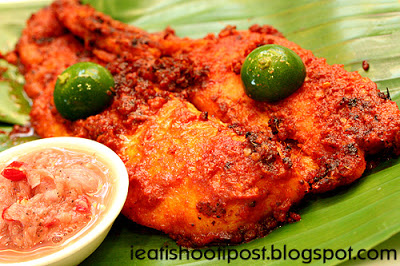 Grilled Sambal Fish (John Dory) $13
Another dish which was pretty good was the Grilled Sambal Fish. The Sambal has got a strong Indian influence and is almost like a cross between Sambal and Tandoori fish. It was great with the cinchaluk. 4/5
We also sampled her Hyderabad dum briyani which is the top selling dish there. Unfortunately, it did not quite hit the spot for me that day. It could be that she did not cook it with saffron that day which she normally does. 3.5/5 There are also many different versions of Fish Head Curry to suit a whole range of tastes.
Conclusion
This is the kind of place that the Tourism Board would promote. Uniquely Singaporean cuisine, cooked by a famous TV personality and Chef. Great place to bring your foreign visitors to introduce them to Singapore's multicultural cuisine. But come prepared to be spiced up. I had a spice overdose that day because after the fifth dish, I found it increasingly difficult to tell the difference between the various curries!