With the ieat-in-laws, Amagada, Chwee Kueh and the Chingtribe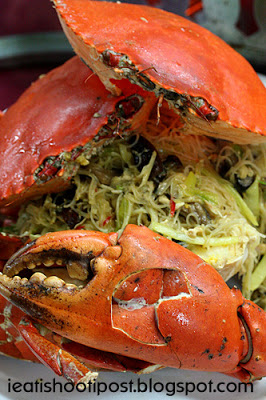 I think Crab Bee Hoon is currently my favourite crab dish and I am on a pilgrimage to find the ultimate Crab Bee Hoon in Singapore. There are generally 2 types of Crab Bee Hoon — a soup and a dry version. I prefer the dry version. As I have mentioned in my last blog, the widely accepted Gold Standard for dry Crab Bee Hoon is the one at Sin Huat. But because of the exorbitant prices, I have resisted going there to kena chop (swindled) Ultimately, the question is: "Is Resistence Futile?" Can I find a Crab Bee Hoon that I am so satisfied with that I can forget about ever going to Sin Huat?
Many readers have written in to recommend this Crab Bee Hoon from Ming Kee. This Cze Char turned restaurant used to be in Marine Parade, but got so popular that they shifted to their current space at Macpherson. Now its air conditioned but there is still no +++ added to the bill.
The Crab Bee Hoon was very good, but unfortunately I still haven't found my Holy Grail. They use thin bee hoon here which absorbs the flavour very well. It was very tasty but still lacked that ooomph I was looking for. The crabs are excellent. The pincers are large and the meat is full, so no complaints there. $38 per kg. 4.25/5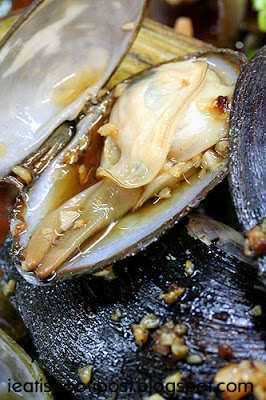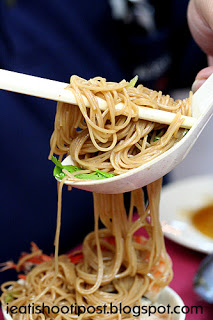 Overall the food quality here is excellent and the prices are quite reasonable. The dish that is really good is the steamed clams with garlic. The sauce is your typical Cantonese steam fish sauce but they do it extremely well. Combined with the tender and sweet flesh from the clam, this dish is quite addictive. $20 for a large plate. 4.5/5
Another sigature dish was the Guiness Pork Ribs which was thickly chopped Pork Ribs with a sweet, piquant sauce. The meat was tender, fresh and flavoursome. 4/5 The venison with ginger and shallots was excellent and is one dish I will order again when I am there. They used a very good quality venison that is so tender that it melts in your mouth. 4.5/5. Their other signature dish is the fried Mee Sua which I found so so only, though other members of the family quite liked it. I think for me, mee sua is a dish where I will need to grow a little older to appreicate. 3.5/5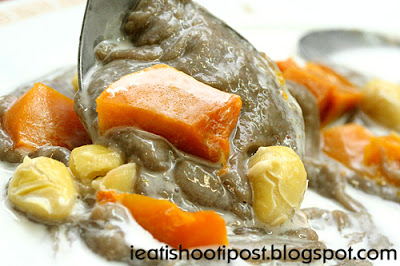 No Teochew Ah Hia can resist Orh Nee especially when they tell you that it comes with pumpkin and gingko nuts. The Orh Nee here is thick and gooey, unlike the semi watery versions that most restaurants serve. The only let down was the use of coconut which really spoilt the taste. They should have just left it out. 4/5
Conclusion
Overall a very satisfying experience. The standard of the food is great across the board. Too bad I have not found my ultimate Crab Bee Hoon, but I certainly did find a very good live Seafood Restaurant that I can return to again.
8.5/10 (T3.5+V2+S2+E1)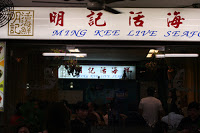 Recommended by 2 anonymous readers and khim