The Terminator! $48 to take up the challenge
Look, its hard to be a foodie and a doctor at the same time. People often ask me how a doctor can be a foodie. As if insurance agents never go sky diving. I do struggle at times between the need to feed and preserving the wealth of health. The way I strike a balance is to spread my feeding frenzy out such that I get to eat a really good meal for every four other healthy balanced meals.(My five green juice and oatmeal cereal every morning for eg) So, most of the time I would be eating lots of fruits, veggies, cereals and all the other stuff that is anti this, that and the other. (Anti-oxidant, Anti-inflammatory, Anti-hedonistic etc).
However, my struggle with temptation came to a climax with the 1 kg Terminator. It's not so much that I want or need to eat a 1 kg burger, but more of the fact that I want to see someone else eat a 1 kg burger. No, it is not a sinister means of getting more patients to the clinic. It's just that there is something within us all that finds a perverse sense of pleasure in watching others vicariously undertaking feats that border on insanity with a certain prelude to pain. That is why we enjoy watching shows like "funniest home videos" and "Wipeout" and in the case of the foodie, "Man vs Food".
What a wretched man I am! For the good that I know I should do, I do not. Instead I do those things that I know not to do. And if I do what I do not want to do, it is no longer I who do it, but it is the foodie living in me that doesit. So please read this story with the caveat that eating a 1 kg burger is something neither I nor the Health Promotion Board endorses. But then again, no insurance agent would ever endorse your plan to climb Mount Everest without oxygen, although he might close an eye to your attempt at scaling the learning tower of burger patties.
But if you have a big appetite, and I know that there are many here who do, then $48 for five 200g Wagyu patties (Total 1 kg Wagyu Beef!) is a pretty good deal even if you finish just half of it (single pattie already costs $24). But if you do finish it, it is FREE and you get your photo on the hall of fame! Here's the small print. You have to finish the burger and the sides within 20 mins and you are not allowed to share the burger with your friends even if you don't finish it.
So how does the 1 kg Terminator taste? I really don't know since I didn't attempt to eat it, but I conjecture that the first pattie would taste almost the same as the Plain Jane burger I had and subsequent patties would taste less awesome as the law of diminishing returns tells us. The patties here are made from Wagyu Rump and char grilled in a Josper grill to seal in the juices and give it a nice slightly blacken crust and a smokey aroma. So it is a pattie with a nice beefy flavour and a good bite. I would have preferred my pickles slightly sweeter and diced as the sourish gherkin sometimes took centrestage instead of playing second fiddle. Would have given them slightly higher marks if they used a nice Monteray Jack or American cheddar instead of the very mundane processed cheddar singles. (That should change by the time you get there) 4.25/5
As a whole, the Roadhouse serves very good olde hearty food. The starter of prawns wrapped in bacon with Maple syrup dressing is a good example of the hearty type of American cuisine they serve. The jumbo prawns are bouncy and the bacon and maple syrup go very well together. Nothing particularly fancy, but its a good reliable starter for sharing. 4/5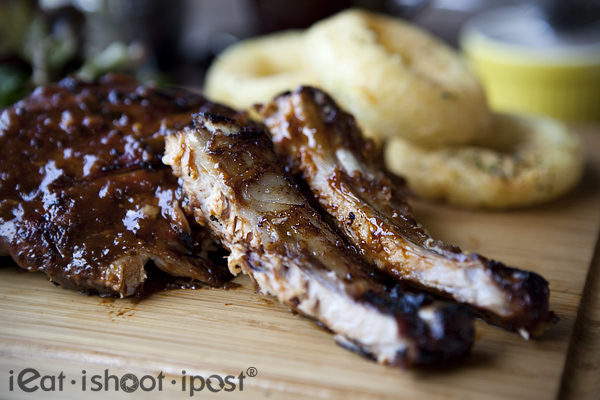 BBQ Kurobuta Baby Back Ribs $26 for half rack, $48 for full rack
Sous Vide seems to be the in thing nowadays and a lot of restaurants are employing it for slow cooking. Certainly it is more convenient to Sous Vide something like baby back ribs which would otherwise be cooked in a smoker. The principle is the same. By slow cooking the ribs at a low temperature for a long time, the tough cuts like ribs turns into tender, flavourful, melt in your mouth meat. With Sous Vide, the process is very well controlled and much less messy. Of course, I would still love to eat my BBQ backs done the traditional way, ie dry rubbed and smoked with hardwood but that is not so easily available in Singapore. Sous Vide is a better alternative to what some restaurants do, ie stewing the meat first to tenderize it before roasting in an oven.
The baby backs here are done such that the meat still retains a bit of a bite rather then being so soft that it falls off the bone. It is done deliberately as Yuen (The boss) prefers to have the meat tender like the kind of pork ribs that you get in Bak Kut Teh. The ribs here are very good although personally, I would prefer less heat and more sweetness in my sauce. It also lacks that smokiness that comes from long hours of smoking. But they are still pretty easy on the palate and should satisfy your craving for ribs. 4.25/5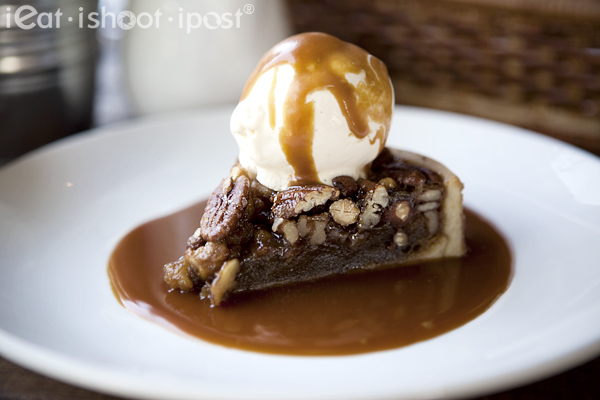 Warm Salted Triple Nut Tart $12
The inspiration behind Roadhouse came from hours of watching shows like Man vs Food and Diners, Drive in and Dives, both shows of which Yuen and I enjoy watching. It's modeled after the American Diner which is a laid back place that you can drop in to get a burger and milk shake. If you come in the mornings you can get a nice stack of pancakes, Eggs Benedict or if you are particularly hungry, bacon, sausage, eggs and mushrooms… yep, it's called American breakfast.
Desserts are a particular strength of Roadhouse as their share the same kitchen as Prive Bakery Cafe. The one which I would recommend is the warm salted Triple Nut Tart which is something like a sticky date pudding on a shortcrust pastry with chopped nuts, drowned in a salty caramel sauce. 4.25/5
The Choc and Malt is actually quite straightforward and will appeal to people who like Horlicks and all things malty. Two scoops of ice cream, malteses, chocolate syrup and a good heap of Horlicks on top. Yes it is something you can do at home but so is a cup of Milo and people still order it from the kopitiam! 4/5
Conclusion
If you are a growing boy/girl with a great appetite and no problems with your cholesterol levels, then the 1 kg Terminator looks like a great deal especially if you can get it free if you finish the whole thing. Unlike Adam Richman's feats in Man vs Food, the Terminator actually looks quite doable. So it would be very interesting to see how long this challenge is going to last as I would expect that the wall of fame should soon be filled with photos of Singapore's biggest burger muchers.