It's hard to blog about buffets because it's a case of 走马看花, ie trying to appreciate the flowers while riding at full gallop on a horse. Often there is so many different things to eat that you eat a bit of each but fail to appreciate the individual dish on its own merit. But that is precisely the reason people like to eat buffets. At least this is the general consensus amongst our Facebook Fans. The reason people like buffets is because they get to eat a lot of different foods at a fixed price. The tendency at buffets is thus to eat a bit of everything and as much of it as you can so that you get your money's worth.

I'm not big on buffets. I prefer to get off my horse and appreciate each flower for its beauty and let its sensual scent titillate my olfactory lobes. On this occasion though, I had an appointment to meet with Chef Vincent Theong for my research into Wok Hei. (Video blog, Next Change) Chef Vincent had just taken over as the Executive Sou Chef of Orchard Cafe after a long stint at the now defunct Copthorne Orchid Asian Brasserie and he had agreed to bring me on a Wok Round (Ward Round) at the Cafe.
Of course, before the tutorial, I got to sample some of the food at the buffet spread. Now, Orchard Cafe has been around for the longest time and I have always remembered it for the $15 all-you-can-eat Teochew Porridge Buffet back in the days when I had a voracious appetite and the only thing limiting me at the buffet spread was the price of entry. Nowadays, it's the other way around, sigh.
Orchard Cafe's buffet looks very much like most other buffets in Singapore. You have a cold station where there is the cold prawns and crabs and salad and also a sushi and sashimi station where you can clear your nasal passages with some wasabi. Then there is the hot station serving all the usual stuff like various meats cooked in different permutations, viz Black bean sauce, Mongolian, Curries blah blah blah. These are like those henchmen in a James Bond movie which Bond dispatches with a twitch of his eyebrow. However, hidden amongst the henchmen are some real heros. You know, the ones that won't die even after you shower them with a barrage of bullet proof vest proof bullets…. plus a grenade or two.
The Pig Trotter Bee Hoon is one of them. It has been the signature dish at Orchard Cafe since the 80's. Now, a dish that can last so long must have something going for it! It's even got a name! Its full name as in its NRIC is "Ah Huat's Pig Trotter Bee Hoon" and guess what, Ah Huat is still around after all these years! Anyway, Chef Ah Huat's seems to be the soy sauce specialist. So his pig trotters bee hoon, braised pork and kway chap are all signature dishes which has stood the test of time. It seemed like quite a shame that I was eating a buffet because I would have been very happy just having a big plate of Pig Trotter Bee Hoon. They managed to spike the Bee Hoon with smokey wok hei flavour, and infused it with an excellent fragrant and sticky sauce which was just heavenly! 4.5/5
This would be the first time I am encountering high class Kway Chap. I don't remember ever seeing Kway Chap being served in a hotel. It's quite risky to serve stuff like pig's intestine to an international clientele. But they do it here and I suspect it is because of Chef Ah Huat's mastery of the soy sauce. The intestines and skin are braised till just tender and again I would have been happy to just eat the Kway Chap alone if not for the fact that I had to eat other items to feel that I got my money's worth. 4/5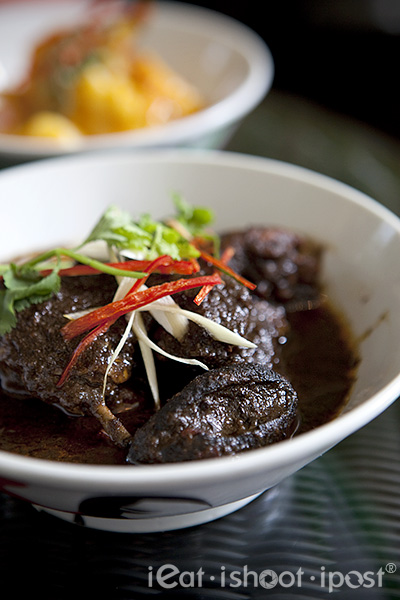 But I was here to sample Chef Vincent's dishes and he gained quite a following for his Nonya creations while he was back in Copthorne Orchid. Now that he is heading the Orchard Cafe, we should see more Nonya dishes being introduced into the buffet menu. Judging from the standard of the Ayam Buah Keluak, I would say that is a good thing. I like the fact that he doesn't skimp on the Buah Keluak. He first removes the kernels, mixes it with minced prawns and pork and stuffs them back into the shells. The gravy also gets a good dose of the mashed up nuts. If you enjoy that slightly bitter dark chocolatey smokiness of Buah Keluak, then it is good to know that you can have a few more kernels without having to pay extra. 4.5/5 Aside from the Buah Keluak, I also managed to sample the Laksa and Mee Siam, both of which are cooked on the spot and are very good. 4/5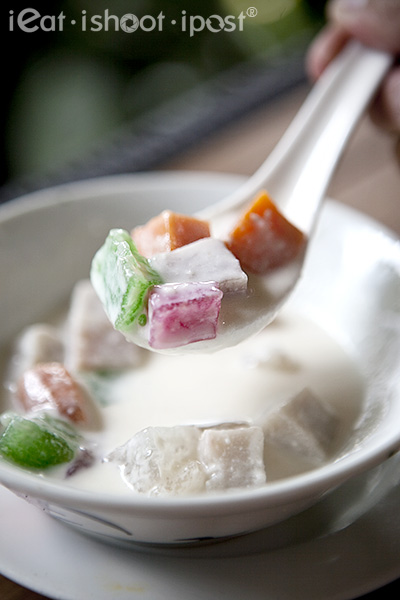 Bubur Cha Cha
For dessert Chef introduced me to one of his signature Nonya desserts, namely Bubur Cha Cha. Now in essence, this is a very simple dessert. Basically it is yam and sweet potatoes in a sweeten coconut cream. Why its called Bubur Cha Cha, I don't know. Bubur is supposed to be a porridge in Malay and this looks nothing like a porridge. Cha Cha…well, what the heck is the meaning of Cha Cha? Anyone knows?
Anyway, it is the simple dishes that are often the most difficult to get right. Chef Vincent's version is excellent. He tells me that the secret in getting the coconut milk that that thick, starchy consistency without it breaking lies in slow cooking the coconut cream with just a bit of water and coaxing that caramelly, coconutty flavour out slowly. The yam and sweet potatoes are steamed separately and added into the soup. Told you it was simple. 4.5/5
Now here's a little bit of trivia for you. Who invented the Mango Cake that can now be found in almost every cake shop in Singapore. Never really thought about it before right? The Chefs at Orchard Cafe said that they introduced it to the Cafe way back in 1982 and as far as they can remember, Mango Cake wasn't in existence before that. So it looks like it could have originated at Orchard Cafe!
As far as Mango Cakes go, the one served at Orchard Cafe is one of the best I have come across. The mango slices are generous and I like the texture of the sponge they use. It's a little more dense than the usual sponge and its worth saving a few calories for this at the end of the meal. 4.25/5


Conclusion


National Day Special (1 to 31 August 2011)
Enjoy the "Go Local" Buffet at only 46 cents for every third diner. Buffet prices range from $48 to $58 for adults. Children half price.