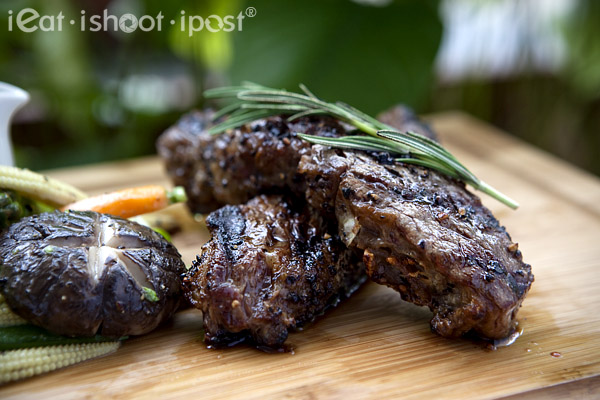 USDA Prime Ribeye Cap: 280 gm $75
Steak lovers, listen carefully. Especially those of you who like Ribeye Steaks. This one is for you. (for me too!). What if I told you that there is a place where you can order just the Ribeye Cap? You know, that nice, tender, juicy, melt in your mouth bit of the Ribeye that you always keep for yourself when you share a Ribeye steak with someone who doesn't know any better? Ever had the fantasy of only eating that bit of the Ribeye?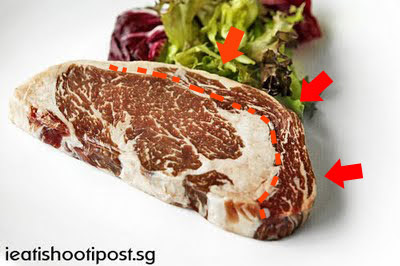 Ribeye Cap (arrows): Photo from archives
When Yuan, the co-owner of Prive told me about about his new Josper Grill and that they are now serving Ribeye Cap, it really didn't take me too long to make an appointment with what I consider the best part of the the whole cow.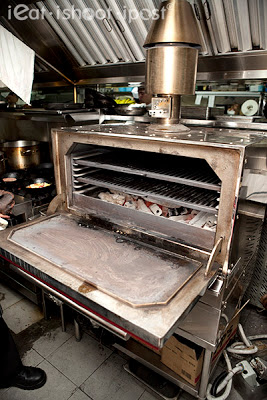 Josper Grill makes its appearance in Singapore
But it gets even better. Yuan tells me that they have started grilling their steaks in a Josper Grill a month ago and apparently this mean, steak grillin' machine is the in-thing with all the famous chefs around the world at the moment. Essentially, a Josper (pronounced Hosper) Grill is an oven and charcoal grill rolled into one. So instead of first grilling your steaks before finishing off in the oven, the Josper Grill turns the two step process into one. This results in thick steaks being cooked in half the time it usually takes to grill your steaks on an open grill. It is, in a sense, much like your outdoor BBQ, except that the Josper Grill is designed with thick walls to keep all that heat in.
The result? Well, my medium rare Ribeye Cap was perfectly done with that wonderful charred flavour on the outside and tender beefiness on the inside. The fats was cooked until it just melts with the slightest pressure. It ranks up there as one of my best steak experiences ever. 4.5/5
For those who do not take beef, you have a choice of Seafood, Pork or Lamb. The corn fed Kurobuta Pork would have been excellent if it wasn't a tad over cooked. Just slightly pinkish would have been great. In the past, we have always been taught that pork should be cooked till its well done. But recently the USDA has revised its recommendations. So now pork can be eaten when it is still pink if the internal cooking temperature reaches 145 degrees F and the meat has been rested for 3 minutes. So, do go ahead and order your pork medium-well as it would taste a whole lot better than if it was well done. 3.5/5
Prive is located at Keppel Island and overlooks the water where the yachts are moored. So if you are looking for casual Al Fresco dining, this is an excellent spot to consider. The Josper grill menu is offered by the restaurant, but over at Prive Bakery Cafe just next door, you can still get to experience the Josper Grill if you order their burgers. They have two flavours, the NY Burger and the Ramlee burger. The patties are made from coarse ground Wagyu Rump and grilled to perfection in the Josper grill. What results is one of the best burger patties I have come across in Singapore. The outside has that charred beefiness which I love. Between the two flavours, I prefer the Ramlee which is basically a Cheese Burger with curry mayonaise. I found that the flavour of the tomato salsa was a bit too overpowering on the NY burger, such that you can't really enjoy the beefy patty. So next time, I would just order a plain cheeseburger. 4.25/5
There are many places in Singapore trying to serve eggs benedict but most of them too much liberty with their interpretation of what Eggs Benedict really is. Most of the time, they substitute the English muffin with something else that is easier to procure. But for me, one of the key components of the Eggs Benedict is the English muffin, so I am glad to report that Prive manages to get it right. This is a great place for a lazy Sunday brunch! 4.5/5
They operate their own bakery here, so the English muffins, Burger Buns and all the pastries are made in-house. Which brings me to one of Prive's big secrets……their desserts.
Speaking of Sticky Date Pudding and the name "Brown Sugar" immediately comes to mind. I first met Yuen when he was still running Brown Sugar which is unfortunately now defunct. Yuen has promised to resurrect Brown Sugar again one day but until then, the good news is that the excellent Sticky Date Pudding can now be found at Prive Bakery Cafe. It's still wonderfully sweet but not overly cloying. Even Rockett Girl, who is not a dessert lover, gave it her stamp of approval. 4.5/5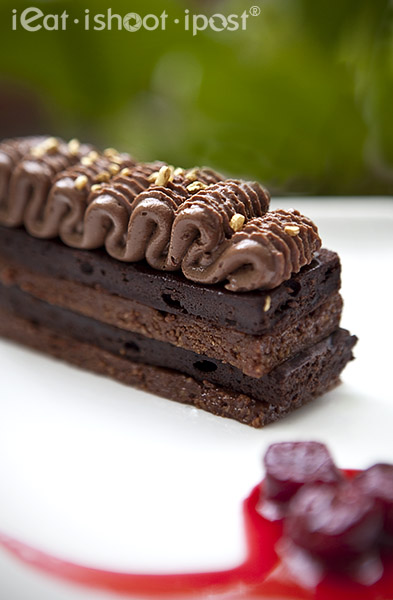 Valrhona Chocolate Mille Feuille $16
For me, the dessert of the day was the Valrhona Chocolate Mille Feuille. I have always enjoyed the taste of Nutella (Hazelnut Chocolate) and dessert creation marries crispy Hazelnut wafers between layers of rich and slightly bitter Valrhona Chocolate. If you love chocolate, you should order this. 4.5/5
Conclusion
I first blogged about Prive when they first opened in 2008. At that time, Yuen had positioned the restaurant as place for fine dining. I am glad that they have since repositioned their menu to cater to the mid range diners. As a result, most of their menu items range from $10-20 for starters and $20-$40 for the mains. The exception is with the Josper Grill menu where the items range from $48 for the Monk Fish Tail to $90 for the USDA Prime 450g Ribeye steak. The Josper Grill is an excellent way to grill meats and the steaks here will definitely satisfy sticklers for superb steaks. I am sold.


Special for ieatishootipost readers
25% Off the Josper Grill Menu from Monday to Saturday (Dinner only). To enjoy the discount, you need to make your reservations under "ieatishootipost Josper Grill special" You can download the Josper Grill menu here.
Terms and conditions:
Available from 7pm to midnight (last orders 10.30pm)
Excluding PH and Eve of PH.
Offer available only on Josper grill items and not on side orders
Offer available for up to 8 guests.
Valid from 15 June to 15 July 2011