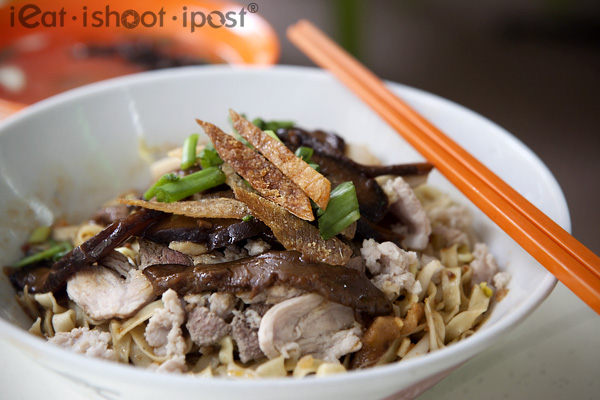 Bak Chor Mee
Having blogged so many hawker stalls over the last five years, I have come to the conclusion that there are many factors other than just good food that determine the success of any particular hawker stall. (But you knew that already!) I have come across many stalls that dish up really good food who fail to attract the hordes of people that some other stalls with arguably less spectacular food can.
Take for instance the stall in question today. While I was waiting 40 mins for my bowl of Bak Chor Mee, I casually asked the man who was finishing his bowl of noodles why the stall is so popular. He simply said he eats there because there really isn't another good alternative nearby. Is that all? Then what about the hordes of people who are at various stages of ingesting their bowl of noodles across the coffeeshop? Are they all here just because there isn't a good alternative?

On the other hand, my friend, the bibikgourmand comes here religiously every Sunday after religiously going to church to have her bowl of noodles. For her, this place is the gold standard for Bak Chor Mee in Singapore. So good that she does not need to eat anywhere else. Or is it just because it is good and it also happens to be near Church and has convenient parking?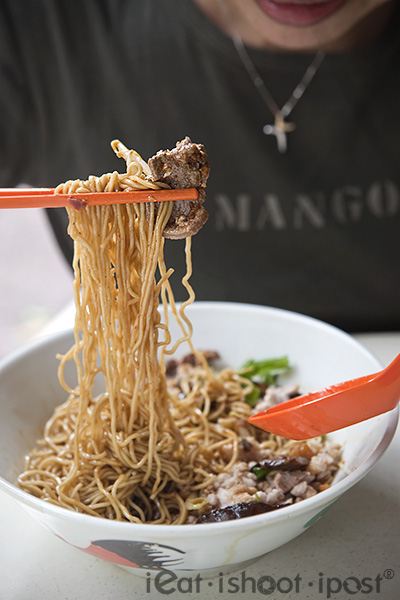 <br />I am just being honest when I tell you that I too felt that there are other bowls of noodles in Singapore which I could substitute for this one but with a massive discount in the waiting time. That is not to say that it isn't a good bowl of noodles. The ingredients were very fresh, the noodles were QQ and the sauce is well balanced. And, I think that the fried sole fish really is very fragrant. But the point is that for me, there needs to be a few other stellar ingredients to add onto the bowl of noodles to justify a 40 min wait. So I guess that is where things like, knowledge of better alternatives and location comes into the equation. 4/5
But wait, before you go away thinking that there is no reason to check this stall out, let me just say this. After I got back and relayed my Yam Ah Mee (Absolute lack of enthusiasm) like response to bibikgourmand, THEN she told me. "Aiya! You were supposed to eat the Kway Teow Soup!!"
"Doh!"
Conclusion
So, are you a big "I don't care if I have to wait 40 min" fan of Lai Heng? Tell us why you love it so much? Is the Kway Teow Soup really worth the wait or, and I really hate to say this, is taste really just subjective?