This restaurant is closed
You know, we all lament the fact many of our favourite hawkers have difficulty finding someone to take over the wok when they retire. You know why? Because all the passionate people who would have done very well as hawkers in the past are now channeling that energy to other cuisines! There are many young people who are now selling stuff like Ramen, Pastas and Hamburgers and using the hawker stall as a testing ground for their ideas. So that entrepreneurial hawker spirit is still there, but it is simply expressed in new dishes.

Take for instance our "Hawker" today. Andrew is a man who has traveled the world and has tasted some of the best burgers around. So when he decided to settle down on a business, he did what he felt passionate about….burgers. He chose to open his first joint in a Condo (Sunshine Cafe) then moved to a coffeeshop. However, he has already set up the computer and ordering system for subsequent ramp up to a full fledged fast food chain.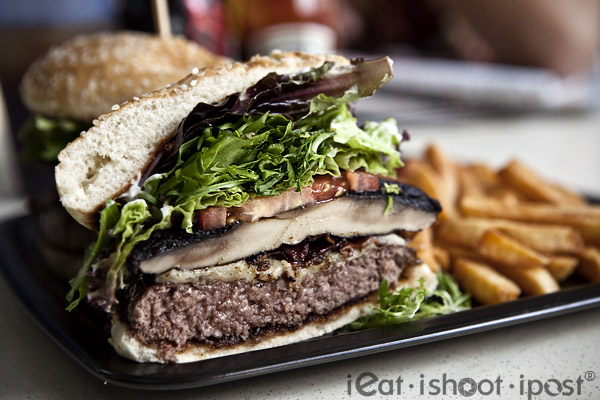 Even though this is a Kopi Tiam burger which you can have with a cup of Teh Si, I would say that it ranks right up there with all the best burgers in town. The pattie is made from Australian Grassfed Striploin and is only seasoned just before being fried on a hotplate. It is beefy and has just the right texture and bounce with a wonderful charred crust. My son had the regular 200g Cheese burger ($13.45), but I was there on the weekend, so I decided to give their Wagyu Burger ($26.95) a try to see what is the difference. This pattie is made from Wagyu Chuck and the texture has got more bounce than their standard patty. However, tastewise, I didn't think that it justified the extra $0. However, it was still an excellent burger, although I felt it could have been a little cheaper given that it is located in a coffeeshop. You can easily find Wagyu burgers in restaurants (eg Prive) for around the same price.
That being said, the standard burger is something that is really worth making the trip for. At $13.45 for the cheeseburger, this is probably one of best tasting burgers you can get for less than $15. You could go for their signature de Burg ($17.95) where there is an addition of a portobello mushroom, but I felt that it just made the burger a bit too thick. I used to like my burgers tall, but nowadays I subscribe to Heston Blumenthal's idea that the perfect Burger should be just big enough so that you can comfortably take a bite of the whole thing. So, I think I will just go for the Bacon Cheese Burger ($14.95) during my next visit. 4.5/5
There are a few other flavours which will be quite interesting for those who are more adventurous. There is one with peanut butter and another one with Nutella. When I was there, someone even ordered the Crab burger with salted egg sauce! You can check out their menu on their facebook page.
Conclusion
It may be in a Kopitiam, but the Burgers here are a whole lot better than those sold in many upscale Restaurants! Definitely worth a trip!
Update 28 Nov 2014

They are now located at CT Hub, Singapore, 339407