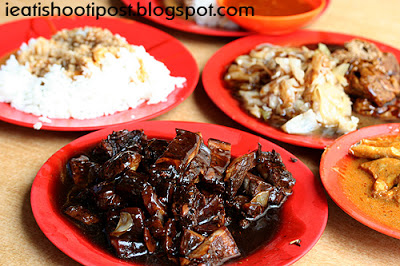 I would bet that if you brought an Ang Moh friend to eat this Hainanese Curry Rice, he would think you were pulling a quick one on him. It's a plate of rice topped with an unthinkable mixture of gooey chicken curry, braised pork and slimy soft cabbage gravy. If you had never eaten this before, you'd probably be wondering how something that looks like pig's swill could even taste good.
But if you had just finished a 20km road march and had nothing else to eat but dry biscuits and water, this stuff will definitely hit the G-spot.
I also cannot imagine how you can mix curry with lor (braising sauce), but man the concoction sure tastes good. And that is not all, the texture of the gravy is like that of Tau Suan. It's full of corn starch, so it's like eating glue. But when you are famished, that bolus of rice and gravy slides down the oesophagus like engine oil on pistons. It's the quick and tasty way to satisfy your hunger pangs.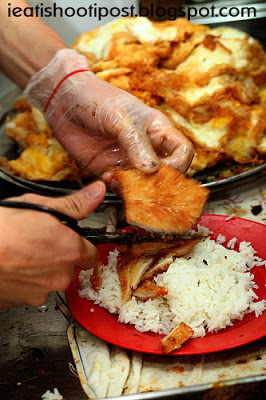 Eating here will take you back thirty years to when you were a baby. And I don鈥檛 mean nostalgia, I really mean when you were a baby. They use a pair of scissors to cut up all the stuff for you and pile it all on top. The meat is in little pieces and the rice is smoldered with lots of gravy and everything is mushy and mixed together. Yes, this is as close as you can get to eating like a baby again. Just use your spoon, scoop it up and put it in your mouth. Minimal mastication is required. This is one of the most effortlessly tasty but superbly shiok dishes you can find.. 4.5/5
Conclusion
Know any Ang Mohs who actually like this stuff?