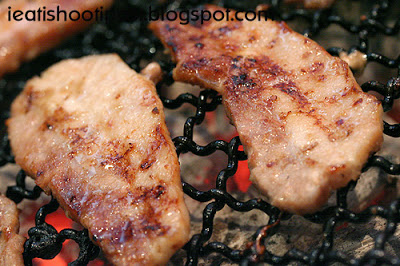 SCS Butter went back twice in a month to this restaurant and was raving about their marinated Wagyu Beef. For those of you who know him, this means that the place has got a certain Shui Zun (lit: water level ie standard) cos SCS really does like his food.
Tender slivers of Wagyu Beef and Pork Belly marinated in sweet Yakiniku Sauce and gently grilling over a charcoal fire is probably one of my favourite dining experiences. A slice of well marinated Wagyu Beef Karubi (shortrib) eaten with a mouthful of Japanese rice is one of those things that is actually quite simple, but extremely satisfying.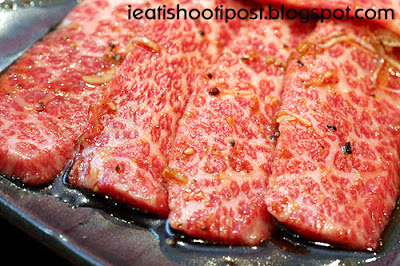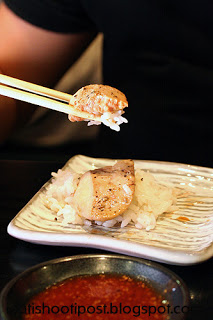 Needless to say, the beef here is wonderfully marinated and the quality of the beef is very good. However, when people say that a piece of Wagyu beef is "Melt in your mouth" they don't really mean that it is melt in your mouth like a piece of butter. Sure, when you chew on the beef, the fats do melt in your mouth, but the rest of the beef has got a chewy texture to it. The real beauty of Short Ribs is how the aroma of the beef lingers on the palate long after you swallow the tasty morsel. There's only one problem and that is that you never get enough! 4.5/5
If you really want something that is "Melt in your mouth" then you should try the Foie Gras. It is also marinated with Yakiniku Sauce but you sort of fry it in an aluminium bowl over the charcoal fire. Fantastically sinful! 4.5/5
Conclusion

The quality of the meat and the marinade here is very good. They keep the prices lower by offering smaller portions so you get to order a wider variety of meats. I have to agree with SCS that it is one of the best places to enjoy a casual Yakiniku.