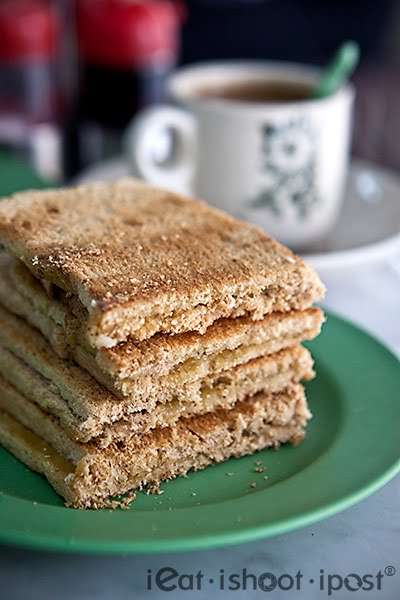 Ya Kun Kaya Toast:  The Kopi Culture Revolution
You are probably wondering why I would blog about Ya Kun Kaya toast right? After all, everyone knows about Ya Kun. They are in all the major shopping centres and I dare say that most Singaporeans would have eaten at Ya Kun before.  Is there anyone here who has never eaten at Ya Kun?
Looking at the Kopi Culture in Singapore today, it is hard to imagine that the whole Kopi and Kaya toast revolution really only took off in the late 90's. Killiney Kopitiam started the trend in 1993, but it was Ya Kun that brought it into our shopping centres when they started expanding after they moved to their current premises at Far East Square in 1998. Since then, there has been a slew of Kopi Copy Cats which is a good thing since it means that you can get a cheap cup of Kopi at virtually any shopping centre. Prior to the Kopi revolution, you would have to travel all the way to Lau Pa Sat or Killiney Road in order to have a good cup of kopi.
Of course, with the expansion comes the franchising and inevitably standards will drop. But by and large, even if the Kopi and Kaya Toast might only be 80% of what the original Ah Koon managed to do, it is still much better than eating sliced white bread toasted in a electric bread toaster and slathered with cheap margarine and orange coloured synthetic kaya.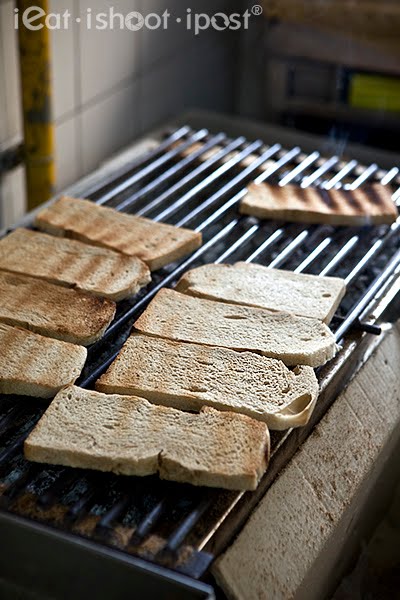 Traditional bread toasting over a charcoal fire
The other thing you have to thank Ya Kun for is the invention of the familiar crispy thin brown toast. Its founder, Mr Loi Ah Kun started selling Kopi in the 1920's and by the forties, he was already selling toast this way. Toast used to be slightly thicker and there is a good reason for this. Those of us who still remember the days before the automatic bread slicer will recall how bread used to be sliced by hand. The width of the bread used to be thicker than what they are nowadays. As you imagine, it is not easy to slice bread this thinly.
When I first came across this style of toast years ago, I found it quite incredulous that someone would actually slice a slice of bread in half and spread the inside of the bread. I mean, why don't you just slice it thin from the start? But anyone who has eaten this toast before can tell you that the beauty of this style of toast lies in its crispiness and this is the most practical way to make a kaya and butter sandwich between two thin slices of toast. Unlike your normal toast, crunching into Ya Kun's kaya toast is almost like eating crackers and kaya except that you can never get that airy crunchy texture with crackers. The contrast between the light and airy crispy toast, cold butter and sweet creamy kaya is a simple yet extremely satisfying experience.
Despite the fact that the Loi family now owns a Kopi Empire, I find it fascinating to learn that the original stall and a few of the other branches are still run by the family members. So if you want to taste what is arguably the best Kaya Toast of the thin and crispy kind, you should still make a beeline for the main store located at Far East Square. Here, the toast is still grilled over a charcoal fire and the eggs and kopi are still made by members of the Loi family.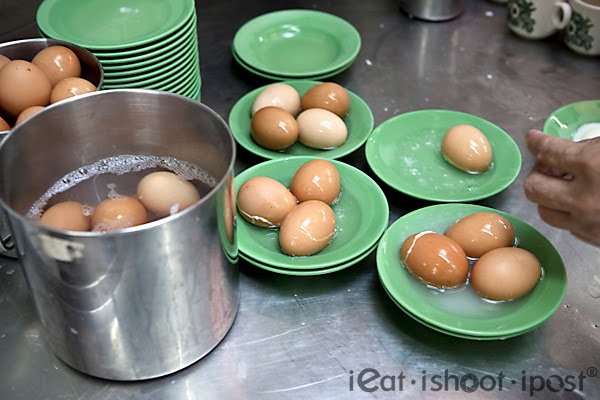 The soft boiled eggs here are just about as perfect as a soft boiled egg can be. When the eggs are cracked open, the whole egg just slips out onto the saucer without having to use a spoon to scoop it out. The whites are well formed, translucent and disintegrates with the slightest pressure and the yolks are warm and runny. Personally, I prefer my yolks to be less runny but I can appreciate the skill and experience involved in getting the eggs done this perfect consistently without a thermometer or timer!
I spoke to one of the family members in the stall and he shared with me that unlike other places where boiling water is poured over the eggs and removed after a few minutes, their eggs are submerged into warm water for 15 minutes or so, left to rest for a while after which boiling water is then poured over the eggs for about a minute or so. What is amazing to me is how they manage to do this for the few hundred eggs every day and get it consistently the same, more or less without a timer. Basically it boils down to experience which is something that is difficult to teach. Most of the other Ya Kun franchises make their eggs the standard way because it is easier to standardize the training. If you want to experience a perfect soft boiled egg made by the "eggspert", then you will need to visit Ya Kun in the mornings when one of brothers, Mr Algie Loi (62) is still making them. At other times, they have other "eggsperts" cooking the eggs, but they will all tell you that Algie is the the "Tou Chiew" (master) at making soft boiled eggs. 4.5/5
Conclusion
It's good to know that Ya Kun's flagship stall is still run by the family and that they are still doing a lot of things the traditional way. So, even though you might think you are familiar with the food at Ya Kun, a visit to their family stall at Far East Square might still be well worth the effort.