With liverpool and iwatch_ueat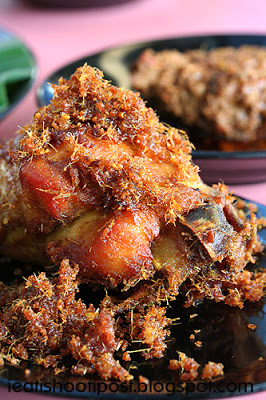 I am no expert in Nasi Padang. For me Nasi Padang is the stuff that Rendesvous Restaurant used to dish out in the good old days. What I really liked about Nasi Padang is the yellow green curry chicken whose name can range from Chicken Korma to Opor Ayam depending on who you talk to. I remembered the curry had this particular taste that was really shiok.
Anyway while walking around the Geylang Serai Temp Mkt, we spied this stall with lots of recommendations stuck on the front, so we decided to try out the food on your behalf. ( : ) Yah like its such a big sacrifice!)
The Chicken Bumbu (Fried chicken with fried grated coconut aka Kerisik) was good but as with all fried chicken it needs to be taken fresh. The piece we got was one of the last pieces so it was a tad dry. The Kerisik was quite good though. 3.5/5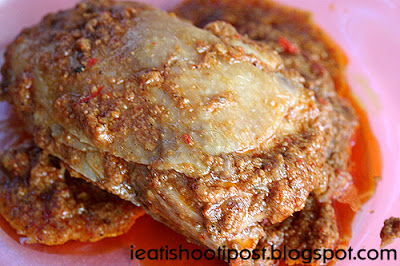 One of the dishes I would order again is the Chicken Rendang. The gravy has got that special oomph about it and went very well with the rice. Liverpool liked it immensely. 4/5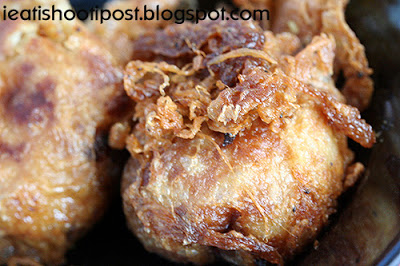 Begedil (mashed potato) is one of my favourite dishes. A good begedil is made from local potatoes which tend to be buttery and slightly sweet. The potatoes should roughly pound so that it is still a little chunky and it should be moist and savoury on the inside. This one fulfills the above criteria and is quite agreeable. 4/5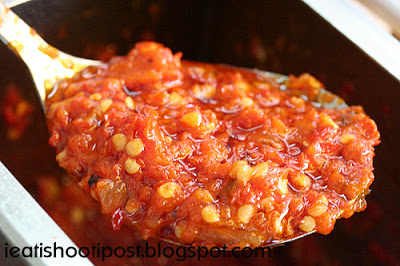 The stallowner was explaining to me that one of the the differences between Padang food and Malay food is difference in condiments used. This is their version of the Sambal. It is not as well fried as the Malay Sambal so it's tastes a bit lighter.
Conclusion
As I said, I am no Nasi Padang expert. I found the food delicious and nice enough to include in this series of blogs. So can I ask our Nasi Padang experts to write in your comments please!
Updated 18 Dec 2009
The stall has relocated to their new address below.