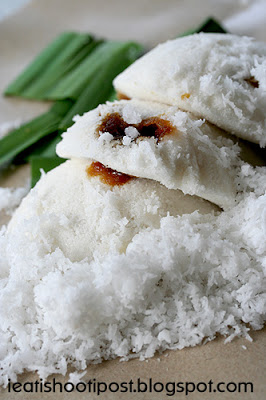 Putu Piring 3 for $1
Do you remember the old Singapore Wonderland? I remember the small rollercoaster with the head of a lion in front of it. That coaster, together with Van Kleef aquarium (ie National Theatre)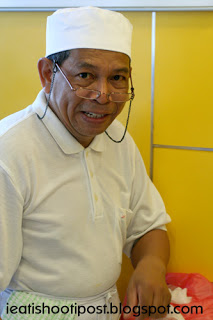 were iconic of Singapore in the 70's (for a 6 year old boy at least). I can still remember visiting Wonderland at night. I don't know if it is just because I was a kid, but Singapore nights seem to be cooler then. The best things to eat on a cool night were steaming hot peanuts and Kueh Tutu (Putu Piring).
The Kueh Tutu almost went out of fashion in the 80s (around then) but thankfully, like the handmade Paus, Gen Xers who grew up eating the traditional foods took it upon themselves to re-introduce the old favourites to a new generation.
Putu Piring is essentially the Malay version of Kueh Tutu. According to the friendly uncle at the stall, this dessert has its origins in India. The Malay version uses gula melaka for the filling and is served with grated coconut whiles the Chinese version ie Kueh Tutu, contains grated coconut and peanut filling and is generally smaller in size.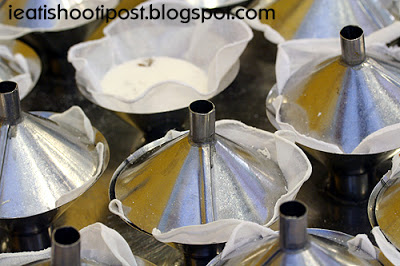 This uncle has been running the stall for 14 years. He used to be in the building industry and was involved in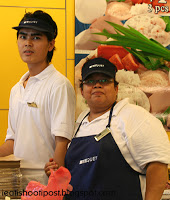 many hotels. It was during this time that he learned the art of kueh making by observing the many Hotel Chefs that he had to work with. After several attempts and experimentation, he finally arrived at the perfect recipe for his Putu Piring.
There is a perpetual queue of people outside the stall even at 3pm in the afternoon, but the hardworking staff are always cheerful and friendly. Guys should be especially careful about ordering from the amorous, circumferentially enhanced lady who is always after the handsome son of the owner and every other guy for that matter!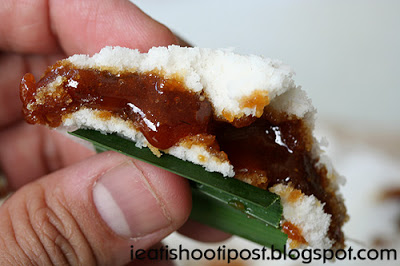 Now this picture really tells it all. Who can resist the finest grade Gula Melaka (from Malacca of course) oozing out of the kueh when it is piping hot? It is a wonder to behold and certainly not something you want to wait till you get home to eat. 4.75/5
Conclusion
Can a Putu Piring get much better then this?
One Piring to rule them all,
One Piring that leads them,
One Piring above them all,
With a Gula that beats them.
~The Lord of the Pirings~
Address Updated 16 Feb 2012
Putu Piring
Mr Teh Tarik
970 Geylang Road
96883067
Daily 11am to 10pm
Branch
Branch: Blk 14 Haig Road, Haig Road Hawker Centre #01-08