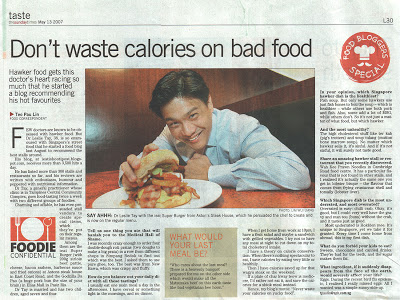 Wow, I never thought I'd see myself in a half page of the Straits Times! I feel very honored and want to thank you all, my readers, for your support and readership.
Excuse me while I whip out my crumpled piece of paper and make sure I thank various people:
OK, I want to give thanks to:
God who does "exceedingly, abundantly, above all that we can ask or think" To Him be all Glory!
My parents for teaching me to do all things well or don't do it at all
My wife and kids for developing the patience to wait while I take pictures of the food
iwatch_ueat, who not only helps me in the clinic, but also records the details of all the food stalls
My regular Makankakis who support me by coming along to the makan sessions, recommending new places and writing their own review on the food
The forummers, some of whom are the real Makangurus. They instigated me to start the blog and continue to be the source of new food places to visit
The hawkers and food sellers who provide us with the great eats but also allowing me to take pictures of the food and sharing some of their stories with us.
Every reader of the blog. "If a tree fell in the forest and there was no one to hear it, is there still a sound?" Yeah, chew on that for a while.
To our new readers: "Welcome and I hope you find something good to eat!"
Now enough about that. Let's get on with the makaning!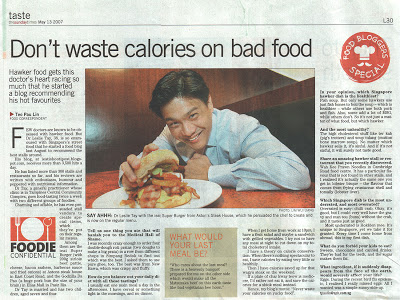 ST article 13 May 2007 (Mother's Day)
Click the image to read the article
Click here to read the same article in AsiaOne
Click here to read the same article in ST Stomp