With Amagada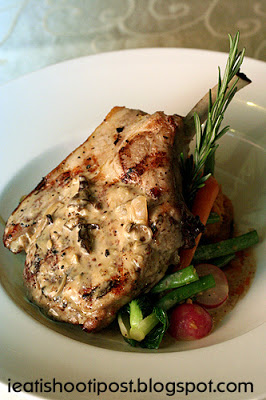 Yorkshire Pork Rack $27.50
A fancy Aussie/French restaurant is one of the last places I'd think of finding a "Hao Lian Teochew Ah Hia". (There's a popular saying that Teochews are "Hao Lian" ie they love to boast) But there is one here and he is the Chef and owner of the 5 month old restaurant in Siglap. Oh yes, he proudly declared that he does not use anything frozen. Everything is fresh (Teochew: Chnee) and he means what he says. Order the fish here and before you know it you'd be seeing your dinner being scooped unceremoniously out of a tank in the restaurant. For a moment there, I thought I was in a Chinese Seafood Restaurant!
When it comes to Western Style food, the quality of the produce is paramount since the taste isn't masked behind a cloak of spices. I ordered the Yorkshire Pork Rack, which is one of the "Must Try" dishes here and it was this dish that gave me the impetus to rave about this place.
Those of you who love pork will know that it is not easy get a nice, thick and juicy piece of pork. Since pork has to be taken well done (because pork harbors parasites like tapeworm which can also cause infestations in humans so it is important to cook it properly) , a piece of pork chop can really become dry and fibrous in the hands of an inexperienced cook. Not this piece of "Australia English Grain Fed White Female Hog". According to Chef Jonathan, all you need to do is to dust it with salt and pepper and grill it, no prior marinating is required. I was amazed at how juicy, tender and "pang" (savoury) it was. By far the best grilled piece of pork I have eaten in a long time. 4.5/5
For starters we ordered the Foie Gras which was surprisingly creamy and rich. It was simply fried and flavoured with a honey soy sauce and served with seasoned sushi rice. I have had several foie gras dishes this year, but this one was really exceptional. I found out later that our Teochew Ah Hia insists on only using Goose Liver, never Duck Liver. That explained the quality as well as the quantity of it! 4.5/5 (My only grouse was that it was not enough)
The other great thing about this place is the fact that they open till quite late. So if you work late like me, you could still get a nice fancy meal around midnight. Prices are pretty reasonable given the quality of the ingredients and the fact that they don't have service charge. They also have a $28.50 set dinner which I thought was pretty reasonable.
Conclusion
You will always be able to find great food when you have a passionate Chef who is fussy about the quality of the produce. I am certainly planning to go back to check out their Lobster Thermidor, Cheese Fondue and Rack of Lamb!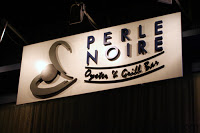 Recommended by Felicia Tan