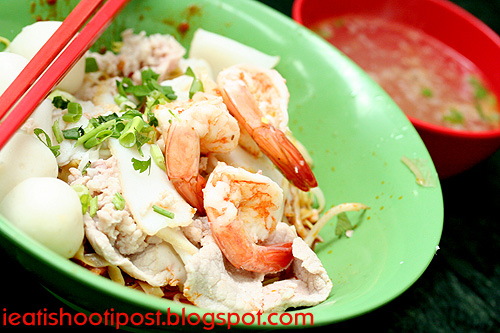 Just what is so darn special about Mee Pok Tar? Is it such an icon of Singaporean hawker fare that a whole nation can be mesmerized by a satire about "Mee Pok Tar Mai Ter Kwa"? (Dry flat noodles and hold the liver please)
The other thing I can't understand about Mee Pok Tar is this. This is such a simple dish and yet people are willing to wait an hour to eat it. Really, if you think about it, it is just noodles blanched in hot water with pork lard and chilli added to it. What possesses someone (in this case my mom) to wait 40 minutes for a bowl of Mee Pok Tar?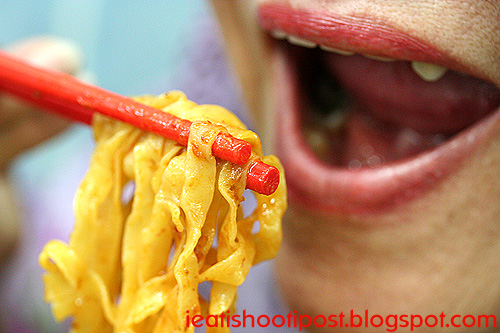 I asked the smiling Uncle just what makes this stall so special that it was voted best Mee Pok in the East Coast area by Lifestyle? He opened up a big bag of medium sized prawns and told me in typical Teochew Hao Lian fashion (Teochew pride – Hey if you insist on doing something well, you should have the right to brag about it) that these are the freshest black prawns available in the market. Fresh (Chngee), fresh, everything from the pork to the prawns is very very fresh.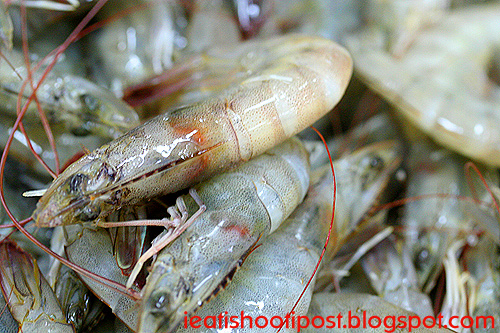 And because they insist on the freshest ingredients and doing everything the same way he has been doing it for the past four decades, people are willing to illegally park their BMWs to wait for an hour to satisfy their Mee Poh craving.
My first impression is that this Mee Poh just tastes very lively and fresh. The first mouthful of the piping hot, fantastically QQ (Al Dente) flat noodles and you know you are savouring freshly fried pork lard with the combined flavours of freshly blanched prawns, pork and fish balls. It is rumoured that the chilli has got buah keluak in it to give it that special smoky, savoury flavour.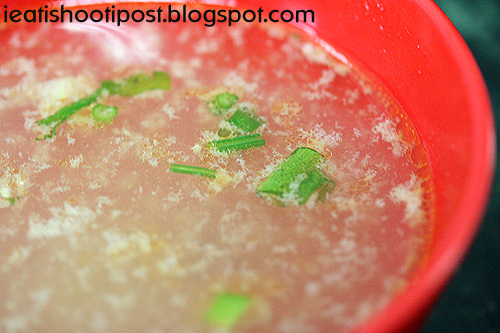 I took this picture just to show you the quality of the soup. Done the traditional way, only pork leg bones are used in preparing the stock. Aunty frowns upon the use of scallops, old mother hen and other less traditional stuff to sweeten the soup.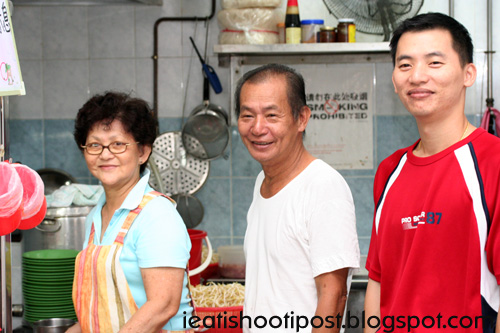 Uncle is the original Mee Poh Man of East Coast having started his business at the old Siglap Market almost 40 years ago. The popularity of his Mee Poh had spawn at least 3 other stalls in the area. The really good news is that the 2nd son, Chan, will be taking over the business. Ah, at least I am assured of being able to enjoy a good bowl of Mee Poh in my golden years!
Conclusion
Who am I to argue with all the people sitting around eating Poh Piah and waiting for at least 30 minutes for their Mee Poh Tar? 4.5/5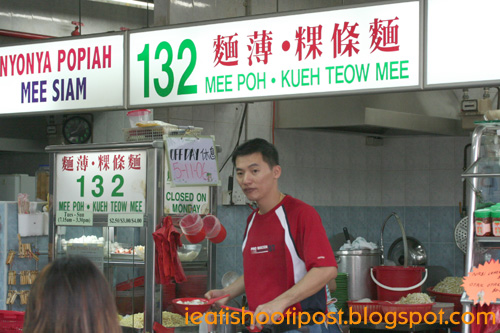 Do remember to bring along your newspaper, laptops and palmpilots and do something productive while you wait!

Updated 21 October 2010
This stall has moved to: Blk 59 Marine Terrace #01-05, MP 59 Food House