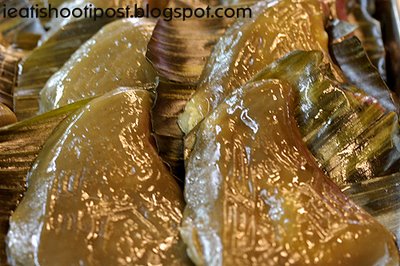 Ever heard of Chi Kak Kueh? Neither have I, and I dare to pride myself as Teochew Ah Bah! (Half past six one only) I was just walking around Tekka Market Food Centre looking for stalls with Adrian Pang's or Seethoh's face on them. Amazingly, for such an established Food Centre, there were very few with newspaper cuttings. It was then that I chanced upon this stall and spied this unusually coloured Poong Tor (Rice Dumpling – or so I thought). Mom screamed with delight as if she just found her long lost son and got really excited. I found out later that the excitement was over this rare Teochew dessert whose colour is attributed to the Chi Kak leaves which you hardly buy in Singapore anymore.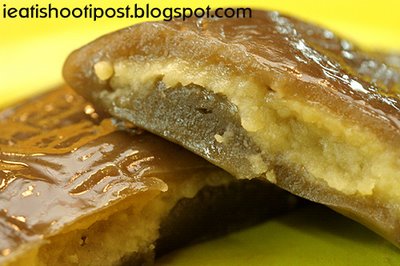 The stall owners explained that the kuehs here are made by their 85 year old mother who does an annual pilgrimage to Swatow Province in China to buy back a year's supply of Chi Kak leaves to make the Kueh. She wasn't at the stall because she is at home busy making Kuehs for the next day. The Chi Kak gives the skin a distinctive flavour which is hard to describe except that it tastes a bit like Kee Chang (a type of Rice Dumpling). The filling is made from sweetened mashed green beans. Tastes a bit like Ang Ku Kweh, but we certainly did not strike lottery the next day (Hokkien Poem that says when you eat Hot Ang Ku Kweh, you will strike the lottery) I can't honestly rate this because I have never tasted anything like it before so it is hard to make a fair judgement. Mom gave it a 4/5 cos she had tastedbetter ones before.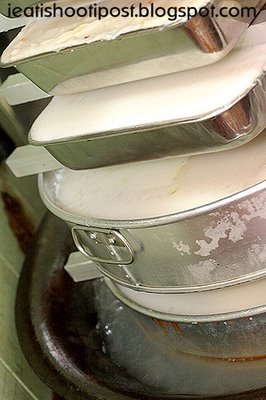 Aside from all the traditional Teochew Kuehs like Poong Tor (Rice Dumpling), Soon Kueh (Turnip filling) and Orh Kueh (Yam cake), they also steam their own Chai Tau Kuey (erronously known as Carrot Cake, it is made from Radish). Most stores nowadays buy theirs from a factory.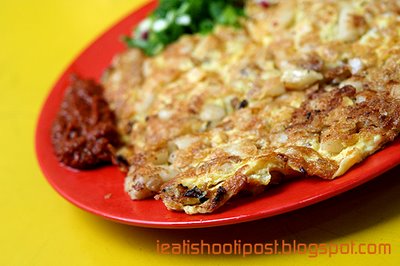 Tada! Plate of black carrot cake, everything made in this small little stall. You can taste the difference in the texture as well as the taste of the carrot cake itself. Otherwise, fried egg and black sauce tastes much the same everywhere. 4/5 Conclusion Happy to have found yet another stall where our culinary heritage is still preserved. Worth a try if only to experience what a Chi Kak Kueh tastes like.