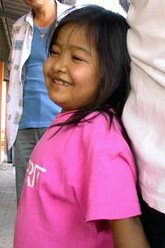 Feeling down and need some Kiam Chye Ah (Salted Veg Duck – Teochew panacea) for the Soul?
Well, let me tell you the story of Khotee. I first mentioned her in my blog on Care Corner Orphanage, where I highlighted the plight of Thai orphans being sold into the sex trade.
Khotee is one of those special kids who is so full of life that you would hardly imagine that she is HIV positive. So, if you are feeling that life has dealt you a bad blow, her story might just make you feel a lot better about your own life.
Khotee was found in a hospital when she was five years old. She was abandoned by her HIV positive parents who at one time were with her at the hospital receiving HIV treatment. When she was brought to the orphanage, she was suffering from tuberculosis and kidney infection. At one stage, she was almost at the brink of death.
It was then that her miracle occurred. One day, she had a vision of a Man in white whom she identified as Jesus. He said to her: "I am with you all the time, and I am looking after you." After that she started to make a miraculous recovery without the use of medications. By the time this picture was taken, she had already been on the path to recovery for about a year and had gained some weight. But you can still see the scars on her face from the skin infections due to her weakened immune system.
She understands that even though she is currently on AIDS medication, many kids with HIV die at an early age. But she is fully prepared. "I am ready to go home to be with my Heavenly Father" she would say. Her charisma and cheerfulness is contagious and an encouragement to all the other kids and workers in the orphanage.
Fast forward 3 years………
As I was writing about Care Corner Orphanage, I remembered Khotee fondly. Such was the impact of that short meeting with her. I wrote to Pastor Ricky last week concerning her. One part of me was afraid that she might have already passed on. But what I found out was Good News! Praise be to God! She is very much alive and well and has grown up to be quite a pretty young lady. Here's a video of her:
This is what she said: (Translated from Thai)
"Once I was very very sick. I was on oxygen for many days to help with my
respiration. God healed me and said to me because of His Grace."
How can someone who has had everything go wrong in her life be still so full of joy? Well, the short answer is that she knows God loves her and has a place prepared for her in Heaven where there will be no more disease and no more suffering.
Perhaps, the difference between Khotee and you and I is that for her, Death is something just round the corner, so she has already prepared for it. For us, it might be an event that will only occur many years down the track. So far down the track (or so we assume) that we can KIV(Keep in View) it for awhile. For Khotee the fear of Death has lost its grip on her. You see, she understands that when she puts her faith in Jesus, she became a new creation. 2 Cor 5:17. When this happens, the perishable (our bodies) has been clothed with the imperishable (our reborn spirit), and the mortal with the immortal. Thus "Death is has been swallowed up in victory"! 2 Cor 15:54 For Khotee this IS the reality. For her, to live is to live for Jesus and to die is to gain immortality. Php 1:21
I hope that this short story of Khotee's life inspires and encourages you.
There are many more kids like Khotee in the orphanage that need help. A HIV child's monthly medical expenses can come to $200 a month and this does not include lodging, food and other expenses.
The great thing about Singapore is that our dollar can buy so much in Thailand. $100 here might buy you a really nice Cze Char dinner for the family. Over there, it can feed, house and provide education for a child for a whole month. So if you are feeling down about yourself. Do something positive and help someone else. Jesus said that it is more blessed to give than to receive.
You can find out more about CareCorner Orphanage by clicking Here. Or you can write to me at [email protected]