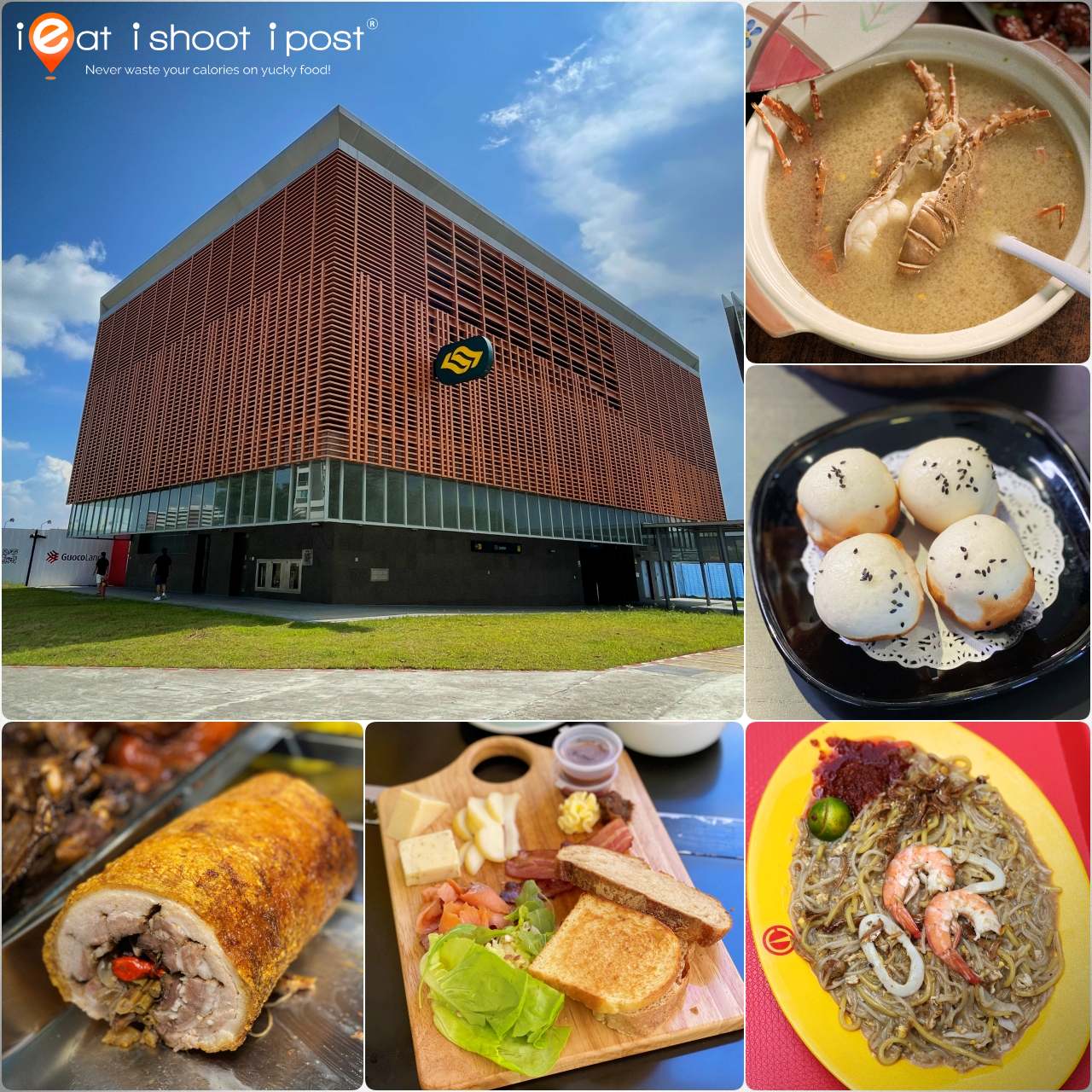 The new Lentor MRT station on Thomson-East Coast line is located in a serene part of Singapore, surrounded by nature and landed residences. The parcel of land next to it will be developed into Lentor Modern, a 1.7ha integrated mixed-use development with both residential and 96,000 sqft commercial spaces including a 12,000 sqft supermarket and 10,000 sqft childcare centre. We were tasked by the good people of GuocoLand to recommend good eats around the area. So, after some research, we are excited to present the following food trail which features four dining enclaves, all within 10mins of Lentor MRT Modern!
Dining Enclave #1: Ang Mo Kio 628 Market
Just a 10 min walk away is the bustling AMK 628 Market and Food Centre which is the nearest heartland market and food centre.
Aside from being able to buy fresh fish, meats and vegetables, the market also has a 43 year old stall that sells roast and braised meats. They have a very unique rolled crispy pork belly which is not so commonly seen. They also sell braised pig's head and braised duck as well as the usual charsiu and siobak.
Seng Ji HongKong Roast Meats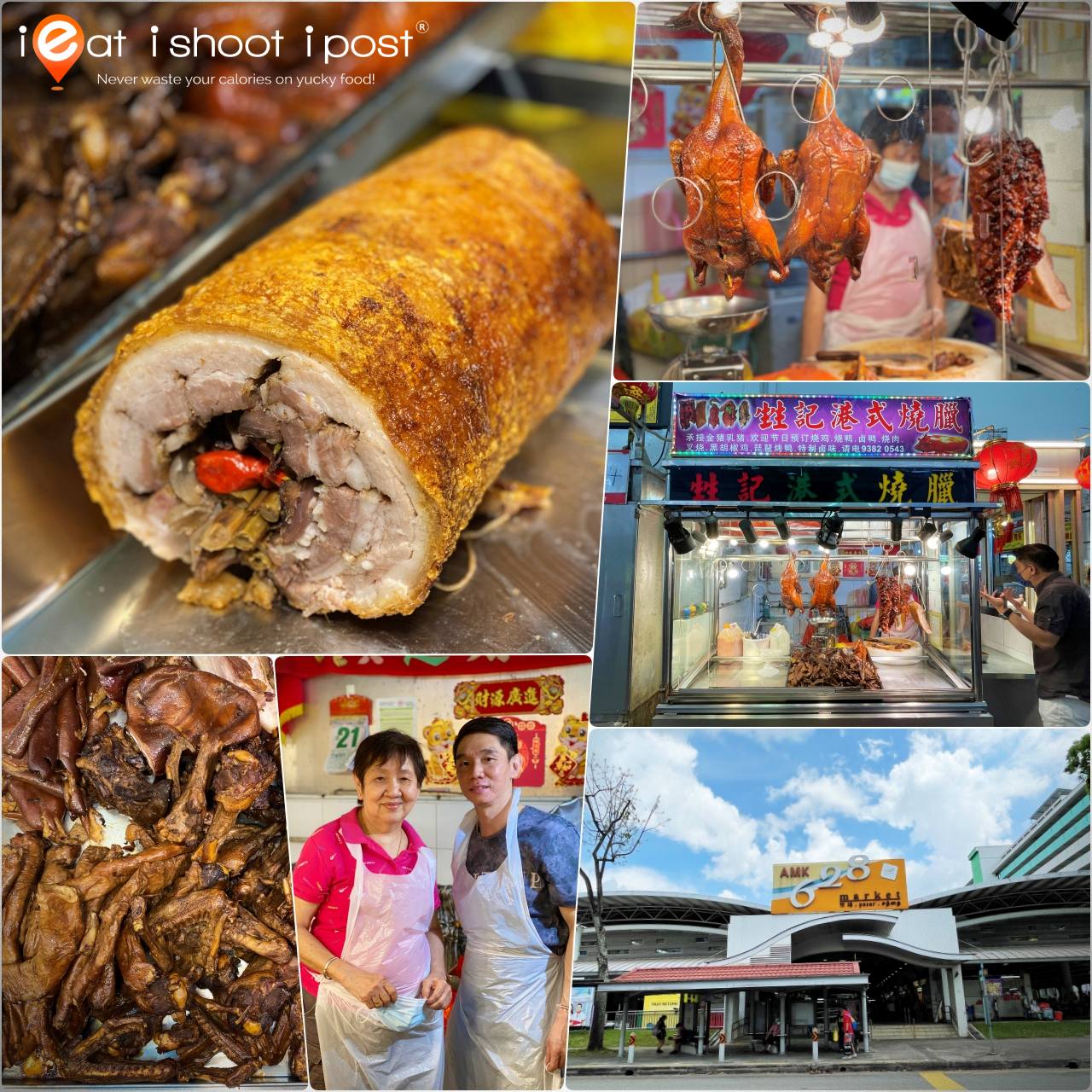 We like the rolled siobak as they stuff the meat with extra seasoning ingredients like lemongrass and chilli. The owner tells us that they got the inspiration from Thailand. Because it is rolled, the meat doesn't lose as much moisture, so it was tender and juicy. The skin wasn't as crisp as we'd like because it was left in the box for a while. We suggest that you buy the entire roll and roast it in the oven for 15 mins to heat it up and crisp the skin before chopping for the best results. 4/5
The rest of the roasts are decent. They are significantly cheaper than those being sold at the hawker centre, but of course, there is a difference in quality. Braised pig head is good and its something that is not so easily available.
Seng Ji Hong Kong Roast Meats
#01-36 AMK 628 Market
Daily 6:30am – 1:30pm, Closed: Mondays
Sumo Fried Hokkien Prawn Mee and more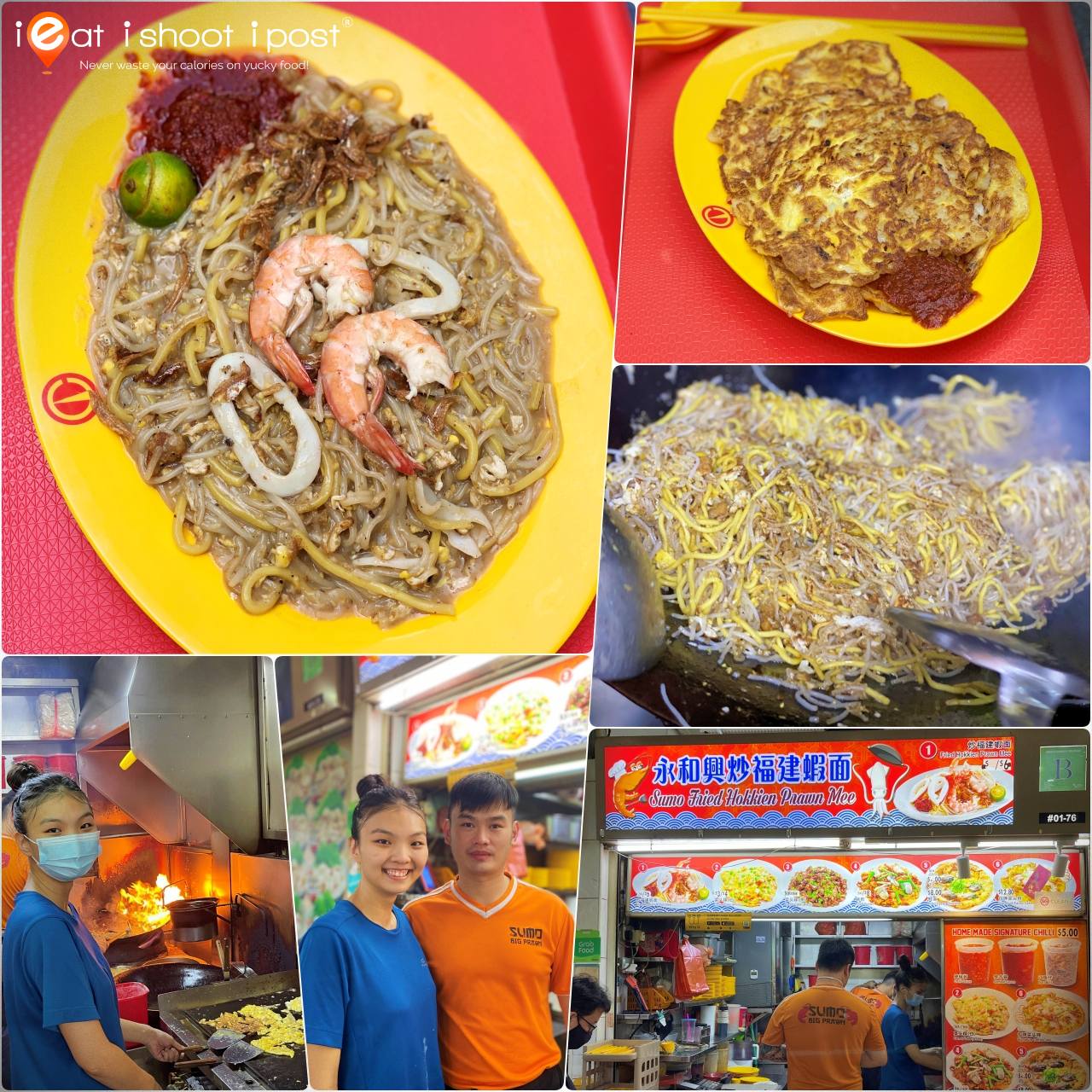 Sumo Prawn Mee made quite a splash on the internet a few years ago with its $25 lobster prawn mee. I didn't cover it at the time because of the long queues, but the hype had since fizzled out. What I didn't realise was that the owner actually started with a Fried Hokkien Mee stall in the same Hawker Centre. Because frying Hokkien Mee was labour intensive, he decided to open a prawn mee stall instead! With the initial success of Sumo Prawn Mee, he went on to open 6 stalls but when Covid struck, he had to shut all of them and return to frying Hokkien Mee.
Desmond has a love-hate relationship with fried Hokkien Mee. He has been frying Hokkien Mee since 16 when he apprenticed with Yong Fa. Now at the young age of 32, he can boast that the has been frying Hokkien Mee for half his life. The guy loves fried Hokkien Mee but he puts in so much energy frying it that he gets tired quickly. That was the reason he tried his hand at Prawm Mee soup instead. But providence brought him back to his first love.
The Hokkien Mee here is very good. It is perhaps the most underrated Hokkien mee around. Desmond really knows how to fry Hokkien Mee and really gives it a good char before adding the stock. The result is a plate of Hokkien Mee that really satisfies! 4.5/5
Sumo Fried Hokkien Prawn Mee
#01-76 AMK 628 Food Centre
Daily: 9am – 8pm
(holidays: 24Aug – 6Sep)
Dining Enclave #2: Casuarina Road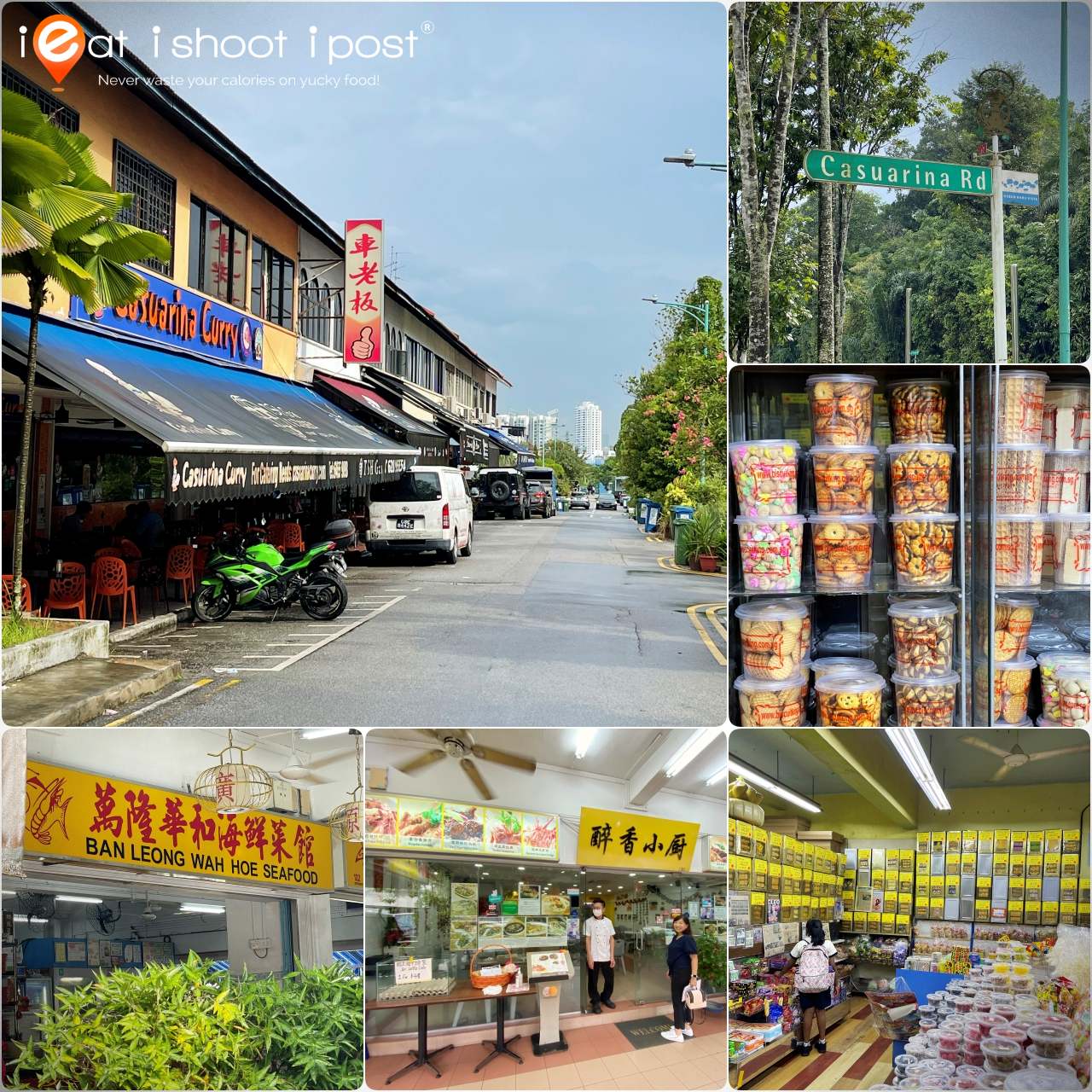 Just a 5-min drive away from the Lentor MRT (where Lentor Modern will be located) is a row of shophouses which punches well above its weight in famous food establishments. On one end is the legendary Casuarina Curry and on the other is another legend, Ban Leong Wah Hoe Seafood. In between is a quaint little Biscuit King whose walls are lined with tins of old-school biscuits.
Chui Xiang Kitchen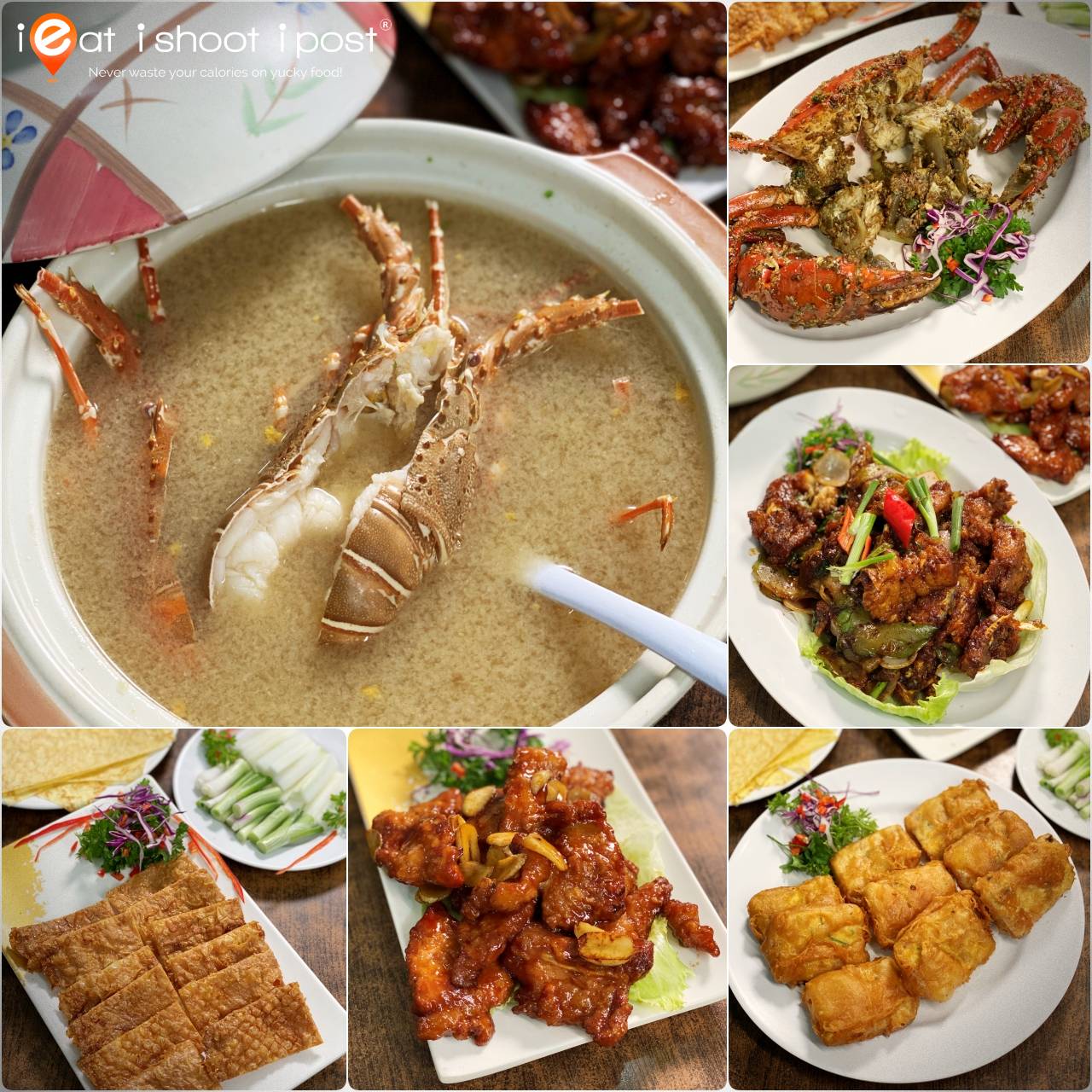 There is another restaurant along this row of shophouses which is perfect for the everyday family meal or even the special occasion. Chui Xiang Kitchen has been around for 17 years and has relocated several times before settling at Casuarina Road. Owner and Chef Kok Kwang Chiu is the man behind the wok and still cooks many of the dishes himself.
We have written about his signature Live Lobster Porridge , Marmite Pork Ribs and Bittergourd Fish head before. They are still very good and the live lobster porridge is real comfort food. I have always enjoyed his marmite pork ribs which he manages to make it so tender each time. Chef also has new dishes like seafood tofu (fried crispy beancurd) which I enjoyed. His mock Beijing duck is a good alternative if you are looking for vegetarian food, but for us, nothing beats the real thing! 4.25/5
Chui Xiang Kitchen
126 Casuarina Road Singapore 579514
Lunch: 11am – 2:30pm
Dinner: 4:30 – 10:00pm
Tel: 64584567
Dining Enclave #3: 151 Ang Mo Kio Ave 5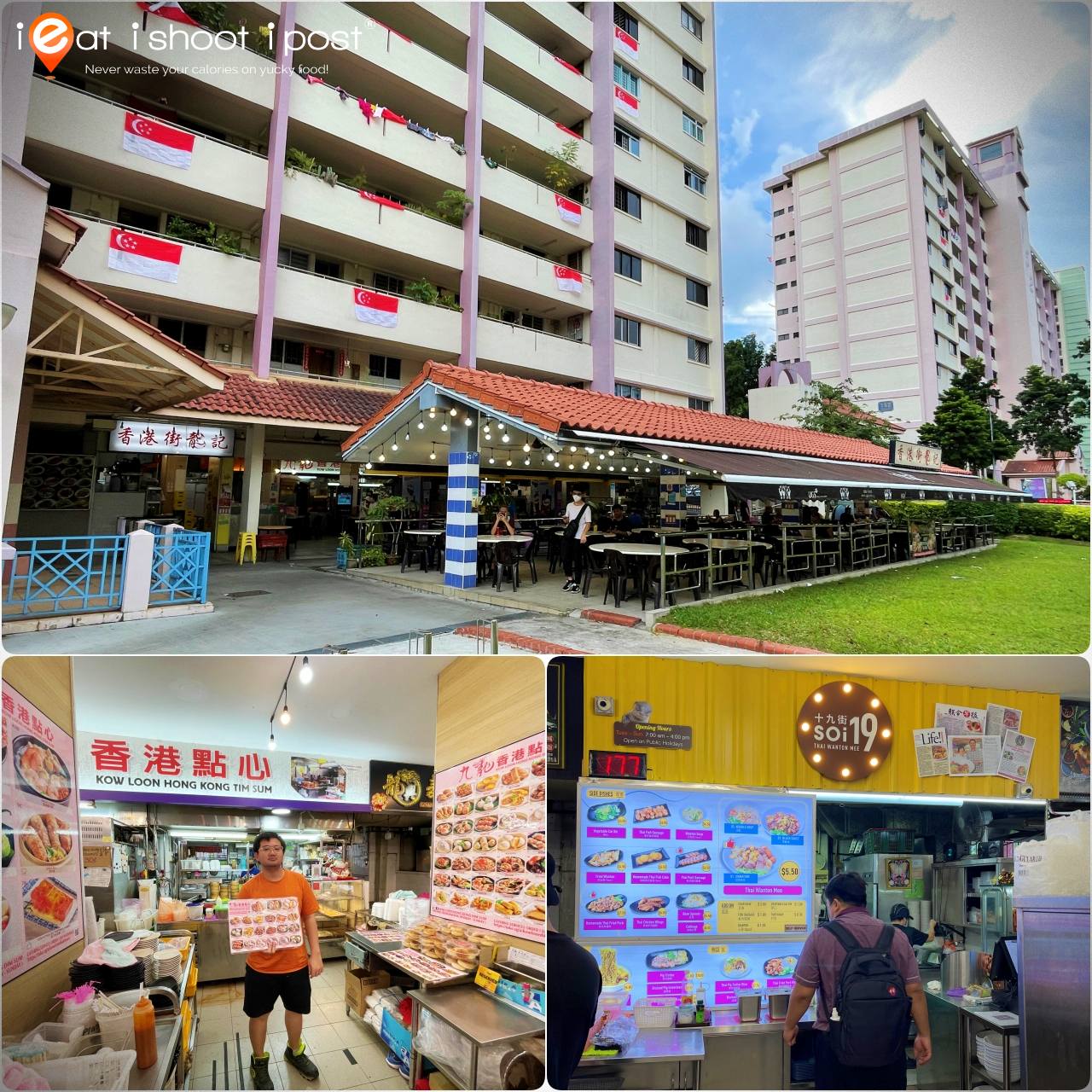 This unassuming HDB block which is only a four-minute drive away, is home to a few hidden gems. On one end is a coffeeshop which is known for it's Hong Kong Dim Sum and Thai style Wanton Mee. We have been to this block of flats many times but have yet to actually try these two stalls because we usually go there for the little family-run restaurant on the other end of the block.
Shanghai RenJia – handmade dumplings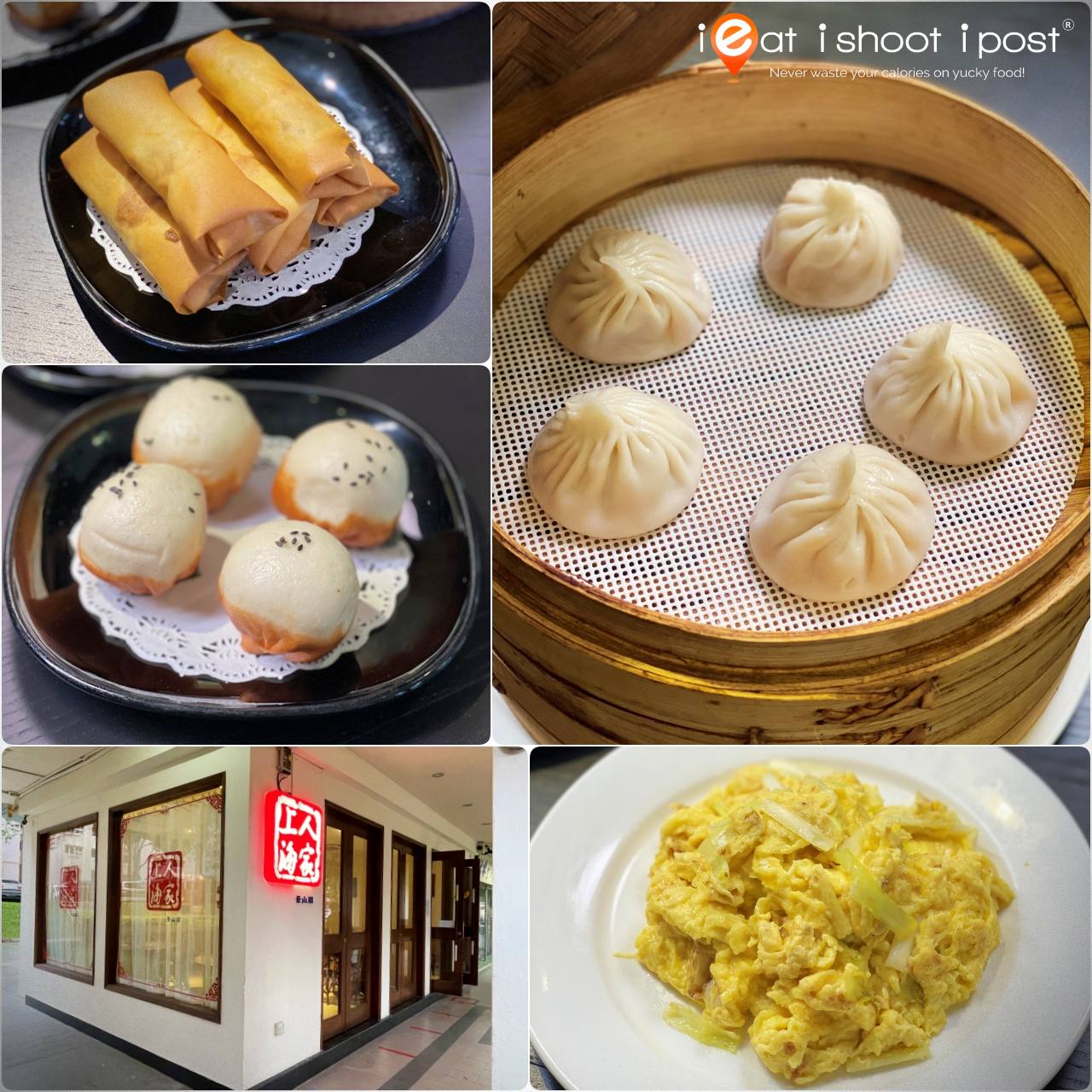 We were in a little state of quandary about whether to include our favourite Xiao Long Bao restaurant in the food trail or not. No doubt Leslie has been writing and following this small family-run restaurant since 2007 when they were still located at Springleaf. Since then it has been one of our favourite restaurants and we go there quite often to satisfy our XLB cravings. But good things must share, right?
This little restaurant is very unique. The family who originates from Shanghai actually live upstairs and the place only has about five tables. Everything is made there including the buns and skins for the various dumplings. The spring rolls are excellent. They are moist and gooey on the inside and are a joy to eat. The Xiao Long Bao is the best we have ever come across. They are very meticulous about the pork and only use fresh pork which they buy as a whole chunk of meat. They would then remove the ligaments, blood vessels and lymph nodes and mince the meat themselves. The result is a Xiao Long Bao which you don't need to dip into vinegar to mask any boar taint. Enough said, it is one of the best restaurants in Singapore which the Michelin Inspectors have yet to uncover. 4.75/5
Shanghai RenJia (上海人家)
151 Ang Mo Kio Ave 5, #01-3046, Singapore 560151
Lunch: 11am – 3pm (2pm last order)
Dinner: 6pm – 10pm (9pm last order)
Closed: Mondays, unless it's a public holiday then they're opened.
Dining Enclave #4: Springleaf
Just one MRT stop from Lentor MRT station along the Thomson-East Coast is Springleaf which is another dining haven home to many eateries like a Thai Mookata and the original Springleaf Prata.
Just a 5 min walk from the row of Shophouses is the entrance to Springleaf Nature Park where you'll be pleasantly surprised to find a beautiful bakery cafe amidst the lush greenery that bakes their own sourdough loaves, brioches, pastries and brews a serious single-origin Colombian Latte.
The Lowe'f Shack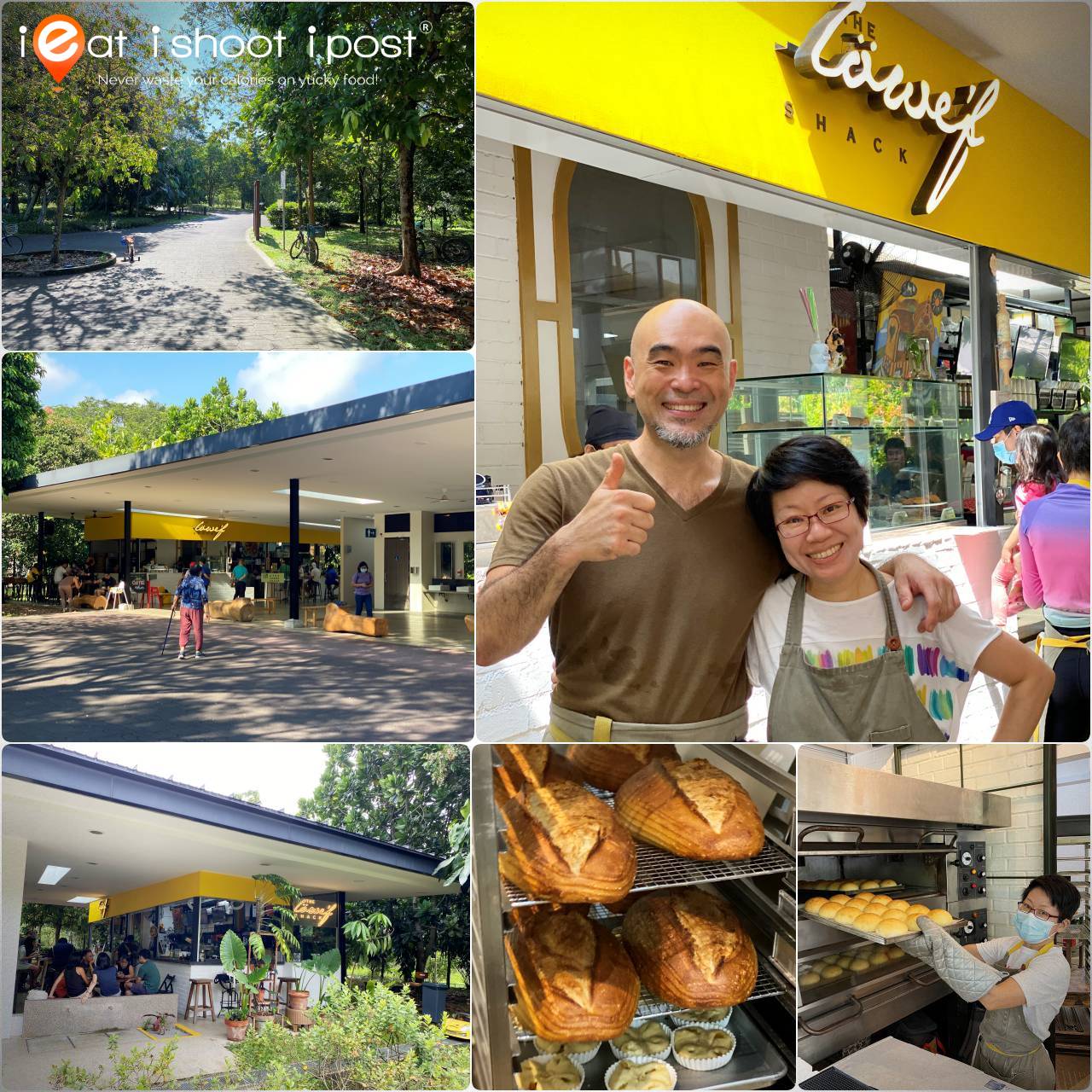 Don Lowe and his wife Su Ching are the proud owners of The Lowef Shack. Yes, it is a play on the term "Love Shack", and "loaf", pun very much intended. Their engaging personalities have turned this less than 6-month-old cafe into what is starting to look like a community cafe. The number of seats may be limited but there is nothing stopping people from spreading a mat and having a picnic around the cafe.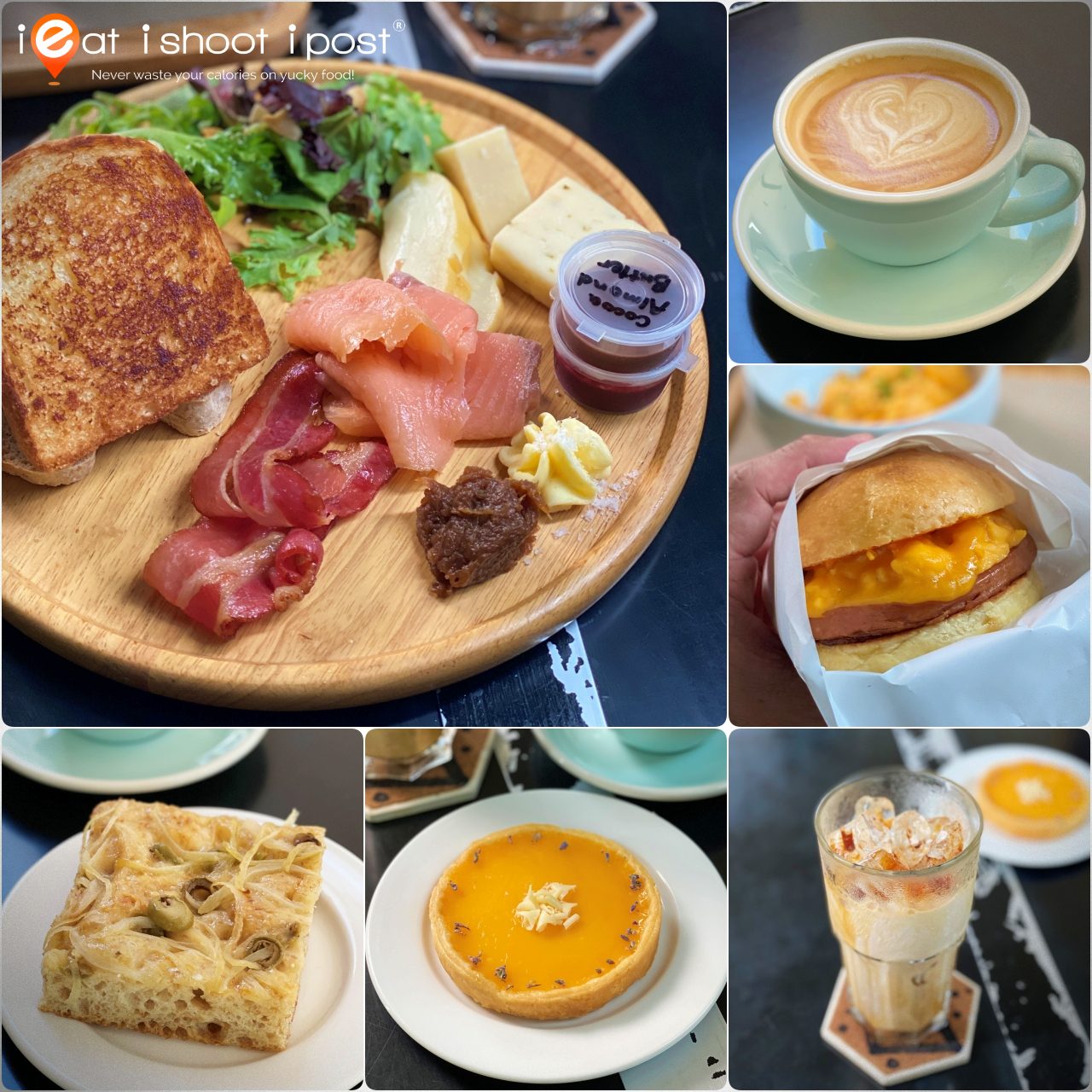 There are very few places in Singapore where you can get a good cup of coffee and homemade bread, so this place is undoubtedly popular amongst those in the know. They were previously at Queen Street where they were known as Lowe'f Artisanal Cafe. When Covid struck they were forced to close the cafe and were homeless for a few months before this particular place became available. I guess you can call the closure a blessing in disguise. Don and Su Ching recognizes it as divine providence. 4.25/5
The Lowe'f Shack Artisanal Bakery
1230 Upper Thomson Rd, Springleaf Nature Park, Singapore 787129
Daily: 8am to 6pm
Closed: Mondays
Conclusion
The Lentor area is a haven for nature lovers. There is a plethora of nature parks and reservoirs all within close proximity of Lentor Modern. Foodies too are spoilt for choice when it comes to good food! Hope this food trail will give you the impetus to explore the area!
To find out more about Lentor Modern, simply visit https://lentormodern.com.sg/
Disclosure: this post is written in collaboration with GuocoLand