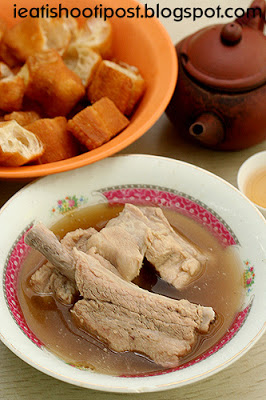 I am just beginning to realise how I have taken for granted so many of the hawker foods that we enjoy in Singapore. When you talk about what food is uniquely Singaporean, most people will say Chilli Crab but have difficulty naming the rest. That's because we assume that Chinese food or Malay food is either from China or Malaysia and Indonesia. When you get into the history of Singapore Food, you suddenly realise just what a rich heritage we have. Amongst them are Indian Rojak, Chicken Rice, Hokkien Mee, Laksa and Chwee Kueh just to name a few. Yes, all these foods were invented right here in Singapore.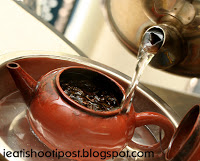 I was pleasantly surprised to find out last week that Bak Kut Teh is a Singapore invention too! At least according to Mr Frankie Gwee from this Bak Kut Teh stall. He told me in no uncertain terms that Bak Kut Teh actually started around the Clarke Quay/River Valley area back in the post war years. Back then, the Chinese coolies used to offload sacks of rice and other goods which was backbreaking work. The two rival clans were the Teochews and the Hokkiens who would compete with each other for work. Since the men needed to eat stuff that would boost their energy, one enterprising Teochew man started selling soup made from boiling Pork Bones with garlic and pepper. Thus was born the Bak Kut Teh. And yes, it is a Teochew invention. Of course, the Hokkiens did not want to lose out, so they also came up with their own version of Bak Kut Teh which was darker and used other herbs. (Ok, I think I might have just reignited the clan rivalry between Teochews and Hokkiens with this!)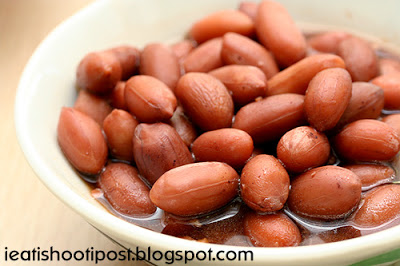 I found the soup here very good. Robust but not overly peppery, it has got a sweet savory taste that comes from boiling the pork bones until they are almost crumbly. That's when all the rich stuff from the marrow gets released into the soup. We found the ribs here cooked until it is very nice and tender too. 4.5/5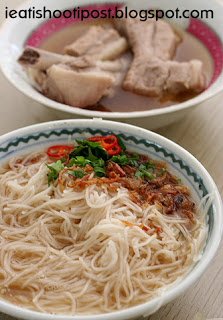 Actually Bak Kut Teh is not very healthy since it is so rich in Cholesterol. That's why drinking tea actually does help to cleanse the palate. However, I am not sure how much it does to lower the cholesterol levels in the blood. But as Frankie tells me, one of the renown heart surgeons at SGH is a regular customer there and he frequently downs 7 bowls of soup! (So who am I to argue with a heart surgeon?)
I also like the peanuts here. It is braised till it is soft and sweet but the skin is still intact. This stall also sells a few dishes that are quite unique. One is the Mee Sua which you can order in place of rice. It was ok, but Mee Sua is not my thing. (I always thought that Mee Sua was for people without teeth, since my late Grandma used to love Mee Sua) I personally prefer my bowl of hot Bak Kut Teh soup with a big bowl of You Char Kway!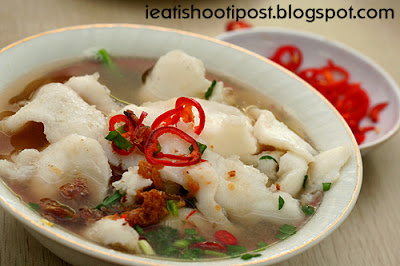 The unique thing about Bak Kut Teh is the fact that to make all the different dishes, all they need is the one Bak Kut Teh soup! They add it to Cabbage, Tang Orh, Mee Sua and then market it as a separate dish. Another dish that is quite unique here is the Fish Soup, which is essentially Sliced Striped Snake Head fish in Bak Kut Teh soup. Though it is the same soup stock the soup takes on a new character from the taste of the fish. The fish is very fresh (what do you expect from a Teochew Ah Hia?) and its a good alternative if you want to cut down on cholesterol. 4/5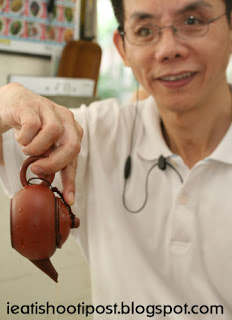 I must make special mention of the service here which is a world of difference from the other famous Bak Kut Teh stall. Frankie is extremely hospitable and even came by to show us the right way to drink tea. People who have been there can attest to the great service he provides for all his customers. Having lost his right eye (and nearly paralysed) from a motorcycle accident years ago, he is thankful for his second chance in life. You might have read that he had donated a large sum of money to help the family of the man who jumped in front of the MRT train. When Donald Tsang could not get a seat at Ng Ah Sio, guess who specially opened the shop at night to provide a bowl of Bak Kut Teh for the famous politician? You might think that he did it for publicity, but I think that he did it because it was the right thing to do. He also just returned from New York where he was part of the team of Singaporean Hawkers that KF Seetoh brought there to showcase Singapore food. He gets my vote for "Ambassador for Singapore Hawker Food".
Conclusion
Great Bak Kut Teh with great service to boot. There might be people who would contest the history of Bak Kut Teh. Some people believe that it originated from the Klang Valley in Malaysia. I think that for the Teochew version at least, Bak Kut Teh is a truly Singaporean dish, which might explain why so many politicians are coming to specially to eat it here!