With smart, carnineviand and iwatch_ueat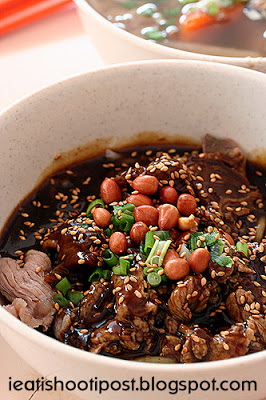 According to the stallowner, Mr Wong, this is the one and only Seremban Beef Kway Teow in Singapore. That's according to him, but as far as we know this is certainly a very unique tasting beef kway teow.
The dry version is sweeter than the local version. Sweet black sauce and other condiments are added to the bee hoon before he adds the beef sauce. The sauce is more sweet than beefy, but I found it quite nice since I like my food a little on the sweet side. I like the peanuts and sesame seeds that you help yourself to. It is certainly very different from the other beef noodles I have eaten. 4/5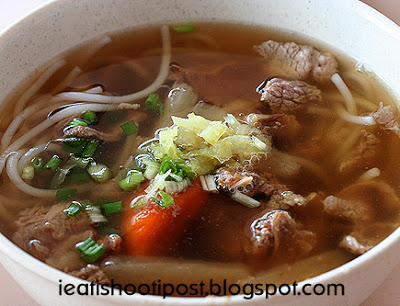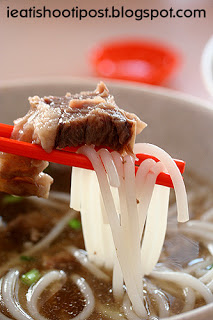 The soup version is also sweeter than our local version. The extra sweetness comes from the carrots and radishes in the soup which has got a sweet beefy aroma when it arrives on your table. I found it to be quite a satisfying bowl of soup. 4/5
Conclusion
Certainly very unique and it is probably true that it is the only one in Singapore. Good for those who like things sweeter, but if you are looking for the beefy umami rush, you might be disappointed. But overall it is still quite a satisfying bowl of beef noodle.