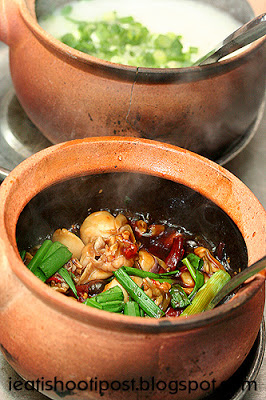 Kung Bao Frog: $8 per frog
Many people say that frogs taste like chicken. If that is so, why pay $8 for a frog when with the same amount of money you can actually buy quite a substantial amount of chicken meat? The Kung Pao sauce in this dish is really very delicious, but I can't help but wonder whether it would taste different if chicken was used in place of frog. I think you can see where I am coming from. I like this dish very much but for $8, I can only get a few tiny morsels of meat. How I wish there was such a thing as a Godzilla Frog with legs the size of a Chicken.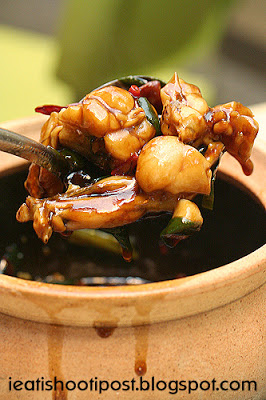 According to carnineviand, this unassuming little stall within a coffeeshop serves Singapore's no. 1 Frog Porridge. I am sure there will be others who will contest his confident proclamation. I must admit that a spoonful of the Kung Bao sauce with the porridge is quite a satisfying mouthful to sooth a late night crave. I find frog meat to be a little sweeter and the texture a little more delicate than chicken. But because there is so little of it, it is a dish one has to partake with the same attitude as Chicken Feet. I give it 4.25, but my two makankakis both give it 4.5/5
Conclusion
Great for a nightcap. Tasty morsels that don't really fill you up, satisfies your craving for umami and gives you a nice warm feeling in the tummy.