With iwatch_ueat and carnineviand


$5 – smallest portion you can get
This Hor Fun has a special place in my heart. I first laid tongue (and eyes) on it over 10 years ago when I was still a Medical Officer working in the General Surgery unit at Changi General Hospital. I remember it was one of those nights that I had to be on duty and my Registrar and I have just finished our operating list. We've been without food since lunchtime and it was past 12 midnight and we have been working hard removing haemorrhoids, stitching up wounds, fixing perforated stomach ulcers, appendectomies, fixing up holes in people's colons…… the sort of work that really builds up a good appetite. So it was past 12 midnight and we were raving hungry. What to eat? The hospital always has the standard 1 meat, 2 veg and rice meal set aside for those on duty. I guess we just have to settle with that since there was no other stuff available. (Yucks!) Then our savior arrived at the Doctor's room with a few packs of Hor Fun. Our saviour was none other than a very hard working Drug Rep who really went the extra mile to build rapport with the Doctors. Imagine going all the way to Lor 9 Geylang and Tar Pauing packs of Hor Fun to give to your clients at 12 midnight! Such dedication, I think the guy must a director or CEO by now! Anyway, words cannot describe how I felt when I took the first mouthful of the Beef Hor Fun. It was my first time and it is the kind of event one never forgets. That smooth, wok hei flavoured Hor Fun combined with the super tender beef in black bean and chilli sauce was so shiok, I gobbled up the whole pack before I could take a long and lingering breath. I slumped back into my chair and phased back into reality. Oh Man! I was still "On Call" for the next 8 hours!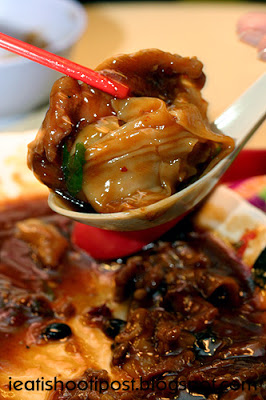 Ten years on, it still remains my favourite Beef Kway Teow. Although people tell me that the standards have dropped a bit, I still find the sauce irresistably tasty. I think that the Kway Teow nowadays is not fired till it is charred like last time, but it still is one shiok shiok plate of Beef Hor Fun especially for supper! 4.5/5
Conclusion
There have been claims of other Beef Hor Fun being better than this one, but you know, for me, this one has that extra bit of nostalgia that is really hard to beat.