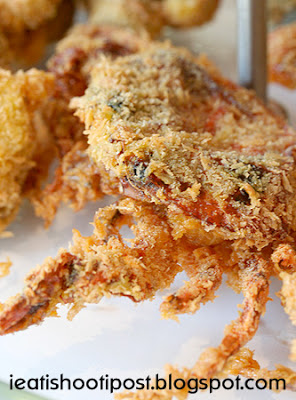 With Blind date, island, holy drummer, percussionluv and iwatch_ueat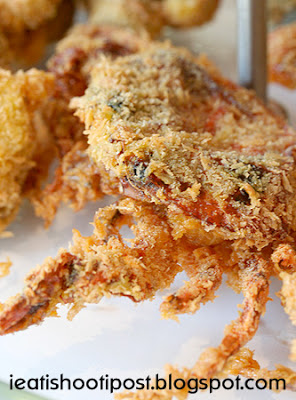 Salted Egg Soft Shell Crab $4.90 1 crab
The busiest places along the East Coast Road stretch late at night are Astons on one end and HK Cafe on the other. These places are packed even after 10pm! So along comes Cafe Oliv which is strategically located in between these two night haunts offering Value-for-Money, mid-range Western Food right up till Midnight. I'd say that it is sure win situation as long as the food is good.
And the food here is pretty decent overall with a few items worth mentioning.
The first is the Battered Soft Shell Crab with Salted Egg. Great for those who are battling a low cholesterol level. It is a pretty tasty morsel to whet one's appetite. Though it is nice on its own, I think a bit of seasoned Japanese rice or other carb would go very well to balance the salty savoury taste of the crab and salted egg. 4/5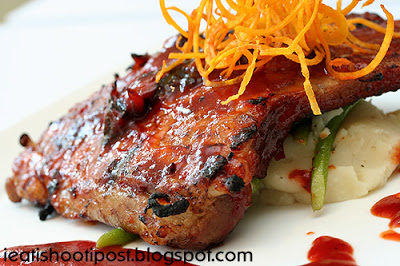 Pork Ribs $14.90
If you like Ribs, this is one that you would want to try. The homemade BBQ sauce is excellent and the ribs are cooked till the meat is tender and separates easily from the bone. Just before serving, it is also quickly grilled so that you get that nice chargrill taste. What I find most exciting is the fact that they use a very special cut of ribs specially imported from Germany which includes the soft bones at the end of it. You can see just how long the rack is. For me THIS IS the best part of the pork ribs. And the ribs are slow cooked till the soft bones are just about gelatinised so the whole thing can be eaten. Oh yes, this bit really sets it apart from all the rest! 4.5/5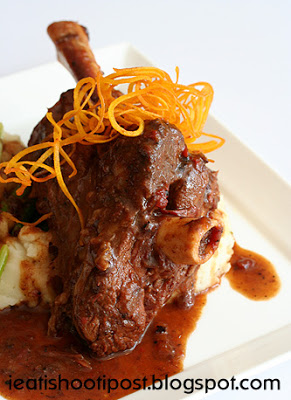 Lamb Shank $14.95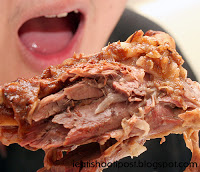 The Lamb Shank gets my pick for the Best Value Lamb Shank in town! I don't think I have ever come across a 600g lamb shank for less than $15. If you love to eat lots of meat and want to pay as little as possible, this one is for you! The taste of the stewing sauce is pretty good, albeit a predictable "Ghoulash" type sauce. The meat was tender but we felt that it would be even better if it was stewed just a little longer. 4/5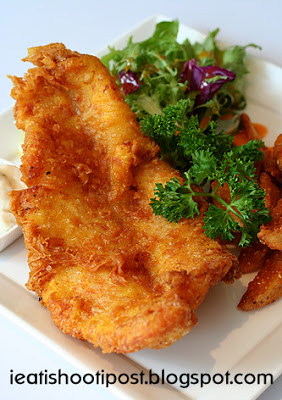 Beer Batter Fish $10.90
The beer batter fish was nicely done. I am accustomed to beer batter being really thick and oily, so this thin and crispy beer batter was a bit of a surprise. Chef and owner Kevin Heng uses a bit of tumeric to coat the fish to give it a bit of colour and curry flavour. At $10.90 it is pretty good value if you are comparing it to Fish & Co. The fish is well seasoned and served with potato wedges. But a Dory is a Dory if you know what I mean. So don't expect any big surprises tastewise. 4/5
Conclusion
Yet another new cafe in town offering "Value for Money" western food. But don't expect to pay $6 for a main meal here. The meals are a little more upmarket but we still felt that the prices are very reasonable for what you are getting. Cafe Oliv aspires to offer more creative fare to differentiate itself from the rest of the crowd, but I would like to see Chef Kevin push the envelop of creativity further. The other thing that is really good is that they don't add the GST or Service Charge here and are open till 12 midnight. It is great to see the trend of offering affordable western food gaining momentum and moving upmarket. It can only be good news for all of us!