With iwatch_ueat and carnineviand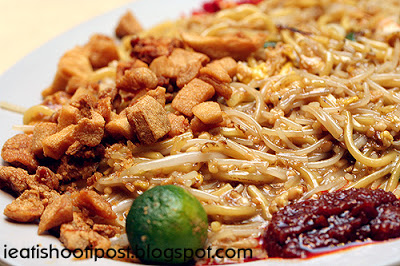 Yet another Hokkien Mee to add to the list!
I have been eating here for many years but this is the first time after their renovation. I was surprised to find that the stall has started offering other stuff like fried oyster omelette as well.
The Hokkien Mee here is the dark, gooey type which uses thin bee hoon. But the best thing that I remember about it was the Crispy Lard which holds a special place in my heart (probably stuck somewhere in a few of the arteries). However during our recent visit, we found the Crispy Lard to be dry and lack lustre. It was a shadow of its glorious past. The owner told us that they were still prepared fresh every day, so I don't really know what went wrong. The Hokkien Mee itself is still quite shiok. It has still retained its rustic flavour consistent with the late night "happening" area of Geylang. 4.25/5
Conclusion
Bit of a let down on the lard that day, but still quite a shiok Hokkien Mee for late night supper.