With smart, iwatch_ueat and carnineviand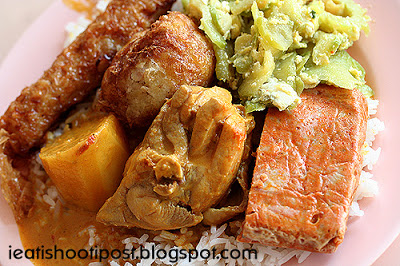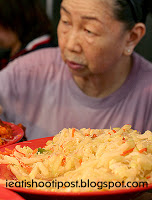 I always find it difficult to write about "Economic Rice" because there is always so many dishes in each stall and there is no standard items that you can compare "apples with apples". So what I have done is to ask the Lao Ban Niang to give me a plate to that would showcase her best stuff.
I don't know about you, but I find that when I eat "Economic Rice", I always end up ordering much the same dishes which will invariably include a sweet and sour pork and a braised tofu dish. So this particular meal is a departure from my usual fare.
Another thing about Economic Rice is that I actually eat it when I feel that I need to eat something "wholesome" which equates to home cooked food. And home cooked food equates to rice with one or two meats and some veggies. I think that is quite a commonly held practice amongst Singaporean Chinese which is why the Army also provides this sort of staple.
The food here is very good and overall, I feel that it has flavour without tending to be over oily. Of special mention is the Ngor Hiang here which is one of the best Ngor Hiang I have ever eaten. Funny to find an outstanding Ngor Hiang in a Economic Rice stall rather than a Ngor Hiang stall! The shiok thing about it is that almost one third of the Ngor Hiang is made of sweet, crunchy water chestnuts. Worth coming just for the Ngor Hiang. The curry chicken was mild, creamy and very yummy. Not as special as the Ngor Hiang but definitely very competent.
Conclusion
Overall, the food here is great which explains the constant queue. The good thing about it is that you really do feel that it is something that mom might whip up at home. (assuming your mom is an excellent cook) Great place to visit for some tasty home cooked food. 4.25/5