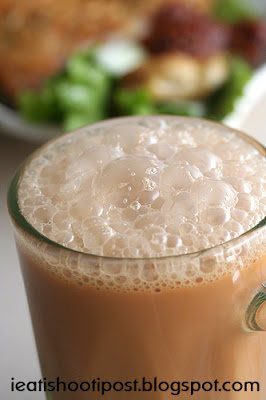 Do you still remember my last post on our President's Teh Tarik? Well, I thought I would never have a chance to drink of the Presidential Brew since the "Michael Bolton" and I both share the same working shifts.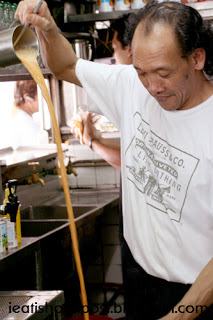 But yesterday was my lucky day! I happened to be down at Marine Parade Food Centre and lo and behold, the President's Teh Tarik Man was on duty! It so happened that the other Teh Tarik man had returned to Indonesia for the Hari Raya Holidays, so he was working an extended shift.
The "Michael Bolton" was telling us that since the last post, he has had many new customers coming by asking for the President's Teh Tarik as well as questions like whether the President really came by in his shorts, T shirt and flip-flops on Sunday mornings to buy his Teh Tarik. Alamak, those readers who really asked this question, please own up. I already told you that that would have been a breach of Presidential protocol! Once you become a President, you must never be seen in flip-flops.
Anyway, I was just over the moon that "Michael" (I still don't know his real name) was on duty that day. This time round, I did not need to haggle, all I needed to do was to order the President's Teh Halia Tarik and it was delivered to my table.
Maybe its just psychological, but the brew was indeed befitting of royalty. Full bodied and fragrant with an excellent post-gustatory ginger punch. It really put the tiger in the tank. So good, I had to order a second cup. 4.6/5
Conclusion
Our President really knows his Teh Tarik!