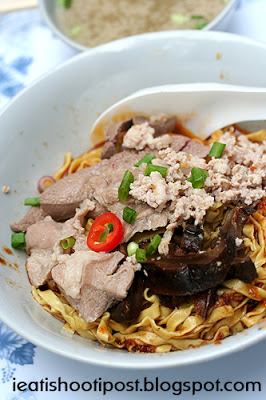 I am amazed to see just how popular Bak Chor Mee is amongst Singaporeans! Our current "Favourite Hawker Dish" poll shows a very close fight between Bak Chor Mee and Chicken Rice for 2nd and 3rd positions. At this stage, Hokkien Mee seems to be the firm favourite unless a whole clan of Chicken Rice lovers who have not yet voted suddenly decide log on and vote.
Anyway, my favourite hawker dishes where Hokkien Mee, Satay and Char Siew. Bak Chor Mee would have ranked around seventh or eight place. I guess it is because I generally don't add chilli to any of my dishes, and with a lot of Bak Chor Mee stalls, it is the chilli that makes the difference. So I guess that's why I would choose other dishes over Bak Chor Mee on most days.
But three of my makankakis that day insisted that this stall's Bak Chor Mee should be included into this blog so here it is. According to Damien, this Bak Chor Mee is second only to the Tai Hwa Bak Chor Mee. Smart and Bashful Hunter both said that it was really good and the chilli was especially shiok. I tried a bowl of the non-chilli version and agree that it was a good bowl of Bak Chor Mee as far as Bak Chor Mee goes. 4.25/5
Conclusion
Another place to get your Bak Chor Mee fix when you are around the Toa Payoh area.