This stall is closed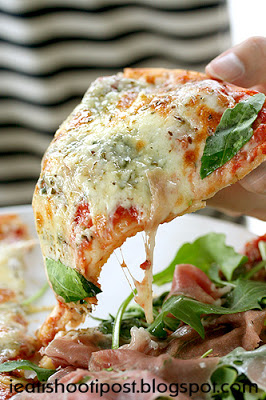 Quattro Formaggio $13.90 for a 12 inch pizza
Don't you think it is a little redundant to label a pizza as "Italian" pizza? Of course, pizza is Italian what, ah boh then?
But the fact is that the pizza has evolved into something quite different from its original form such that there is a big difference between "Italian" pizza and American style "Pizza Hut" pizzas. For me, when someone says "Italian" pizza, I think about a thin crust pizza that is baked in a wood fired oven with a good tomato sauce and lots of chewy mozzarella cheese.
Although I love pizza, I have been on a pizza lull for a while. So this is my very first pizza post. Damien alerted me to this "Authentic Italian Pizza at HDB prices" pizza which I thought was very interesting. And what can be more authentic then having a real Italian Chef making the pizzas? Ah, yet another "Ang Moh in the HDB heartlands" story!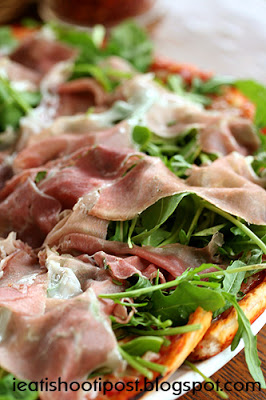 Rucola Parma $18.90 for 12 inch
Loris and Jennifer met Singapore, got married and ran off to open a restaurant in Tuscany before returning to Singapore again. During her stay in Italy, Jennifer fell in love with the Italian pizza so when they returned to Singapore, she had this irresistible urge to share her passion for real Italian pizza with the Singaporean Heartlanders.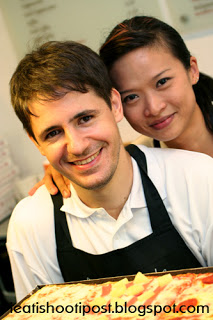 They use the thin and crispy pizza base here, but it is not so thin like it's a "water cracker". You still get a 1 cm thick layer of bread in the middle, but it is thin and crispy around the rim which I am told is how they do it in Naples. I found the tomato based sauce a little on the tangy side but both my makankakis said they like it that way. The cheese could have been more chewy, but at $13.90 for a whole pizza, I guess I should not complain too much.
We liked the Quattro Formaggi which is made up of parmesan, blue, mozzarella and emmental cheeses. 4.25/5
The Rucola Parma was nice and having the salad on top of the pizza is very refreshing as you get the contrast between the crisp leaves with the heavier pizza base. 4/5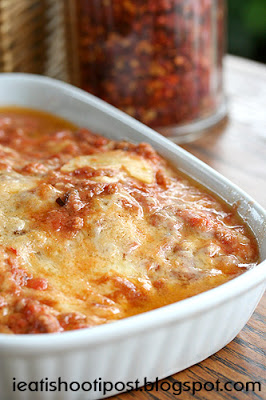 For those who enjoy Garfield's favourite food, the lasagna here is pretty commendable. It's also probably the cheapest Lasagna you can get anywhere. For $6 you get a good portion of Lasagna which is made with fresh sheets of pasta. Jennifer has modified the lasagna a little to suit the local taste, so the tangy edge has been blunted with the addition of a bit of sugar. Suits me fine. 4/5
Conclusion

Where can you get your Italian style pizza fix, real cheap and on the go? Well, now you know.
Update: 18 Jul 2008
La Pizzaiola as been closed. The couple are now operating Pietrasantra at Portsdown road.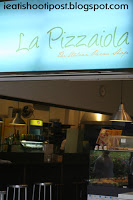 Recommended by Damien