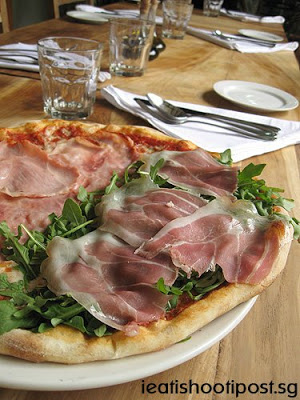 Rucola Parma Ham pizza
Remember the Italian/Singaporean couple I blogged about last year who opened a little stall selling pizzas at HDB prices? Well, they have decided to move upmarket and have opened a cosy little restaurant in the beautiful countrysidish part of Singapore known as Wessex Estate.
Portsdown Road is one of those last places in Singapore where you can still enjoy that "countryside" atmosphere and daydream about our colonial past. In fact, the whole of the Portsdown and Dover area used to be home to the British who find the "rolling hills" around the area to be reminiscent of home. The church which I attend, St John's St Margaret's, which used to be known as St John's Garrison Church, was the Anglican Parish Church catering to the needs of the British forces. The original triangular building is still there and being used to conduct services although the main service is now conducted in our new sanctuary.
Personally, I find the colonial period to be very romantic. It was a time when much of the world was still being discovered and ceiling fans were still manually driven by coolies. Think Indiana Jones and you know what I mean. I could almost imagine myself in that period as I sat in the the nice little courtyard with sunlight streaming into the restaurant and the smell of freshly cut wood in the air. Ok, I think it is apparent to you by now that I like the atmosphere of this place very much, so on to the food.
The pizzas are better quality than their "HDB" pizzas at La Pizzaola but still quite reasonably priced. The crust is thin and chewy and the tomato based sauce is less tangy which was my main complaint the last time I ate at La Pizzaola. I would highly recommend the rucola with parma ham pizza which really did satisfy my pizza craving that day. 4.25/5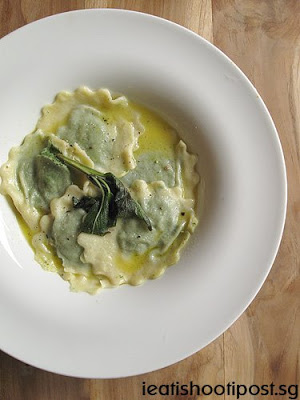 We were because the kids were clamoring for pizzas after church and the last thing I wanted to do was to end up at Pizza Hut.With so little calories to waste, a nice Italian Pizza is actually not much more expensive and definitely tastes better than the commercial variety. But in order to have a more balanced Italian meal, we ordered some pasta as well just to try try. The Spinach ravioli was alright but could have been more tantalizing if the sauce was a little more cheesy. 3.75/5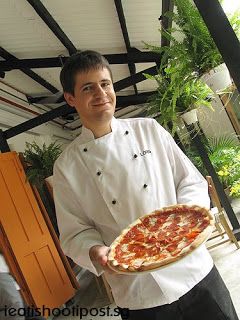 Chef Owner Loris
Conclusion
Good pizzas combined with the laid back atmosphere of Wessex Estate. This certainly looks like a place I can go back often to get fulfill my pizza cravings. At least it beats having to bring the kids to Pizza Hut!
PS: Just spoken to Jennifer and confirmed that they have closed La Pizzaiola already. You can read about their first eatery here.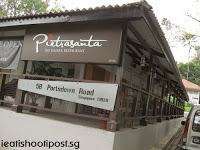 What to do next