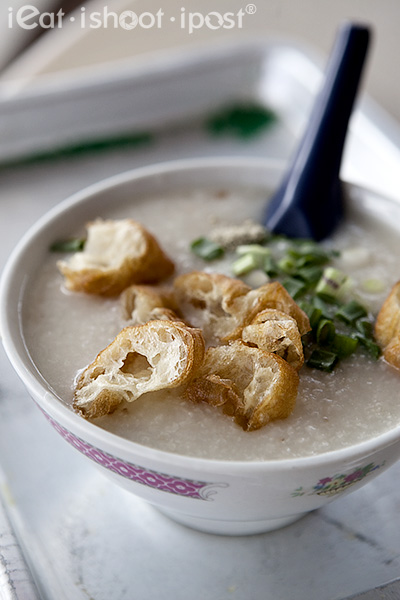 Ah, an anonymous reader quipped that being Teochew I only liked the grainy kind of porridge. Not true, not true. My favourite kind of Jok is actually the Hainanese style one which has broken grains in it. I guess it might be something I grew up with. I remember eating Jok almost every Sunday morning with my Dad when we were still living in Toa Payoh lor 8 and it was this kind of Jok. Best thing was that there was a You Char Kway stall in the same market were this old man used to sell 10 for a dollar. Happiness is dipping a freshly fried You Char Kway into hot porridge!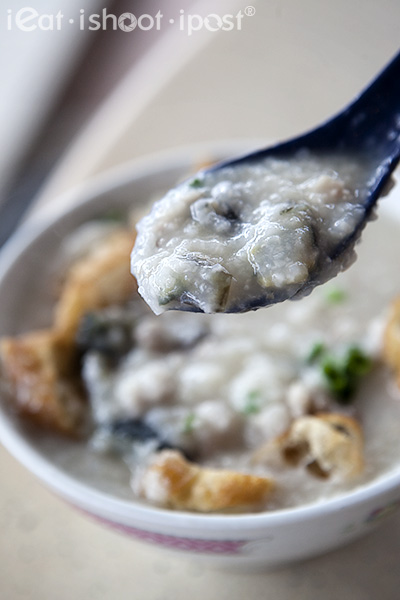 For me, I like my porridge with lots of savoury minced pork balls which have been well seasoned with sesame oil. So the porridge here certainly hit the right buttons in my books. The porridge was nicely flavored which, according the the aunty is attributed to long hours of cooking with the best pork bones a hawker can buy. 4.25/5
Since we are talking about porridge, can I ask our readers what you usually do with the egg? Do you break it, leave it to cook or leave it out entirely?
Conclusion
Great bowl of porridge with savoury minced pork that hits the spot when you need something to warm the tummy on a cool night.
Update: 18 Nov 2013
After renovation, the stall numbers have been changed. They have been updated below: