This shop is closed
With PowerAunty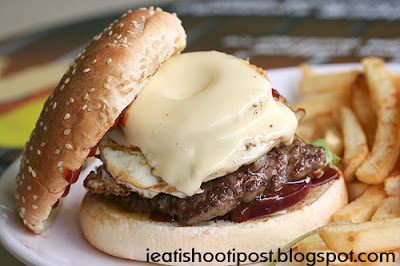 Crazy Burger $7.90
Khim was the first to tell me about this new Ang Moh Hawker in Bishan when they first opened months ago. A few days after she raved about the food, she went back again and reported that her second visit wasn't as rosy. So I kept it on the shelf for a while. Then the reviews started coming in the forums comparing them with the other Ang Moh Hawker, Botak Jones — and Crazy Ang Moh came up short. So I thought that that was the end of the line and that this Ang Moh in the Heartlands was not going to appear in the blog.
But then I heard a bit more about this "Crazy" Ang Moh going around with a loud hailer, organizing ice cream eating competitions for the kids and even praying for one particular old man with a frozen shoulder. (The old man apparently came back the next day exuberant that his shoulder was healed!) On top of that, I heard they actually served true blue Aussie tucker (food). So I thought it was interesting enough to go see just how crazy this particular Ang Moh really is.
When I was a medical student in Sydney, my favourite Aussie food were meat pies, fish and chips and Burgers. What makes an Aussie Burger different is that they add a slice of Beetroot to the burger to give it that tangy sweet taste. Takes a bit of getting used to, but it actually does grow on you. So I was really happy to find that Crazy Ang Moh served up an Aussie Burger with the Beetroot as well as a slice of pineapple, sunny side up egg and cheese for $7.90.
The pineapple and beetroot gave the burger a sweetish tingle which I really enjoy. (Same reason why I like Sweet and Sour Pork), though I felt that the meat was ground too fine and was a little over spiced with Oregano. I reckon with a bit of tweaking with the pattie and this burger could be one of the really good and cheap burgers in town. (But you'll have to learn to appreciate beetroot) 4/5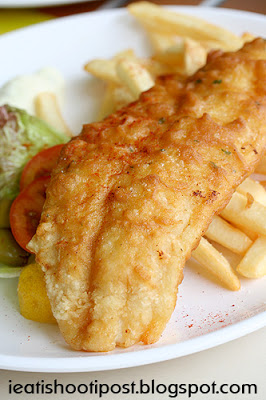 Fish and Chips $6.50
Now, the Burger was close to a Fair Dinkum (true blue) Aussie Burger but I can't say the same for the fish and chips. I have never seen bits of herb in the batter anywhere in Australia. They use cream dory here which sometimes can taste a little muddy. There are lots of very competent hawker fish and chips around and this one just fails to stand out amongst all of them. I guess by using a fish that is more traditionally Aussie like Hake would drive the price up, but at least it would differentiate them from the rest of the local hawker western food. I for one would love to eat a fish and chips that does not have any kind of Dory in it! 3.5/5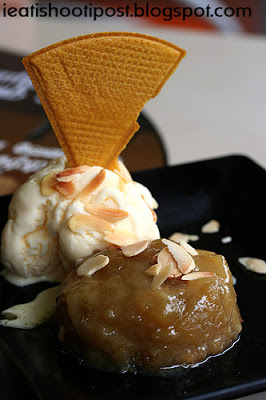 Banana Pudding 4/5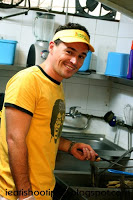 The man behind the fryer is Tennis Coach and Wollongong boy, Paul Crinis who came to Singapore on a whim to teach Tennis. He then met one of our lovely Singaporean girls and decided to stay a little longer. When she brought him home to meet Mom, he was so loud that by the end of the visit, she started calling him the Crazy Ang Moh. Now she has a Crazy Ang Moh as a son-in-law and even a half Ang Moh granddaughter.

Conclusion
I must admit that I was not really expecting the food to be first class after reading the reviews. But I think that Crazy Ang Moh does have some saving grace, one being that it is the only joint that serves up an Aussie Burger and I also heard that he does a Roast Leg of Lamb for Weekend lunches for $15.90. (I think that is worth checking out) Plus, I think it is heartening to see an Aussie Bloke in the Singapore heartlands really trying to spread some Aussie culture amongts us more conservative Singaporeans.