With the ieatFamily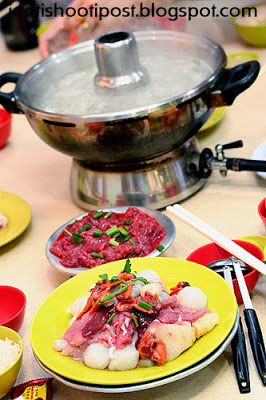 Hainanese Steamboat set $32
Singapore's Chinese population is made up of 41% Hokkien, 21% Teochew, 15% Cantonese and a mere 5% Hainanese. But when it comes to food, the Hainanese are right up there with their hugely popular Chicken Rice and of course, Singapore's favourite brew, the good old Kopi and Kaya Toast.
Sadly the number of truly authentic Hainanese Restaurants are diminishing and even if they are still around, the food seems to have lost its original taste. Fortunately, there are still places like Thien Kee which are still run by a group of Hainanese men who are still trying to maintain the old Hainanese tradition. I can't personally vouch for the authenticity of the food here, since I have not been around for long enough, but the fact that 80% of the client猫le here are Hainanese should be a good indicator of its authenticity. Plus, I have a Hainanese mother-in-law (HM-i-L) who can also lend some weight to the review.
First up is the Hainanese Steamboat. Everyone enjoyed the fresh ingredients and the tender slices of beef, but frankly I am quite ignorant of what makes a "Hainanese" Steamboat Hainanese. Looks like any other steamboat to me. Basically, served with chicken stock and the usual raw ingredients. Perhaps some of our readers can enlighten us on this? 4/5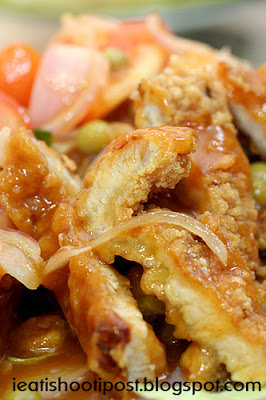 Pork Chops $15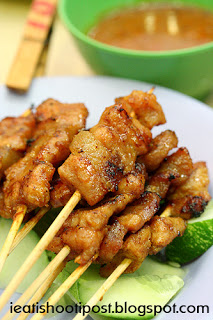 The pork chops here are thickly sliced and are really tender and juicy. The portions are generous and it still comes with the traditional canned peas. It is missing the thick cut potato chips though. I felt the pork chops could still do with a bit more ooomph. But still one of the better ones around. 4/5
In trying to be everything Hainanese, this stall also sells Pork Satay. Though the satay is outsourced, it is made to the restaurant's specifications. It was good but not outstanding especially compared to a the one I blogged about recently. 3.75/5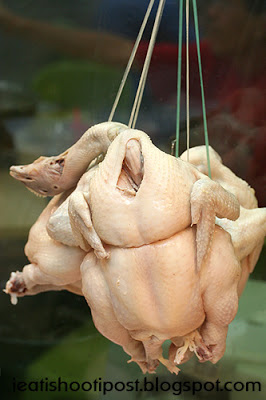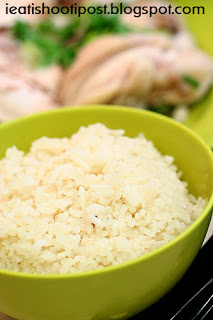 What was outstanding though was the chicken rice. According to my HM-i-L the rice here is fragrant and very authentic. When I asked her what makes it authentic, she said that the rice was broken and tasted like they actually dry fry the rice before steaming it with chicken stock. The texture was a little grainy but very fragrant. True enough, the owner of the stall confirmed that he still insists on frying the rice first before steaming. The chicken was tender with much of the flavour came from the soy sauce that was drizzled over the meat. It was interesting to see the way they tie the chicken with raffia string so they can pull it up when after cooking. 4.25/5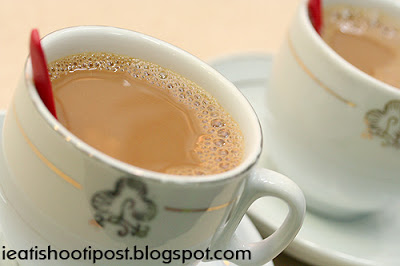 One cannot leave a Hainanese Restaurant without finishing off with some Hainanese kopi right? Both ieatMama and HM-i-L are kopi lovers and both gave their thumbs up for the kopi here. Fragrant, smooth, non-acidic with lots of body. Gulp — Smack — Ahhhh! 4.25/5
Conclusion
Good place of an inexpensive family lunch. The parking is very convenient and the restaurant is comfortable. Food wise, not any single item to really rave about, but overall, it was a satisfying and enjoyable meal.